NEW Leather Big Horn Haflinger Saddle, 16 inch seat
---
Leather Big Horn Haflinger Saddle, 16 inch seat
Trail saddle designed to fit broad shoulder or broad backed horses.
TREE: Ralide tree with bars designed for Haflingers
CANTLE: 4 inch
GULLET: 6 3/4 inch width
SEAT: 16 inch rough out padded
SKIRT: 25 inch
TRIM: Silver Concho's with oak leaf border
Purchased for $800, Asking $650, buyer pick up or pays shipping.
PM me if interested.

Purchased new for my horse, but unfortunately it does not fit him. Has only been placed on his back several times. This saddle is very good looking!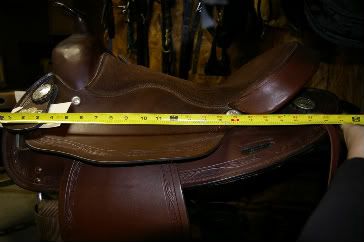 **Drool** I wish I had a horsey, I wish I had a horsey!!!
That's a really good looking saddle... If only I could use it!!!
Good Luck!!!
DUMAS you don't have a horse? what happened to your 2 grey geldings?

I wish I had the money for it. I could use another saddle, unfortunatly I'm not working at the moment :(
Where ARE the 2 grey geldings Dumas????

The Big Horn is a really nice saddle. I really hate that it didn't work on Fella....everything I have tried in the past year pinches his shoulder until NOW! He loves his new treeless Sensation hybrid saddle!
Melinda, I'm SO glad you found one that would work for Fella!!! That's not an easy task.
As far as my geldings, I sold them this past January, I guess I should have made an announcement.
We were'nt riding them, I didn't want to go alone, riding just KILLED my hubby's back and my one daughter that would ride was a maniac and the other one was just happy doing groundwork with them.
I felt that they were too good of horses to just sit in the pasture so I sold them to a
LOVELY
couple that lives about 45 minutes away.
We have done a few "drive by's" and the horses are fat and happy. I couldn't ask for more.
I miss them terribly but I feel that we need to look into gaited horses for a smoother ride so hubby and I can enjoy riding again.
I'm going to take a few months off of "horse duty" and enjoy not having the responsibility of chores and feeding. We may look again this fall, I'm thinking Rocky Mountain horses.
So that's the story, I got my QH's into the hands of people that would really love them and ride them. They were the types of horses that enjoyed riding too.
It's a happy story, I just miss being around horses. (Luckily on my 2 mile road back to the main highway there are about 10 horses!!!
I stop and say Hi if they are at the fence!!!)