Nice Western saddle pad, hoof boots, halters, spur straps for sale
---
Prices do not include shipping but may be somewhat negotiable, particularly for multiple item discounts.
Classic Equine ESP contour wool felt saddle pad. Good for smaller-skirted saddle. Used but in good condition. $45
Also available:
Halters (all come with lead ropes):
2 nylon halters.
I only want to sell one of the pair.
Purple skull and crossbones w/ Swarovski accent, custom-made, black/white hair-one hide with purple lacing, concho pictured is broken (missing sword handle) - $20
Black Weaver Swarovski/stud/leather accent halter, lead clip is tied to rope as shown - $20
Leather halter with hair-on laced noseband and heart conchos, very nice harness leather and brass hardware, custom made, well-used but would have a lot of life left if oiled - $20
Cowboy Decor spur straps, worn but very useable, buckles could also be removed and put on a headstall or something - $5
Also, not pictured:
A set of four size 0 black Cavallo Simple Boots, only used on a couple of short rides, and some socks for them. Make offer--I want them gone.
Like these:
PLUS all of the tack sets listed in the link in my signature....
Sending you a PM :)
---
Horses and children, I often think, have a lot of the good sense there is in the world.
Josephine Demott Robinson
Feed, muck, groom, ride. Repeat daily!
Bumpity bump.

May consider trades for bits or quality Western leather headstalls.
hey do you still have the Cavallo Simple boots? If so, would you like to trade for something?
Sell/trade, Looking for
Thank you.
Yes, I do still have the boots, but unfortunately there's nothing on your "available" list that I need...
I am intersted in the Purple halter/leadrope, and the leather halter/leadrope with noseband, and also the spur straps. Could you please email me at
shockleylegacyfarm@yahoo.com
?
More stuff:
Weaver saddle pad. Quite heavy and thick. Nice quality, in good condition (only thing wrong with it is some hair stuck to the bottom, which could probably be cleaned off!). $50
Bell boots in good condition. $6
Five pairs of Josey Pro Knot barrel/game reins. In good condition. Black, black/red, hunter green, red/white/blue, and blue/black. $8/pair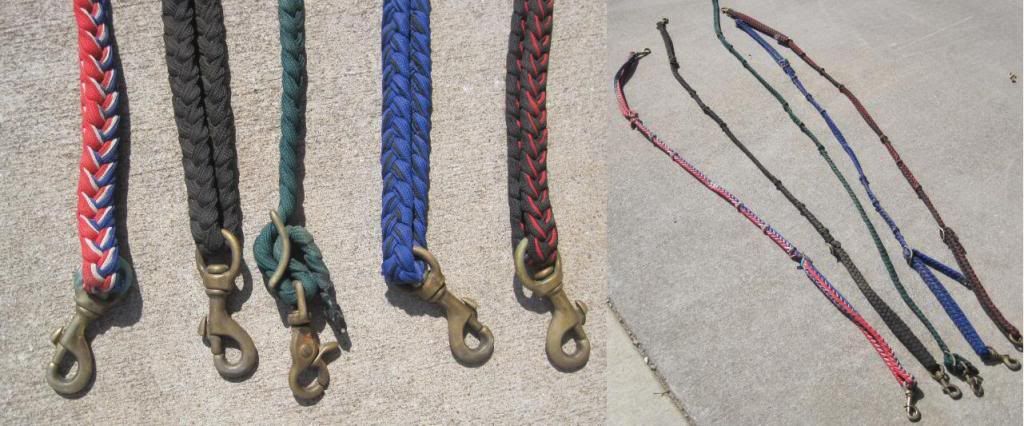 Neoprene Western cinch. In very good condition. Size 32". $10
Stud chain with pink and black rope. $5
And to consolidate from my other threads....
BRAND NEW TURQUOISE MAGNESITE STONES WITH SWAROVSKI CRYSTAL ACCENTED DIAMOND CONCHOS ON WEAVER LEATHER HEADSTALL AND BREASTCOLLAR - $X215X $200
USED BUT IN GREAT CONDITION LIME GREEN MAGNESITE CROSSES WITH ANTIQUED TEXAS STAR CONCHOS ON WEAVER / BILLY ROYAL TACK SET (NOT SHOWN: GREEN CRYSTALS HAVE BEEN ADDED TO THE CONCHO BORDERS SINCE THESE PHOTOS WERE TAKEN) - $X150X $130
Used, custom made, Bling Bling Tack brindle hair-on set with dots and topaz/amber crystal conchos. Headstall is decent quality (certainly far from junk, but not name brand, either; good enough leather), breastcollar is a nice Billy Cook model, and noseband is some brand I haven't heard of, but very high quality. The dots on the breastcollar are rusted, but otherwise the set is in quite good shape for being used. Asking $100 for the headstall and breastcollar together and an additional $25 tie-down noseband. I paid a whole lot more to have this set made!
Double J tack set--super high quality, quite well used but still in great shape (just needs a clean/oil, and it'll practically look new, I think). Brown rawhide accents, some tooling, and custom copper accent conchos. Very, very nice set. Asking $100 for headstall and breastcollar.