Random Western and English Tack and Other Items for Sale
---
I have a few things lying around that I'd like to rehome for very reasonable prices.
I can supply pictures of anything upon request.
*I will deal only through Paypal, please.
Shipping will vary.
Wintec brand brown equileather bridle in pony size. I lost the noseband but other than that it is in brand new, perfect condition. Would probably work well as a western bridle for the lack of noseband.. - $20
Troxel brand gray Dakota helmet in small-med (explained later). Was only worn a few times (I was talked into buying a size that was too small by a weird salesperson and eventually was driven crazy and decided to buy a bigger one) and has never been in any accidents. It does have a few problems though which I will describe in detail: the top got some weird sticky stuff which I scrubbed off with goo gone. Some of the matte finish stuff came off and a little patch right on top was left shiny. When I got it, the straps were acting weird and I wound up cutting and soldering them to better fit, so they are shorter than normal. The main net lining in the helmet was also lost, and I had to replace it with the thicker lining, so it will not fit a true medium head. I would think what with the straps and the thicker lining it would better fit a small. Comes with Troxel helmet bag. ($70 new) - $30
Leather split reins, brown, slightly aged but in pretty good condition. They measure 72" end-to-end each. - $15
Cotton split reins, white with brown nylon poppers, slightly stained in some areas but..they are white, hah. They measure 88" from the end of the buckle to the end of the cotton. They were only used a few times. Too long for the short pony I was riding at the time. - $10
Hamilton halter, red yearling size, shiny type nylon with no extra snaps or buckles. New, only worn once. - $10
Grippy waffle type saddle pad liner, off-white, measures 29.5" x 28.5" - $10
Wintec elastic straight girth black 44" very good condition - $18
Black three-tube tailbag never used - $8
Red flat lunge line - $8
Three curb bits (we'll call them 1, 2, and 3, from top to bottom):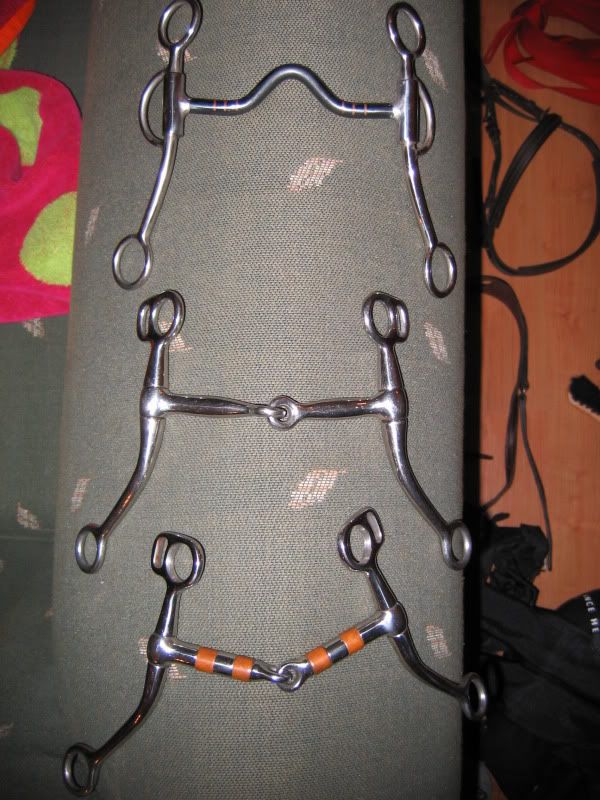 All 3 bits have approx. 7" shanks and 5" mouths
1: Milepost bit with medium port and stainless steel shanks, sweet iron mouthpiece with copper inlays. Brand new. - $15
2: Metalab bit all stainless steel. Used but in good condition. - $10
3: Milepost bit, stainless steel with both stainless steel and copper rollers. Brand new. - $15
Thank you
---
Last edited by rocky pony; 02-23-2010 at

02:30 AM

.
Can you pm with pictures of the Cotton split reins? thanks
If you would be willing ,I would buy just the helmet bag from you say for around $5 , I know that you are selling it with the helmet but if you are willing to seperate them (no need for the helmet) I would buy the bag.
Also: I am interested in the first bit you have listed. I can pay with paypal ....please send me a PM thanks
---
Horses and children, I often think, have a lot of the good sense there is in the world.
Josephine Demott Robinson
Feed, muck, groom, ride. Repeat daily!
Sale pending on cotton reins, helmet bag only (helmet still avail.), and bit #1. =)
Bit is available again, bag still pending
Everything is still available except for the helmet bag and the cotton split reins!