Quote:
Originally Posted by LadyDreamer
thanks I contacted him and we might acaually end up adopting
Quote:
Originally Posted by Katsraindance
thanks I contacted him and we might acaually end up adopting
That is fantastic! I hope everything goes well
I hear you on finding a saddle that fit for the low backed horses. Our show horse's saddle had a completely broken tree that fit him PERFECTLY. That is a saddle that would have been hard to replace.
That is one thing about low backed horses. They really are super comfy, and are actually really good for younger/newer riders because you can really sit deep in the saddle and you feel very secure.
"Josh Grayson" has been relisted, and is available again. They say he is a really kind horse and tries to please, and is very smooth.
*Three new boys have been added to the list!*

A few have been adopted so be sure to check on the forums to see if one you might have taken an interest in has been snatched up. It makes me proud every time I see a horse's topic moved to "The Never Ending Story" section. I'll try to update my original list.

Can't adopt, but would like to help? There are many available ways that you can help SBR if you can't make room. Check out the Promotions section for ideas. Foster homes are also needed. Fostering is a very good way to get a horse out in the world and placed.

Now for the good stuff. Info on the new boys! No pictures yet, but as soon as there are, I'll let you know!

Downy a very good boy.
"Downy came in with Snuggles (ok we are getting a little desperate for names, this time we went with fabric softeners). This horse scored very high on his evaluation.He stands well on the cross ties, is easy to mount and well behaved under saddle. He canters well on cue. He is very kind and eager to please. I think Downy would make a very good lesson horse."

Snuggles a grand old horse.
"This sweet gelding is a charmer. The day he arrived I feel in love with him despite his ragged coat and visible ribs. One front foot was about an inch shorter than the other, he had obviously not had a trim or a solid meal in quite a while.

He was a little nervous and vocal on the cross ties but has been more relaxed each time we have worked him. He is a blast to ride!! Remembers everything he learned in Saddlebred School many years ago. He has a big lofty stride. He was just a little bit off because of the difference in his feet (they have since been trimmed and he now sports matching feet).

He canters easily on cue. Snuggles would be an excellent lesson horse not quite beginner but one step up. His stride is a bit long and high for most beginners and he has a bit of go, but he is very well behaved and good thinking.

We have had some of the girls ride him and everyone loves him. Doug has also ridden him and had excellent rides. Snuggles is about 20yrs old. I can see him in an academy class. Oh...I almost forgot,he NEVER backs an ear! gotta love this horse!"

Bounce a very pretty boy.
"Bounce is a recent arrival (came in with Downy and Snuggles). He is an extremely pretty, chestnut with chrome.Bounce is good to work around and tries hard to do the right thing under saddle. He isn't too sure yet what the right thing is but he really wants to do it. He is very clearly a show quality horse that will be well worth the time he will require."
Ooh look at this cute little lady, Apache Princess. She is a registered 1991 model. She has had six foals on record.
From the trainer, "She is a little nervous but wants to please. it seems like she had a good bit of training in the distant past and it is coming back to her more and more."
The newest Newsletter is up. Check it out. You can "get to know" some of the individuals that help make SBR work.
http://www.saddlebredrescue.com/news..._Spring_08.pdf
.
Here are some of the new Treasures!!!
Prophet
(Poor young guy.)
http://forum.saddlebredrescue.com/to...?TOPIC_ID=1693
"Prophet came in this week. He is quite thin and had very sad eyes when he arrived, just seemed to be very "internal". After being here a few days he seems to be much happier and is starting to come out of his shell. He still will not take a treat but he did enjoy having his head rubbed today. This horse will be an excellent lesson horse. He could go into a program right now. He walks trots and canters easily,stays on the rail,doesn't ever pull down and has a perfect stride for a beginner. He is very quiet and kind."
.
Jordan Sparks
(I am in love with this girl. She is GORGEOUS!!!)
http://forum.saddlebredrescue.com/to...?TOPIC_ID=1696
"This mare was a total surprise to me, I thought she would be very green under saddle but boy were we (Anne & I) surprised. I think Anne was more relieved than surprised but either way it was a good day for Jordan. Jordan has been in the horse show world and someone has put time in her. Jordan wore her head in a very cute place and even canter a collected canter, even though she may need to be refined on her canter start. I think this mare could show and do well if someone would take the time to work her. The only hole in this mare are her legs are sporting some old injuries. They appear to be old and healed and she has not taken a wrong step since she has been here. We will work on getting videos for you."
.
Carrie Underwood
(Another cute cute CUTE mare!)
http://forum.saddlebredrescue.com/to...?TOPIC_ID=1694
"Ok people this horse is the real deal BUT she has a story. Jessie was the first CTD and all of her scores were high, easy to load in trailer, easy to catch in field and LOVES people. Carries ground skills were as high as they get and I just knew we hit the jackpot with her. Jessie rode her about two times around and then we found out why the amish got rid of her...... she ties up! Twice around the arena brought her to a shaking halt were she could only shift her weight from one hind leg to another, we could not even get her out of the ring. So we covered her up with a cooler and untacked her and waited for her to be able to move, and of course we called the vet. Dr. Fazio recommended two different kinds of vitamins and two weeks before we tried again. I had to put her in a stall in the ring to make sure she got her vit. that would be like medicine to her but it worked.
We first started Carrie back to work by having Jessie ride her at a slow walk for about 15 minutes so far so good. Next we started lunging her slowly and daily and again we had no problems. As of now we are able to teach lessons on her and she is a keeper in my mind. Carrie is great at lessons and does not mind different riders. This mare is not great big so she is not scary in any way to ride and she stays to the rail. The bonus is she walk, trots and canters on cue, add that to the fact that she is cute and likes people and that she is SMOOTH at the canter and that makes her THE one to get. Keep her on her vitamins and you will have a WONDERFUL horse. I am trying to figure out a way to hide her from Pat so we can use her for some of my riders. I know that will never work so I am going to make her part of my virtual dream lesson program."
[/b]
.
Racine
(Very fine featured. Adorable little ears.)
http://forum.saddlebredrescue.com/to...?TOPIC_ID=1698
"Racine has that look up "I have been a show horse" and then that look is followed by the look of "What the heck happen to my other life?" This gelding is easy to catch and easy to handle and I know that because he was brought up two times yesterday, first was get ready and wait...... and wait..... and now Nealia changed her mind and he could be done later. All of this was being done in a VERY busy aisle in the show barn ,and for those of you have been here KNOW what that is like. I think it is a little like the mob scene of a sale at a big wedding dress store and everything is half off.
As Anne has stated this horse wears his head in a show horse manner and is very typey. Racine does three gaits all the time staying to the rail as a good boy does. If I were to fault him I would say he needs work on one canter lead. There is a scar in one eye and my guess is he is blind in that eye but he does not cock his head or act silly at all. Racine also rode well in all the traffic here at North Wind so that is a big plus. While this gelding is not (YET) the first beginner horse I would start out new riders on he could very easily be the first horse you learn to canter on. I also think he would be cute at Academy shows. This horse gets Anne and Nealia's seal of approval."
.
Tucson
(What a sweet face.)
http://forum.saddlebredrescue.com/to...?TOPIC_ID=1695
"Tucson is a recent arrival. I rode him this week and he was such a good boy that we had Doug ride him today.Doug did a great job with him.Tucson is very sensible and stays right on the rail. He gets a little pacey at slow speeds but trots when you ask him to move on. He is a big boy at 16.2 hands with a big body. I think his trot will improve with work, right now he is very out of shape. This would be a wonderful husband horse!!!"
.
CSI Miami (Stokes)
(Ooooh look! One with jumping practice!)
http://forum.saddlebredrescue.com/to...?TOPIC_ID=1682
"Ok hunter/sport horse folks..I have another one. "Stokes" is registered as CSI Miami as was donated to SBR. He is 6 yrs old and suitable for
ANY
level rider but is a tad hard to bridle(a 6 on 1-10) but he is improving with that everyday. He has ONLY been worked in a hunter frame till he got here a week ago. He is capable of doing both SS(with a little work) and Hunt Seat(now). He is jumping 2 ft with ease. He is LARGE 16.2 at least, does need some weight but has a good appetite, easy to work around and plays well with others outside. Please contact me asap if you want more information! 912 577 0089"
.
Man, they just keep finding so many good ones!
SADDLEBRES RESCUE
---
Hello to all you horse people looking for a good honest horse, i have been looking and watching the sbr site for a few months now . And the reason i did was i had purchased a saddlebred horse my very first saddlebred. Now understand i ride daily and have worked horses for years but this saddlebred horse was different .It was the first horse ive owned and ridden that really thought things out before he would spook he was always trying to please me no matter how dum i was he was on top of the game , i own mustangs QT T.W.H and just plain mixed breeds but the saddlebred is such a great horse to be around and to ride they are so proud that theyu make you feel like royalty when u are up rideing as well as driveing . When looking for a first horse or just an extra horse look closely at the saddlebred you cant go wrong and before you know it the ASB will be your ride of choice weather in show ring or on the trail with a little work they can do it all and do it with pride and will give there heart and soul to you and all they ask in return is to be loved and to give them a job to do and they will do it so easy and so quickly, AND THIS IS COMEING FROM A GUY WHO WANTED NOTHING BUT MUSTANGS ION MY STABLE TILL I GOT MY BIG RED
Bounce or Snuggles? Sorry it took so long to reply,
lopinlena.
All the information on these horses should be provided in the links to thier topic on the Saddlebred Rescue Forums. If I don't put the link, just visit
www.saddlebredrescue.com
and look through the discussion forums.
The majority of these horses are located in Blairstown, New Jersey. There are SBR supporters who will help out with shipping costs if you can't swing it.
I just saw "Bounce" moved to the "Placed" section of the forums, so he is no longer available.
Snuggles on the other hand is still available, and looking rather nice.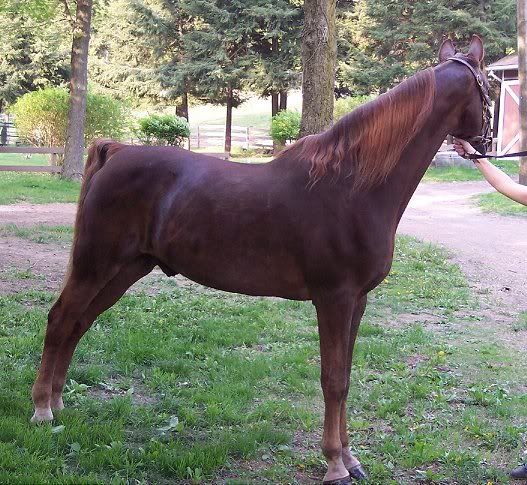 I would just like to mention that the horse
Romeo
has been put up for a free adoption to an approved home. He is located in
Georgia
.
Here is his topic for those who might be interested. See page 3 for pictures.
http://forum.saddlebredrescue.com/to...68&whichpage=1
As always thank you for looking. As soon as some more are placed or
fostered
, more can be saved.