Saddles, Bridles, Devon Horse Show Stuff, kids and adult
---
EMAIL is the best way to reach me. vxf111 @ yahoo.com
--------------------------------------------------
Dover's Circuit Elite Saddle
-17.5 seat, regular tree (measured about 4.5 inches dot to dot), normal flap (14 inches down from the stirrup bar)
-Older model from before the quality diminished
-Good used condition, a few light marks on the flap and seat that might oil out, I didnít spend a long time working on the saddle
-Retails for $999, asking $550
Children's Kincade Pony Saddle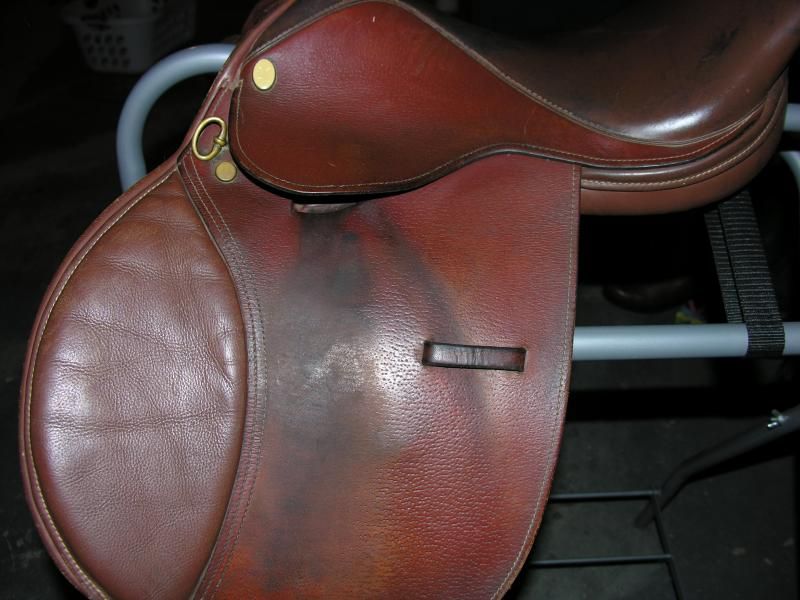 -Marked as a 14 seat, I measure 14.5, wide tree (measured about 5 inches across the tree), normal childís length flap (13 inches down from the stirrup bar)
-Good used condition, a few light marks on the flap and seat that might oil out, I didnít spend a long time working on the saddle
-Retails for $445, asking $250
Tipperary T2 Helmet
-New
-Slate blue
-Size medium
-$115
Ariat Baker Boots
-Size Ladies 9B
-17 inches around the calf
-Baker plaid with tan/brown leather
-$100
Bates Calf No Stretch Stirrup Leathers
-Caramel (light brown)
-54 inch (standard horse size)
-Retail for $115, asking $80
Aramas Fancy Stitched Raised Padded Bridle (no reins)
-Brown
-Oversized/warmblood size
-Good used condition, has a nameplate
-$85
Perriís Verona Raised Fancy Stitched Bridle with Reins
-New
-Oversized/warmblood size
-Asking $65
Silver-Colored Devon Horse Show Picture Frame
-For landscape 5x7 photo
-Devon logo
-$40
Plymouth Plain Raised Bridle with Reins
-New
-Full/horse sized
-Retails for $55, asking $40
Plain Laced Reins
-Brown
-No makerís mark, could be Aramas
-54 inch/side, full/horse length
$35
Devon Horse Show Bat
-19 inches
-New with tags
-$20
Is the helmet unused?
---
His feet are as swift as rolling thunder, as he carries me away from all my fears, and when the world threatens to throw asunder, his mane is there to wipe away my tears <3
Yes, the helmet is brand new with all tags attached. I never even tried it on.
Pics of the Baker boots?
Posted via Mobile Device
I so wish that Aramas bridle was cob size *sigh*
On another note, I HIGHLY recommend vxf as a seller. She is very easy to deal with and everything is always exactly as she lists it. I've lucked into a few great buys from her over time
---
BB ~ 2014 Trakehner Bratty Mare ~ 1993 CSHA Em ~ 2007 Standardbred

Thanks NB!
Here are the Baker boots. Sorry, I goofed on the photo links!
I rarely make it to this board. Email is BY FAR the best way to reach me.
vxf111@yahoo.com