Sale or Trade: 78" Waterproof Turnout Blanket
---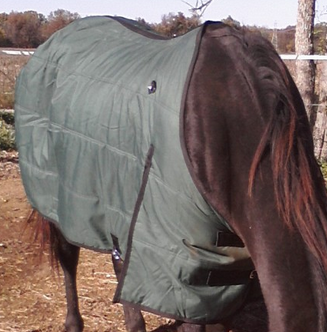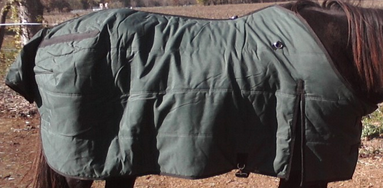 Nearly new. :S Bought this in a rush and was told this was the right size for my mare by prev. owner who guessed the size. It is a 78" but my mare wears a 72". She got it dirty (you can see the mud smear on the front of the blanket in the first pic.) and the tack store would not take it back in that "condition". Paid $80.
It is an Ozark Leather brand with an open front. Hunter green. Waterproof. Belly strap, two leg straps, and buckles up front. Have one in an appropriate size for her now and it is very durable! :) Love it. Will happily clean the mud off of the front of the blanket before shipping it to you!
Let me know what you've got to trade. I'm up for most things, since I am new at the horse owner thing and don't have a bunch in the way of tack/equipment items.
Looking for mild western bit, headstall, or anything interesting you might have. Feel free to throw stuff out there. ;)
Really wanting a 72" lightweight sheet that's waterproof. New or somewhat used.
If you'd like to buy, I will accept a reasonable offer.
Payment may be made via paypal.
Where ya located?
Posted via Mobile Device
Quote:
Where ya located?
Posted via Mobile Device
I am located near Newburgh, IN. :)
Forgot to mention this is closer to a medium or beginning stage of medium-heavy weight in regards to the warmth.
DO you still have this available??