SW MI - Show Tack Cabinet
---
I have 2 of these that I built for a tack swap - just was the WRONG crowd. Not one of the people set up sold a thing that day. It was so depressing. Anyhow. I love these cabinets. They are on wheels, they have 2 latches on them with one that locks, a handle on the back, a bridle hanger inside the door, a 'retaining shelf' to hold sprays, etc, and 2 shelves that are big enough for those tack caddys. Saddle goes on top of the cabinet. I designed it so that you can throw all your show stuff on top then wheel it to your stall area at fair, shows, etc. Anyplace that you aren't straight out of your trailer. Anyhow, feedback is appreciated. They are for sale if you can come to get them, or I can meet you/deliver if you're halfway nearby. I'm asking $225 each as is, but I can put on a clear coat or stain/paint whatever for $25.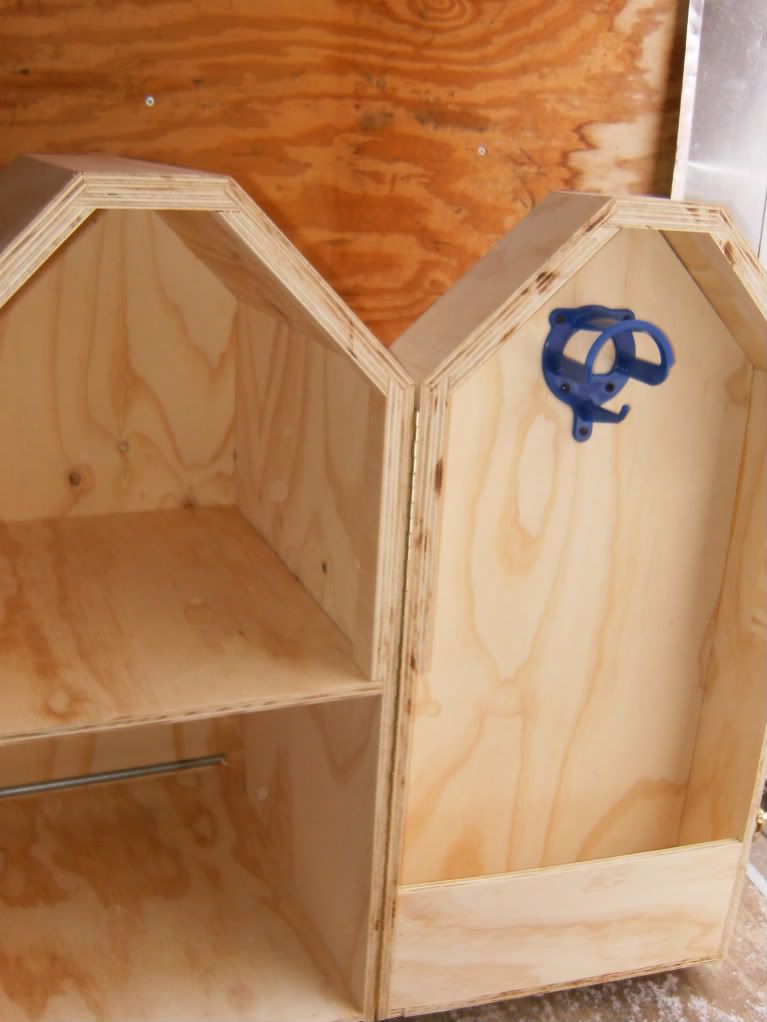 ---
Ask Often, Demand Nothing, and Reward Generously.
How cool! I think those would be awesome for shows, etc.

And definitely I think stain them or clear coat them - people will be more interested that way.

Cool design!
That is too cool! I agree stain on those would really make them POP!
wow those look really nice !
---
Gypsy & Scout <3
Everybody is a genius. But if you judge a fish by its ability to climb a tree it will live its whole life believing that it is stupid. ~Albert Einstein
They are very nice. I highly suggest that you bring them to the VERY LARGE tack sale in March held in Kalamazoo.

The Kalamazo 4H group hosts a tack sale at the Kalamazoo Fair Grounds, and that thing is GINORMOUS.

I suggest that you bring your "Plain Jain" tack boxes with you, but the one that you want to keep for yourself, jazz it up. Either paint it up, do you do Toll Painting?? Or Wood Burning?

Put your horses name on it, or your name on it. Paint hoof prints or wood burn hoof prints - or bits and bridles?

Just come up with an idea to create on your box, to give those who are looking, an idea of what they can or could have on theirs.

Have you made any in the past or customers? If so, did you take pictures of them? If yes, then bring nice sized photographs along with you in a binder, or display them with you when you sell them - so that people can look through and get ideas for what they would want on theirs.

$225 is pricey, so if you can "upsell" your tack trunks as best as you can so that potential buyers can be assured that they are going to get what they want and how they want it - through your "Advertising" - they will know that the money will be well spent, if I am making any sense.
---
Yep, I'll be there ;) I think I've already sent in my booth fee for that one, though I may be getting that one mixed up with the one in Allegan.... anyhoo.
Yeah, I do the toll painting, woodburning, woodcarving, etc. etc. Just not sure where to start with it, ya know? lol. You make perfect sense with what you've all said - thanks!! I'll finish them both up - one clear, the other 'dolled' and repost them once I'm done.
Once I've figured lumber, the hanger, wheels, latches, hinge, handle & axle it gets kind of up there in price (top notch lumber - not just the crap). The time involved is pretty substantial too. I would go lower on the price, but not a load. So, I agree, at least until there is a good reputation, that is probably too high - what would you guys pay? (not pushing for a sale, just trying to test the 'market' so to speak.
---
Ask Often, Demand Nothing, and Reward Generously.
WOW those are really nice , if I had the extra cash I would def get one of those. What are the mesurements on them?
---
Horses and children, I often think, have a lot of the good sense there is in the world.
Josephine Demott Robinson
Feed, muck, groom, ride. Repeat daily!
Around 16 wide by 24 deep... height differs from one to the next. I try to customize that much to the rider's height.
---
Ask Often, Demand Nothing, and Reward Generously.