Tex Tan Saddle for Sale
---
15" Tex Tan FQHB saddle for sale. It's older (from 1968) and has a few cosmetic flaws, but in great working shape! I'm not sure exactly what style it is, but the general consensus that I've heard is that it's likely a reining saddle.
Asking $200 plus shipping for the saddle. For $250 I'll include two pads- a fleece type blue/purple Navajo-style pad and a black felt pad with scalloped edge and lime green ostrich wear leathers. Pictures of the felt pad will follow in the next post.
Here's the saddle:
The leather has some cracking in the skirt, though none of it affects the stability of the saddle: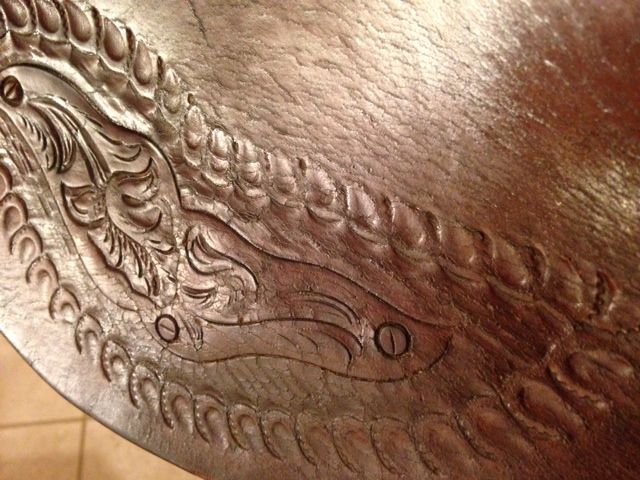 The horn has been restitched and has a bit of loose stitching:
The fleece is in nice, thick shape for the most part: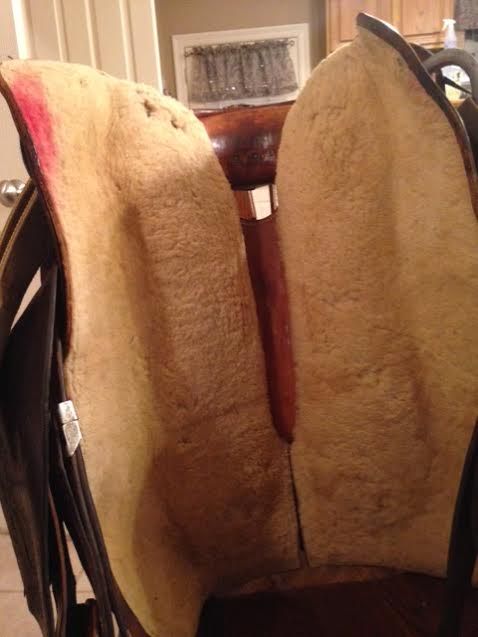 It does have one wear spot and a random pink stain, though neither is visible when riding:
Serial number stamped in. I contacted the factory to inquire about the saddle, but because of a fire awhile back they were only able to determine the date of manufacturing:
Comment or message me if interested, or if you need more information!
If you were in Can - I'd buy it but cost to ship Priority is likely about $125. With the increase in mail rates, the cost of mailing a saddle increased at least $25.
It cost me about $55 to ship the 38 pound monster of an Australian saddle that I had with insurance...I was actually surprised that it wasn't more! I can look into shipping costs if you'd like, but my guess is also that it would be pricey!
Posted via Mobile Device
At one time a parcel from the US could be shipped to Canada under the old parcel post rate plus a little extra for insurance. Parcel post could take a month and often that was ok. I'd be curious if a saddle could still be shipped that way or if our post office has just handed us some malarkey so we'll pay the higher Priority rate.
Are you willing to negotiate on the price any? Either way, it's a lovely saddle, and if you still have it, I'd be interested.
---
Candy | 14.3hh sorrel AQHA mare
Diesel |15hh bay grade gaited gelding