Three Western Saddles for sale! CHEAP
---
So I have WAYYY too many saddles for my one horse. So I am putting three of them up for sale. So here's a little information about each of them, please feel free to make offers I don't really have a specific asking price. Pictures will come later.
Saddle #1
16" Custom western saddle by Buffalo saddlery, it has semi QH bars and it is completely synthetic. It is a very lightweight saddle, it weighs around 10lbs (probably a little less). This saddle must go soon, it doesn't even fit my horse, my horse needs a full qh bar.
Saddle #2
15" Leather SIMCO western saddle, it has full QH bars. It is completely leather, including the seat. The saddle is a mahogoni color and has floral tooling all over it.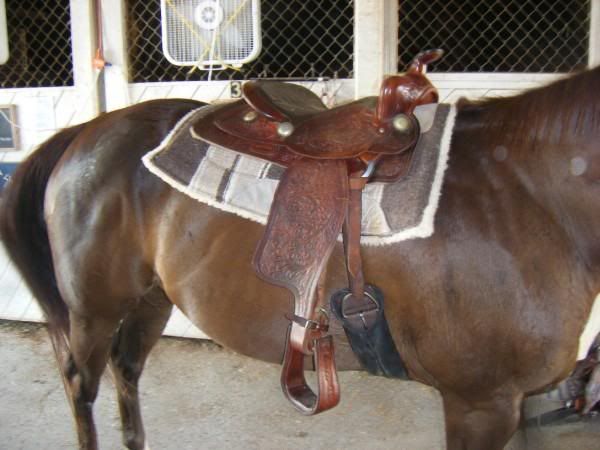 Saddle #3
16" Leather Pullman western saddle, it has full QH bars and has a suede seat. The saddle is actually like new, it's only had a few rides in it. The only damage in it at all is a water mark on the right side right above the fender. Has basket weave tooling.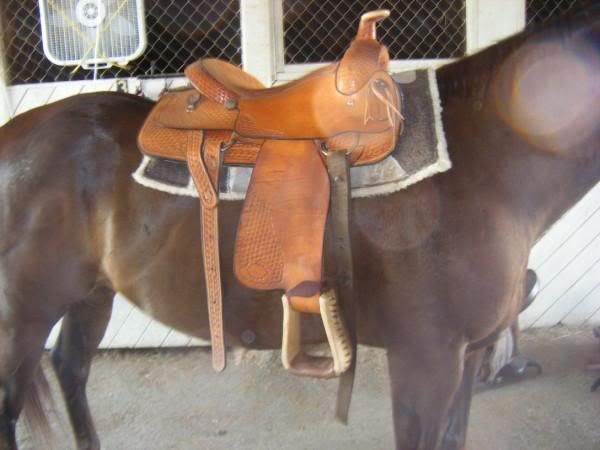 (Sorry the saddle pad slipped foward and I was too lazy to fix it)
Please post or PM with offers, I am VERY open to trades for horse related tack or breyers.
That roping saddle looks very nice but unfortunately, I am in the same boat with an overstuffed tack room. Hope you get them sold. :)
---
Always remember that feeling of looking at a big, open country over the ears of a good horse, seeing a new trail unwind ahead of you, and that ever-spectacular view from the top of the ridge!!! Follow my training blog:
http://robertsontraining.blogspot.com/
Banned
Join Date: Dec 2008
Location: At my house, or stable, duh!(Michigan)
Posts: 2,479
• Horses:
3
How much for the first one?
Hi, I might be interested in the third one.
prices on all of these, please. I would be interested in one of them ;)
---
Ask Often, Demand Nothing, and Reward Generously.
im intrested in the first one. what are you asking?
---
~Erin~
~I'm an angel in Justin boots. I'm a devil in blue jeans. I'm every cowgirls nightmare. I'm every cowboys dream~
What are you asking for the third saddle?
---