(USA) Rydem Bitless Combo Bridle $28
---
Rydem Bitless Combo Bridle
For your consideration is the Rydem cross under Bitless Combo Bridle. The Rydem Bitless Combo Bridle is lightweight, gentle and effective. Offering clear communication and
immediate
release that will not leave your horse feeling trapped.
The Rydem Bitless Combo Bridle is great for trail and endurance riders or anyone who just wants to hack around. With the built in tie loop, it makes it safe and easy to tie your horse while out on the trail without the added bulk of a halter under your bridle. The unique design of this bridle offers an instant release of pressure for simple and clear communication with extra nose knots for added refinement and control.
Action/Mechanics
The reins straps cross under the jaw and slide through the rings on opposite sides. The straps are stabilized to prevent the bridle from becoming displaced on the horses and also limit the amount of pressure that can be applied. Pressure is dispersed over key pressure points on the horses head, and is much gentler than a mechanical hackamore, side pull or even halter with reins attached. This bridle offers clear communication and is very adjustable. Pressure is first felt across the opposite cheek, then nose and finally the poll if needed. There is no leverage, and no restricted airways.
Use
The Rydem Bridle does not tie like a traditional rope halter; it slides on over the ears like a regular headstall and is very adjustable. Ideal for trail and endurance riders and first time bit less riders.
Quality
Hand tied 1/4" black marine grade double braid yacht rope with true overhand knots. This bridle is made to last and is easy to care for.
SIZE
Any, including custom (recommended for best fit)
COLOR & Price
Black $28
Purple w pink tracer $34
(Will be solid purple, not with the white chin strap pictured)
Additional Details
This is for the BRIDLE ONLY, no reins are included in this auction. If you would like reins, please contact me.
PLEASE NOTE: I am currently waiting for my next shipment of rope and orders placed between now and October 31, 2010 will ship the first week of November. I only accept PayPal. Shipping will be by most affordable method unless I receive a request otherwise, USA & CAN only at this time.
I am happy to answer any and all questions!
Happy trails, Rydem Bitless!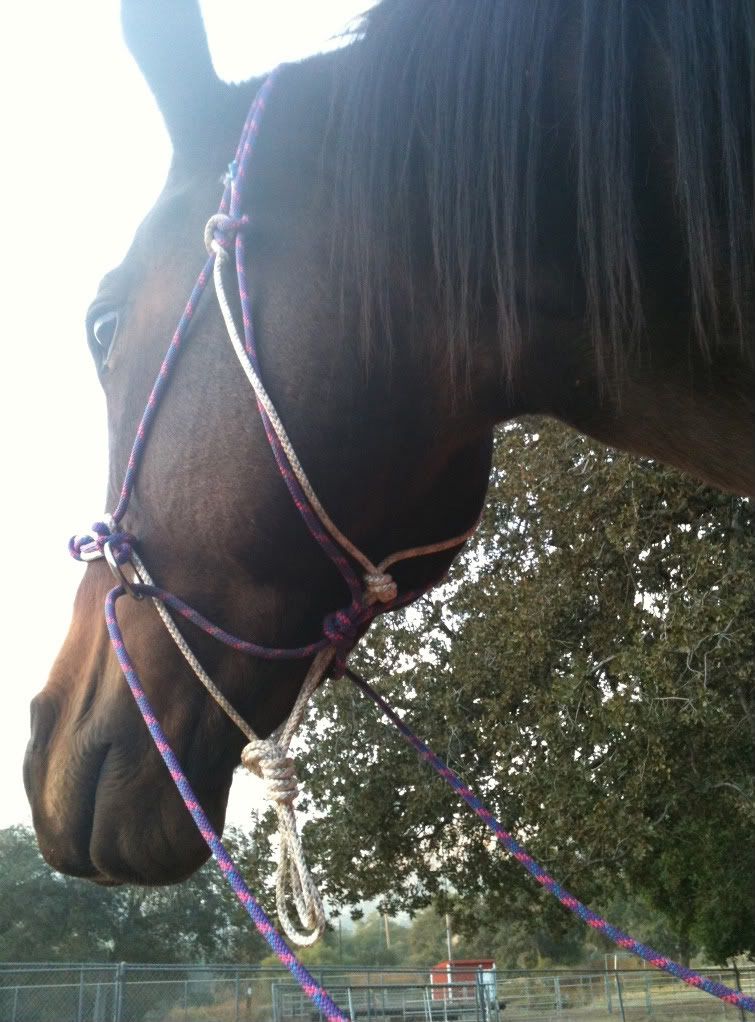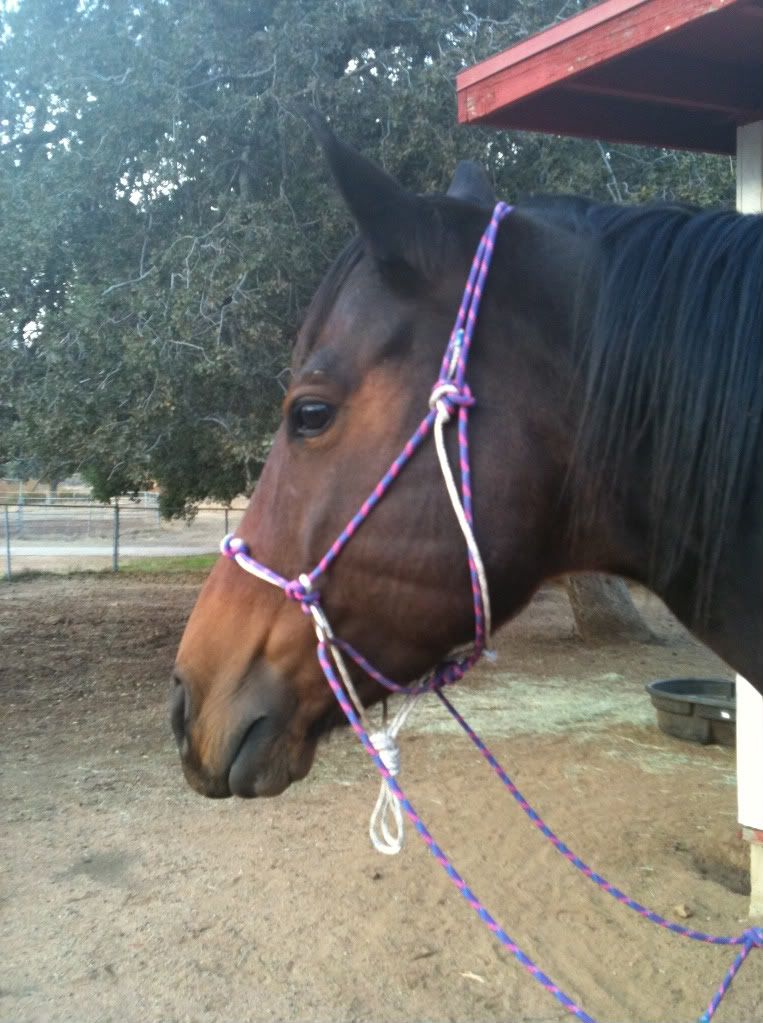 ---
Last edited by Ktibb; 10-20-2010 at

10:32 AM

.
Price corrections: Starting at $28 (for pony size)
Add $2.00 for purple rope (all sizes)
Easy ordering here using Paypal:
Rydem Bitless
Also listed on eBay:
Rydem bitless bridle combo
Thanks for looking :)
Here are some pictures of my more refined prototypes, done using a triple braided poly rope. This version comes with attached loop reins that have added training knots for added texture to aid in teaching neck reining. I apologize for the quality of the pictures (as well as the model, lol) but I wanted to get something more up and the weather here is still rainy and overcast. Hopefully these pictures will give a better understanding of the bridle.
Below: Exaggerated no contact on rein straps. Here you can see how the rein straps work independently from the chin & throat straps. The only interaction between the two is that the rein straps are held in the correct position on the outside of the cheek by the jaw strap.
Below: view of underside with reins making light even contact.
Below: I placed a sheet between the chin straps and the rein straps to illustrate their function.
Below: The connection on the reins between the rein strap that connects directly to the bridle and the reins.
Below: The Rydem's equivlelnt to the buckle on an English pair of reins.
The reins shown in the above pictures are not detachable. My next post will show the other design that I'm working on which will allow the rider to attach the reins of their chioce.
As always I accept custom requests.
---
Last edited by Ktibb; 10-21-2010 at

10:17 AM

. Reason: eta: formatting
All bridles are on sale now through the end of December 2011, some as much as 40% off!
Prices are currently starting at $15.99 and none are over $20!
Please
check out my website!
Update: 12/02/2010

I only have Black in stock, and cam no longer offer reins.

You can use any existing pair of reins you like :)

Priced at $15.99 up to $20.00 for all sizes!