WANTED: Antares 17" Saddle! (Possibly 16.5")
---
So, I'm in need of a new saddle
I have been looking around and determined I want an Antares! I ended up purchasing one, but it didn't fit
The flaps were to forward. Here is a picture of it -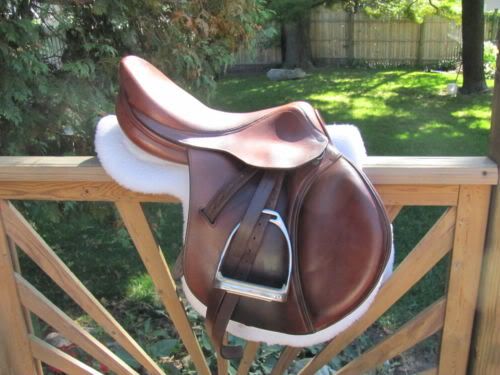 Anyway, I had to return it, and I'm now looking for a new one. I got the first one on eBay, and I check eBay every day, there just doesn't seem to be a lot out there. Which is why I'm posting this! Here is what I'm looking for:
- 17" (possibly 16.5")
- Regular flaps!
- Full calfskin or buffalo (no grain calf)
- 3 flap length would be perfect, but I could do 2 or 4.
- Medium deep - deep seat
- Medium tree
My price range is anywhere from $2000 (or less) - $2,700
Thank you!!!