Wanted: Cheap raised bridle!
---
I'm looking for just a cheap raised bridle. I'm going to be showing a thoroughbred in hand at the end of the month and his bridle is kinda shot. It works for riding but I'd like to find something fully in tack and decent looking to show him in this one time. It doesn't have to be perfect I'd just like all of the straps in tact and such and preferably around $20.
I have a Thornhill for $25 (without reins) - It's new -dark brown plain raised - email for picture -
mccarthy@computer.net
I have a, rather used but in good working condition, full bridle with reins for $15.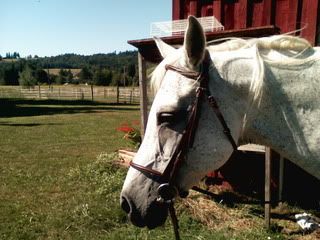 ---
Fabio - 13 year old Arabian/Lipizzan gelding

~
Rest peacefully, Lacey.

I have a square raised, full size bridle in very nice condition. It's a Kincade brand and is a medium shade (a bit darker than new market/london).

Has minimal use and comes with reins that are equally in like new condition.

Will sell it for $30.00. Buyer pays shipping from NY.
---
"The best and most beautiful things in the world cannot be seen or even touched....they must be felt with the heart." - Helen Keller
Thanks for the offer Polaris but I think I'm going to go with Wallaby's. I'll PM you about it Wallaby :)
Ok, no problem.
---
"The best and most beautiful things in the world cannot be seen or even touched....they must be felt with the heart." - Helen Keller