Wanted: Cheap tack and riding clothing
---
Just looking for some cheap tack to get started with as well as some riding pants and boots...any help is appreciated
I have some stuff you might need. Let me know if you want picturs or more info.
Abetta Endurance w/ Breast Collar!!!
-This is a lightly used Abetta endurance saddle. It is in GREAT shape and only has a tiny bit of rust on the rings. It comes with a breast collar. It's extremely light and easy to clean. VERY Comfortable! Size 15. $300.00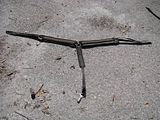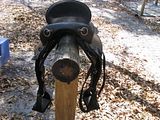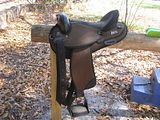 Abetta Saddle and Brildle
-This is an Abetta saddle with matching headstall (bit not included). The headstall has a broken buckle. I just tied a knot in it and it worked fine. It is worn and has some patches of missing material, but nothing a little electrical tape couldn't fix! Size 16. Great for trail riding. Its not the prettiest saddle but it gets the job done! (PM me for pictures of the missing material) $100.00
Abetta Western Saddle
-This is a size 16 saddle. Extremely light weight. It does have a spot with missing material on the seat, and some rust, but with a little fix it is very useable. It would make a GREAT trail saddle! $125
A. Pariani Selleria Milano
This is a used, older saddle. It has been patched once. Would make GREAT schooling saddle and possibly open shows. Size 17. Needs new leathers and stirrups. $175.00 obo
Used size 52 english girth.
Has some rust on the buckles but still in good working order.$15.00
Curb Chain.
-Brand new $4.00
Nylon Black Headstall (bit not included)
- This is a brand new nylon head stall. Black. $15.00
Quick on silver spurs.
-This is a pair of new quick on spurrs. Comes with orginal box. $10.00
Curb Bit
-Western Curb Bit. Brand New! $7.00
Childrens Lace Up Justin Boots
-This is a pair of black children's lace up Justin boots. Used but in great shape. Size 4. Don't buy another pair of new boots for your child who is going to grown out of them within a short amount of time. A great brand at a great price!$20.00
Pony/Mini pad
-This is a lighty used pony/mini pad. It's in great shape. $10.00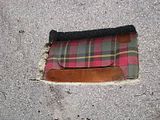 English Pad
-This saddle pad is in EXCELLENT shape. It has been used only a handful of times! $15.00
NEW Hobby Horse Vest with tags!
This is a BRAND NEW purple Hobby Horse vest. Never been used and still has the tags on it. It comes with matching cuffs and has rhinestone embellishment. Size Medium.
$65.00