Western Saddle MUST SELL ASAP
---
My friend has been put into a serious situation, and needs her saddle sold ASAP.
It's a Handcrafted American Saddlery western saddle, 17 inch seat. Never ridden in. Bought for $900.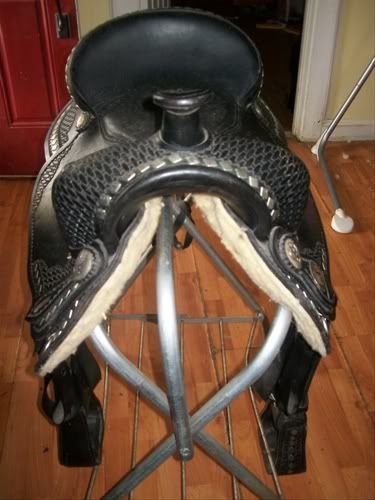 She also has a leather halter and a black cinch. She will take $660 for all of it, or best offer. Willing to ship, but BUYER PAYS SHIPPING.
drools I wish I had the money for it, matches the breast collar and bridle I just bought perfectly. : /
Also, the stand can be included.
I can also throw in a pair of black synthetic Size 8 Middleburg brand paddock boots. They're a little worn and need new laces, but they're wearable and ridable. $10
Wish I could, hon. That would look so good on my new boy =/
---
Pssh.I didn't pick up the wrong lead
It's called a counter canter...
...A very advanced maneuver.
Price reduced for $510 for it all!