Western saddles & tack
---
Hey all. Im in a bit of a bind this year for xmas and am having trouble keeping the power on, let alone doing the xmas thing for the kiddo. Was wondering if anyone here may be interested in a saddle or misc tack. I used to list on here a while back but have been so busy trying to make ends meet that I havent really done much on here for months.
Heres a list of the saddles I have...theres 4 total. You pay shipping, though I tend to ship cheap. $30 tops for saddles. Located in WA.
14-14.5 nice trophy Tex Tan Hereford barrel saddle in great shape. Ready to ride. Roughout seat with tooled leather skirt. Round skirt. Main part of saddles in great shape! Fenders are in good condition but need oiled as theyre a bit dry due to lack of use. Tree, rigging, and fleece are great. Could change out fenders for a new look if you dont like the trophy words on it, would be easy to match. Asking $400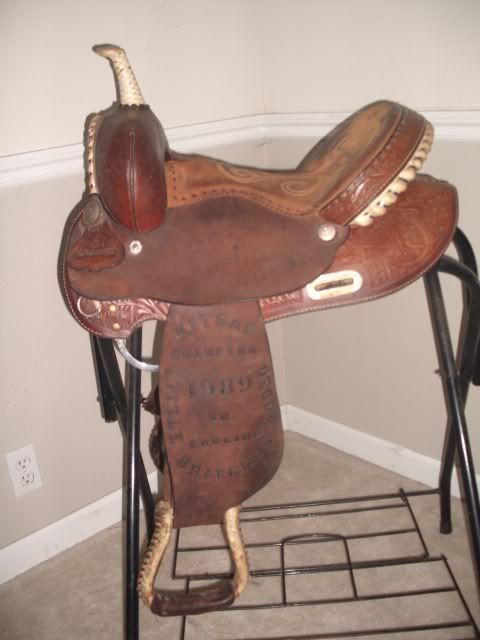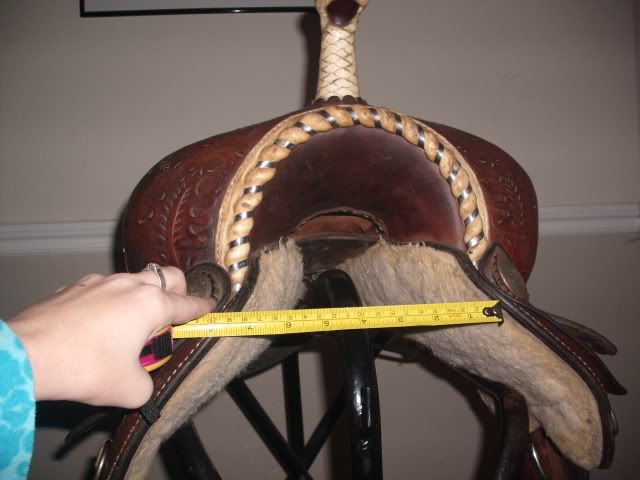 Nice looking older saddle. Tooled leather all over. MAIN part of the tree that touches the horses back appears to be sound but the back of the seat part has been broken off so it moves. Looks good other then that. Fleece is all there and rigging is solid. If looking for a cheap part time saddle or one you dont have to worry about breaking on a new horse, this one may work great. $90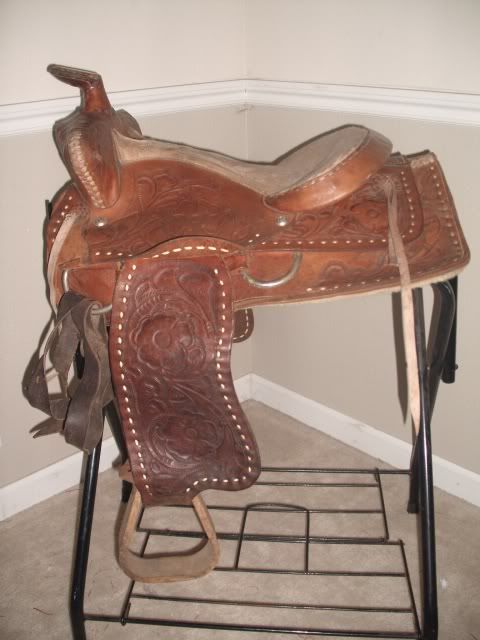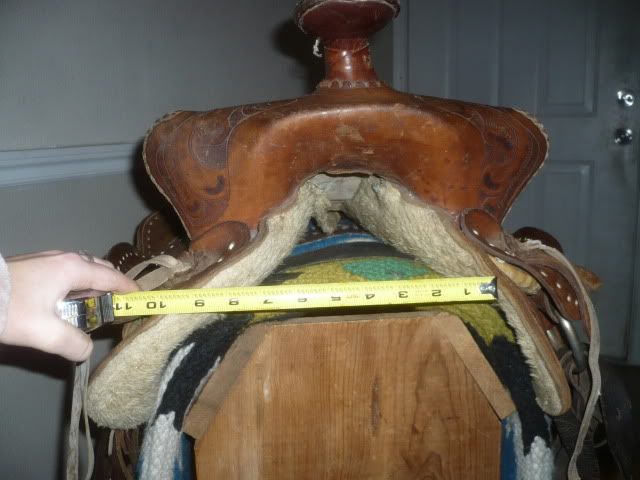 Older Big Horn saddle. Ready to ride. Is older so does show some wear. Leather horn cap stays down but isnt fully attached, and has some rub spots on pomel. Nothing major. $200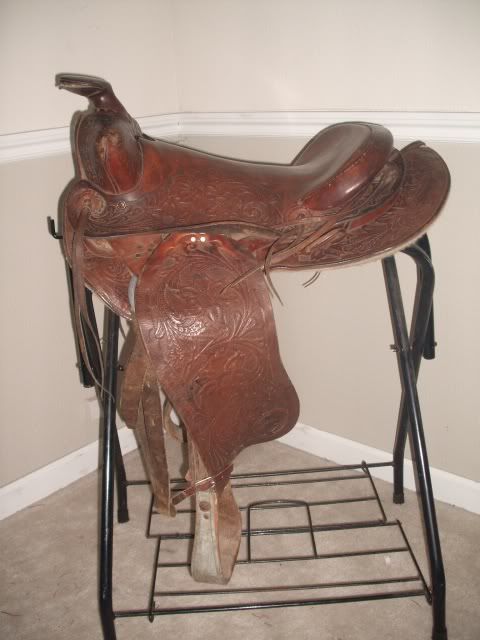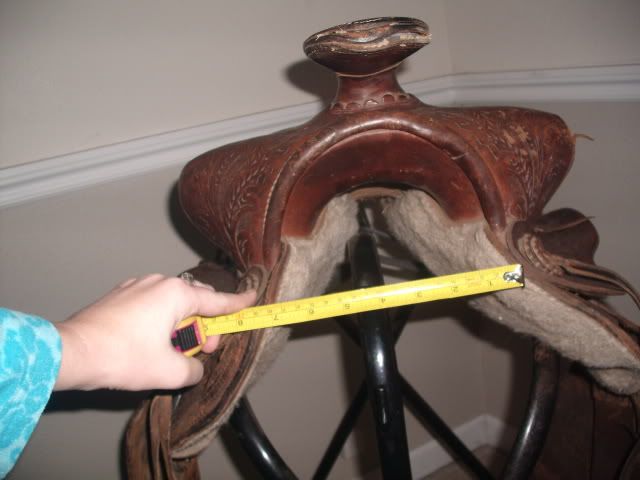 This is a nice one. 15" tooled western saddle. Has accents all over it and all are intact-none are missing. Fleece, rigging, and tree are solid. Neat saddle. $325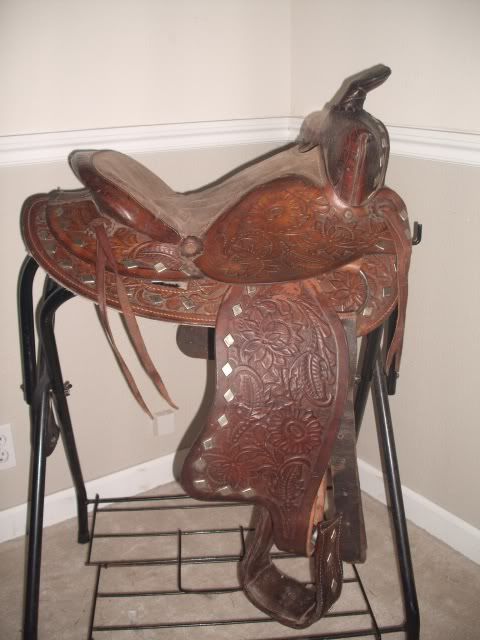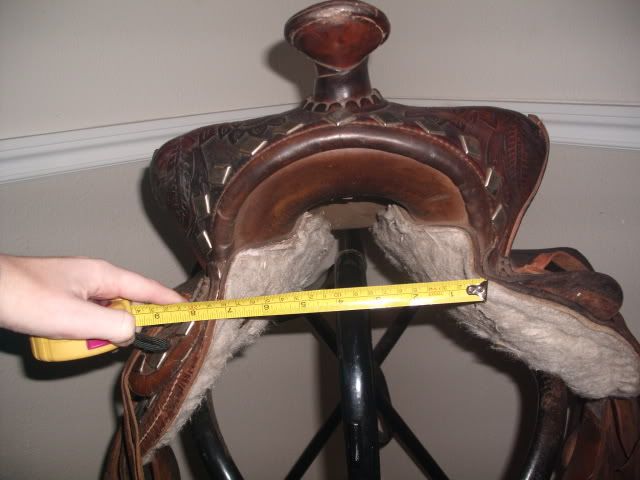 Will list smaller items in seperate post once I figure out what I have. Cheap nylon bridles, 5 pairs of english reins, some western reins, lariats, Nicer gag bit type Tory headstall w/reins, etc.
The Hereford barrel saddle has SOLD
What size is the seat on the Big Horn?
---
Proud owner of ~Mana: 6yo Arabian gelding~Pearl 13yo Arabian~Danzer 14yo Arabian mare~ Tiny mini filly
Sorry for the delay. Its 15". Thanks