wintec saddle package for sale or trade!
---
After talking to my trainer, the owners of the horse I am leasing, and the chiropractor yesterday, we think that my horse does not like the CAIR panels on my Wintec, so sadly it is for sale or trade.
In a trade I would consider another Wintec 500 WITHOUT the CAIR panels, or a collegiate AP saddle, but let me know what you have, the worse I can say is no.
This saddle is in fantastic condition, 17.5 inch seat, will come with the medium gullet, possibly the wide if I end up not getting another wintec. I may also include the fittings if I get a saddle that comes with them. Asking $350 + shipping
+++In the sale I will include a black with white padding schooling quality bridle. I don't have reins for it though.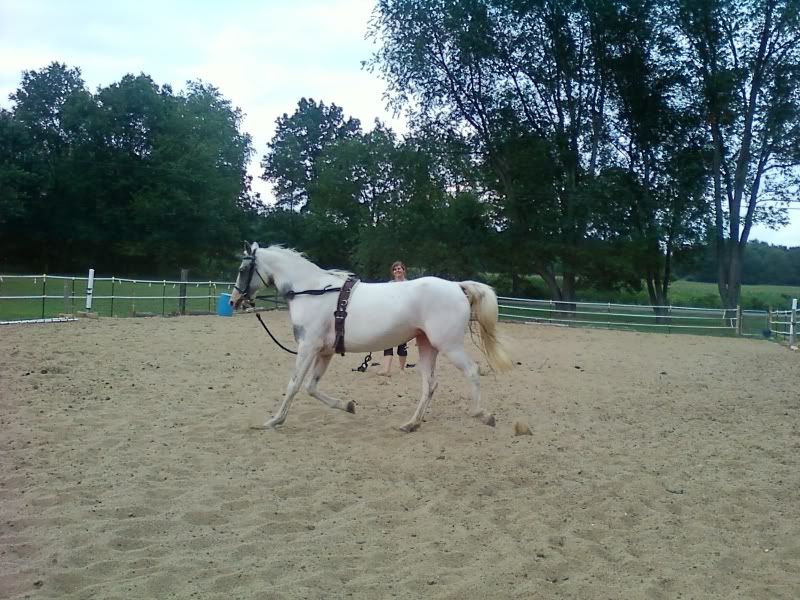 All white marks on this saddle are just hair.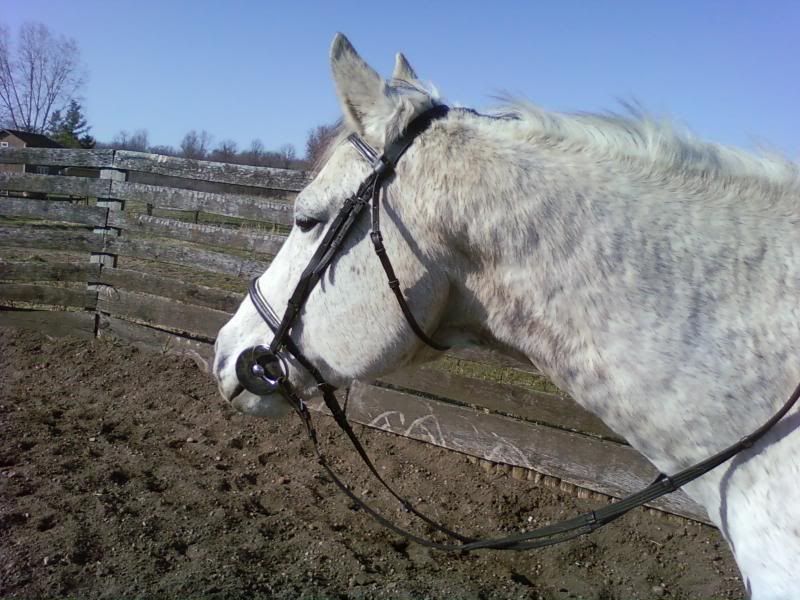 The bridle, no reins or bit though.
---
RH Queen O Anywhere "Sydney"
2009 Sugarbush draft
Sorry that it didn't work out for you! :( :(

I can attest that this saddle is in excellant condition, it used to be mine until Sarah bought it from me. I took very good care of it and Sarah hasn't had it for very long.

I wish you all the best in finding a saddle that works for both you and Magic!
---
Yeah, I am super super disappointed, I love the wintec brand. Maybe I will get lucky and somebody will want to trade their non-CAIR wintec for mine. :)
---
RH Queen O Anywhere "Sydney"
2009 Sugarbush draft
I wish we could edit our posts on here, grr...

Anyway, I have changed the price to 350 INCLUDING shipping. I will also send it off with the wide and medium gullet and the bridle that I mentioned before.

I am still open to trades however I think I found a saddle that I would like to buy so I would prefer to sell it right now.
---
RH Queen O Anywhere "Sydney"
2009 Sugarbush draft
Would you go any lower? I live in Alberta and I just lost my job because my boss got 4 working students and would rather not pay someone when she can have someone work for free. I would be willing to pay this price at any other time its jsut my mom won't pay show fees this summer and I event so its like $145 an event.

Also does it come with the stirrups or just leathers?
I can't go much lower as I have to be able to afford to replace this saddle.
---
RH Queen O Anywhere "Sydney"
2009 Sugarbush draft
INTERESTED!!!! Very interester,, would you take 275 or 300!???? PLEASE??? VERY INTERESTED!!!!!!!
Crap! I wish I had my taxes back already this is exactly what I have been pricing and looking for. If it's still around in a week you will be hearing from me:)
I know! Mine needs to hurry up and get here too!
---
RH Queen O Anywhere "Sydney"
2009 Sugarbush draft
I pm'd everybody
---
RH Queen O Anywhere "Sydney"
2009 Sugarbush draft