Quote:
Bo Jangles. Bo is 17 years old and a Shetland x Miniature. He is only 37" tall but he is VERY special in that we believe that he can sense seizures, much like some dogs. There have been five or six times when he has had a seizure-prone child up on his back while out on our therapy trails or in the arena, and he felt something 'off.' He then stops, refuses to move no matter what we do, and will very, very carefully lay down WITH the child on his back, and remain down there. 4 out of 5 of of those times, the child proceeded to seize.
Toby seems to sense seizures as well! There have been a number of times when he stopped, refused to move and started shoving the leader and trying to reach the therapist. One day, one of our riders had a grande mal on his back and we couldn't move her for nearly 10 minutes. He stood there waiting it out the entire time. It's amazing how sensitive they can be!
All your little ones are ridiculously cute!
Quote:
Originally Posted by
Critter sitter
View Post
i love all the pictures!! great horses and ponies and the goat too hehehe

I am love with NATE though wat a darling!!!
He's a riot! So incredibly playful and we've decided that "impish" is the best word to describe him. His nickname is Noodle because when he first came and was just greenbroke, riding him was like riding an overcooked noodle. He can still be like that on goofy days! Noodle definitely livens up the barn... he's constantly trying to make trouble.
I love seeing everyone else's therapy horses/ponies(/goats)!
This is our Gypsy mare that is free leased to Fassett Farms Therapeutic Riding Center. She is no longer breedable, so she was just a pasture ornament here while we worked and showed the stallion and sale stock. She loves her job and everyone loves her.
Oakfield Emma.
Looki'd those fuzzy ears... So cute.
---
life has no remote control hitch them up and drive them your self
Bloo isn't technically a therapy horse but I'm epileptic and he's taken care of me. After the BO saw how well he took care of me when I has a seizure on his back she asked if he could be used in the therapy program.
This is his little girl on her 'horse fitting'. I had just finished a ride and we were just seeing if his height would bother her because she's 3 feet tall and he's 15.3hh, so that's not the saddle she rides in. He doesn't usually like children but he gets super excited when she comes in.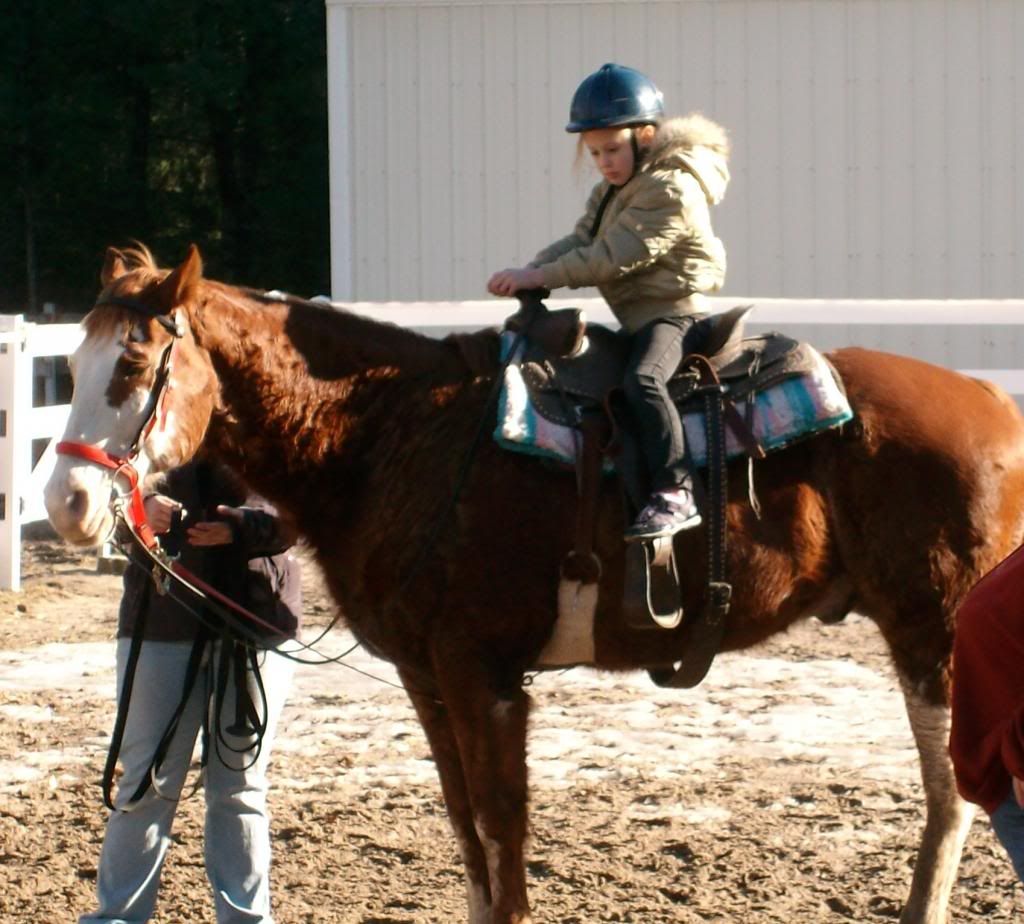 This is Stella she's a 14hh morgan qh cross. She's extremely careful with her riders so she's good for independent riders. She used to be in the regular lesson program but she really found her place in the therapy program so that's her life now.
Jitter Bug is the miracle horse. He has such a terrible attitude, borderline dangerous, but we've done a lot of work with him and now he's amazing with the kids. He hates pretty much every handler but if there's a kid on his back he's a dream.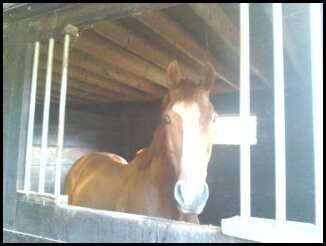 And this is Monty. This pony is perfect for therapy, he was pretty much born to do it. He's about 13hh stocky, sure footed, and very talkative. When the kids on his back talk to him he ALWAYS responds to them. He also gets fuzzy in the winter and makes sure to give the kids nice warm hugs.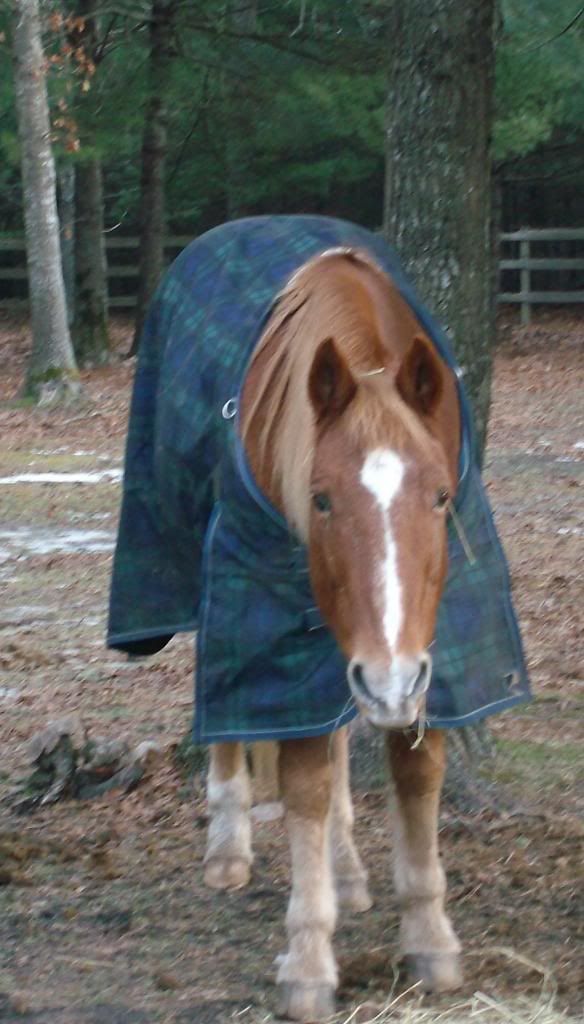 We have a few others but I don't have their pictures. I'm not really involved in the therapy program so I don't have much interaction with the horses. Bloo only gets used in one group with the horses pictured once a month.
---
Show me a horseman who hasn't fallen and I'll show you a man who has never truly ridden.


---
Last edited by BlooBabe; 02-21-2013 at

12:07 PM

.
Yearling
Join Date: Jan 2012
Location: The woods in the mountains of Appalachia
Posts: 767
• Horses:
5
I'm excited to say i'll be volunteering and eventually working at a local Therapeutic riding center. I can't wait. So until then here is my mare, who brought me back from a really low place.
My husband bought her for me as a valentines day gift, and as a project to help me get through the loss of our son. I was in a really bad spot for such a long time after we lost him, i had no motivation to do anything. I was sooo depressed, my doctors thought i was on medication, but i wasn't and i refused. He knew i needed something to get my spirits up, and me motivated about living life again. And i happened across a picture-less ad on the net. I showed it to him, and requested pics. In April she came home, and i've never looked back. She has helped me in more ways than i can possibly explain. She has been my therapy.
cats and horses 035.jpg
---
~Death leaves a heartache no one can heal, Love leaves a memory no one can steal.~
Elizabeth, you're horse looks like on I rehabbed a few years ago. She had a lot of trust issues and was an emotional mess around people. That horse helped me as much as I helped her. Then I met a man who was in an accident that she instantly bonded with. Giving her to him was the best decision I ever made. They're both working together to gain their confidence and trust again.
It's truly amazing how horses can help people. It's the reason why I let Bloo be a therapy horse. Epileptic people are urged not to ride but if Bloo can show 'his' little girl not to be afraid to try things, not to let her sickness define her, and give her confidence then we're doing our job.
---
Show me a horseman who hasn't fallen and I'll show you a man who has never truly ridden.


Green Broke
Join Date: Oct 2009
Location: Witbank, South Africa
Posts: 2,681
• Horses:
2
Well these aren't horses, but I'm sure everyone will appreciate them, and one of them is the SIZE of a horse
So here are our therpay dogs:
This is Ice, a 6 year old border collie. He's not the most eager, but he's the best dog for wheelchair bound patients, as he is very content to sit by them.
Ice.jpg
This is Dazzy, a 1.5 year old terrior. She's a very sweet dog, and unlike most little dogs, isn't the wiggle type, so she's the best to put on patients beds and do little tricks for them to see.
Dazzy.jpg
This is Ripley, a 10 month old white swiss shepherd. Ripley thinks he's the same size as Dazzy, and acts like a total puppy, but he's very lovable and very in tune to patients - he will sit dead still with a patient, even if he was being naughty a second before. He's so gentle with patients that we let them give him treats, he takes them beautifully.
Ripley.jpg
This is Lucky, a 7 year old cocker spaniel - my therapy dog. This is the best dog on the team, and he was born for this work. If we take him into a room, and don't take him to a person RIGHT AWAY, he will bark until I do. He will then "choose" the patient, and sit for ages with his head in their lap, and he tends to choose people with more severe problems than others, he's an amazing dog.
Lucky.jpg
My little 9 month old shetland sheepdog Ross is being evaluated at the end of March, as I have never met such a friendly, gentle creature, and because of his small size and calm nature, he will also be perfect to put on beds etc.
Ross.jpg
Lastly, a group shot that I ADORE of three of them and a patient:
Group.jpg
And to get this thread back on horses lol, my girl Love Story is a therapy horse, as she would rather injure herself than let a child get injured in her care. She's a very calm, sweet, loving mare, and all her kids love her. I don't have a photo of her in action, as she's on maternity leave after having a colt, but you can see her sweetness :P
Love Story.jpg
It's such a wonderful thing that these animals - and all you wonderful handlers do :)
---
Every girl wants their own LOVE STORY, I found mine... :)
Well I'm just so jealous of all of you :P My therapy ranch is struggling to find lesson horses right now, and while we own 5 horses, one of them is still too unstable to be used for lessons and another is retired because of his severe arthritis. I don't have many pictures, but I want to share so here's what I've got:
I'll start with my absolute favorite. I'll try and keep the pictures to a minimum, but he's the one I photograph the most. His name is Dundee, and he's an Oldenburg gelding. I believe he's something like 26 years old now and he has pretty bad arthritis, but he's so good about it. We use him for our larger kids because he's so well-behaved, he'll follow right behind the leader. And he's so gentle, the kids are always safe around him. He's really tall, I think around 17 hands, but I can't remember exactly. When he's not in a lesson he's a big jerk, he likes to bully the volunteers by backing them against walls, but he'll apologize afterwards and snuggle into your chest to tell you he was only playing around. He gets a lot of treats since he's popular and is always sticking his head over the stall door to get attention. My favorite memory with him is when he got loose after an inexperienced volunteer tried to lead him around. She had a history of spooking the horses because she has a very unsettling attitude, too much hyperness. But when he got loose, he cantered past her, and I just happened to be standing right where he ran by and I calmly say, "Dundee, it's alright. C'mere Dunders." And he slowed and turned to look at me, then just trotted right up to me like "Will you keep me away from the bad girl? :C" Everyone was screaming "Horse loose!" and running around only to run around the corner and see us standing there calmly xD
imgur: the simple image sharer
imgur: the simple image sharer
imgur: the simple image sharer
Now here's my favorite picture I have of these horses, it shows Dundee with his cute goofy smile and my other favorite, Rojo, a Peruvian Paso. Rojo is used for the youngest children since he's so small. He's a little more tricky than Dundee, he'll speed up a lot and pull on the leader during lessons, and unless we're tracking right he'll try to spin. But he's a good boy when he's with me. I know how to deal with him since we've been working together almost exclusively every saturday for nearly 2 years. Rojo spooks at EVERYTHING, so we always have extra volunteers on his lessons. He sneezes a lot too and, since I always lead, I end every lesson drenched in horse snot xD
imgur: the simple image sharer
Now, this little miss is BonnieBelle, or Bonnie for short. She's a gorgeous Quarter Horse and everyone loves her, but she can be a great pain sometimes. She likes to nip when you least expect it, and she has this obvious distaste for nearly everyone. She loves the kids though, and is so good at all the lessons, we use her for every variation. She has absolutely no quirks when she's working. She likes getting her butt scratched and playing with the apple in the picture.
imgur: the simple image sharer
Now this one is Cimarron, another Quarter Horse, but everyone calls him Cimmy. He's a great horse but he's always had bad arthritis and it got so bad a few months ago that we retired him from the program. He has really fine short hair so he's really easy to groom. He's got super long legs so I never led him in lessons (5'1" here) but he's always been really good. In the second picture he's got a girl named Sophia on his back. She's usually confined to a wheelchair because of her cerebral palsy and on the ground she has this distant stare and just a sad appearance. No animation, she just sort of sits there. On horseback she's been learning to hold herself up and she gets this huge grin on her face. When the people on her lesson start singing to her she'll start laughing so hard that she'll wheeze, and it makes everyone around so happy to see that difference. Her dad's a saint as well. Typical parents will bring a book and only look up every once in a while to encourage their child, but her dad never even sits. He's always standing watching her and you can tell he's so proud of her progress, and he's so encouraging it just makes me want to cry. If any little thing goes wrong he'll run over to the lesson and duck into the arena and ask what he can do and ignore everyone telling him he can rest. You can see him in the picture in a red shirt.
imgur: the simple image sharer
imgur: the simple image sharer
This horse is named Spade, and he was a part of the family for about a month before his owners decided they wanted to take him back :/ I had been assigned to exercise him every day after lessons because he could walk forever. Such a sweet well-behaved boy, he was bombproof.
imgur: the simple image sharer
Now, the last horse isn't working well in lessons yet, but we're working on it. My friend Leah used to ride him with me when I would ride Spade. He's still pretty shy and has an injury on his back so he can randomly get twitches that make him shake the rider a bit, but we're working on it. I still love him and know he has a lot of potential.
imgur: the simple image sharer
Sorry about the pictures, I ended up just putting the links since they showed up so big!