great photos guys, very beautiful!
---
Horseriding- The art of keeping a horse between you and the ground.
Yearling
Join Date: Jan 2012
Location: The woods in the mountains of Appalachia
Posts: 767
• Horses:
5
My gelding will be 21 in may, and i'm debating on loaning him to the local Therapeutic riding center. He'll probably need a little tune up, i know he's great with kids, and i know he'd be getting the exercise he needs. I know he has some arthritis in his front legs. It's just a thought, since i'll be working there, i'd be able to keep after him, and he'd still be getting everything he needs, meanwhile i'll be working with my other 2 at home. It's still up for debate and i have to ask and see if they are looking for anymore horses.
I just don't want him to be left all alone, while i'm busy with my other 2 horses training.
shadow and i.jpg
---
~Death leaves a heartache no one can heal, Love leaves a memory no one can steal.~
They are all beautiful animals
Medicine horses healing humans, these horses haven't been 'taught' this; they do it at liberty.
I will have to get pics of the 16 horses at NHR soon...
---
**I must not forget to thank the difficult horses, who made my life miserable, but who were better teachers than the well-behaved school horses who raised no problems.**

I absolutely love all these pictures! Very gorgeous horses(:
Found this pic on my therapeutic barn's Facebook page. Excuse my hair - I had no idea anyone with a camera was even in the arena
This is Sox. He's a 23 year old QH and one of our best therapy horses. He is very sweet and cute but can be very stubborn when he wants to. He absolutely loves kids and will do anything to keep his rider safe and comfortable.
I need to take my camera down to the barn one day and get pictures of the rest of the horses. I always forget or end up being too busy!
---
A horse is a mirror to your soul. And sometimes you may not like what you see. - Buck Brannaman
Quote:
Originally Posted by
Lunarflowermaiden
View Post
Murphy. Our old man of the program, who is somewhere in his mid-twenties. Former racing Quarter, but is now mostly the baby sitter to one of our instructor's filly (who at not even a year is now as tall as him), as well as a safe horse for lead-around students, as well as the semi-independents.
I absolutely love that photo! such a beautiful horse.
My mare is not exactly in a therapy program, but she's helped me and a whole bunch of people so I hope I can post this? We don't have a real big therapy program where I live but when my mom meets someone who needs a pick me up we bring them out to the barn with our horses and let them interact. She loves kids to death and never takes a step wrong. I put my bosses granddaughter on her all the time and she just plods along, if a kid gets scared she just stops and puts her head around so they can scratch her noggin while she nudges their feet. We've used her to give kids with severe depression more hope, kids with small mental/physical handicaps opportunities until they could get fit into the program that's a few hours away. The only adults she's ever let clamber around on her so freely was a lady who had been in a horrible riding accident and wanted to get back on a horse but had PTSD about the incident, and a woman who was pregnant, she had had some kind of complication though and was actually told to get on and off a horse for a better chance to keep the baby. I can't for the life of me remember what it was though. My mare kept looking at the lady and when she got close to brush her my horse stuck out her nose and gently placed it on her stomach. My little brother had epilepsy (absence seizures) and we always put him on her when we were out at the barn. She just knew when he was going to have a seizure and would stand still, if he tipped one way she would put her head around the side so his body would be held up by her head. The one time he actually fell off (not because of his epilepsy but because he was goofing off and catapulted himself off of her) she moved her body so that she was shielding him from the other horses and riders in the arena (she's done this for me too when I've fallen off). When she's laying down she let's kids climb all over her and doesn't' get up until they're clear from her.
I've come into the barn where we board and had my mare decked out in braids, hair glitter, bow ties, with bags of treats and thank you cards all around her stall. I always used to come in and laugh because the darn thing never wanted for attention and was treated like a queen! It's been a while since we've had that (there are a few kids who still come by and say hi but eventually all of them got their own horse and/or got into the program) and went their separate ways. For now it seems as though she's MY therapy horse, both in a physical and mental way since I've been injured.
I applaud all of the great horses that are out there! They truly deserve to be ranked among the heroes!
I am a little late on this conversation, but I thought I would share the horses that I work with. I am the equine manager at a therapeutic riding center and I enjoy every minute!
First up is Lady, a welsh cob around 18 years old. In her distant past she was a third level dressage horse. I LOVE this mare! She is a good horse.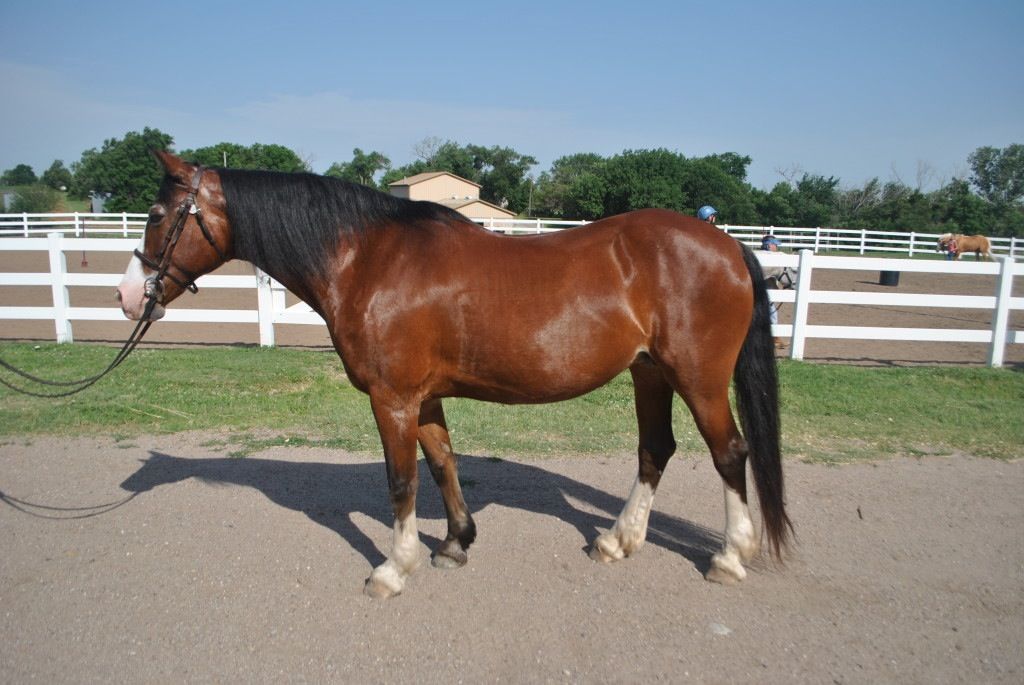 Dixie is a 21 year old Quarter Horse that was donated with Lady. She is the most energetic of our horses! With an experienced rider she is a power walker, but with those kids that are nervous, or just beginning, she slows down drastically.
Winnie the Pooh is our 12 year old Haflinger gelding. He is easily the most tolerant of all our horses, and is great with almost all riders.
Honey Bee is our 23 year old POA mare. She was donated to us after living in a field for 6 years with her filly. She proved to be very willing to please, and fell back into work quickly. She is almost blind, but you can never tell.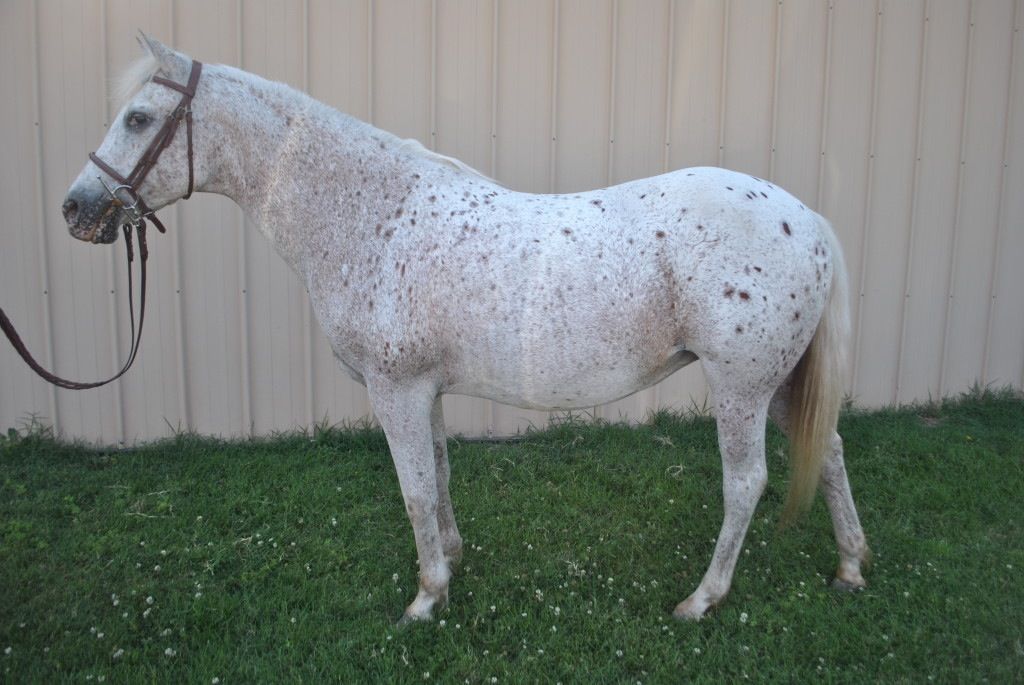 And last but not least is Diamond. Diamond is a "special" horse in more ways then one! He was donated and it became quickly apparent that he was an extremely lame horse. He had an old broken bone in his front leg, and bad arthritis in his hind legs. A local vet donated his time and gave Diamond Stem Cell Therapy. The results were almost immediate! Within two weeks he was walking and trotting almost sound. He continues to do pretty good, if you can keep him walking faster than a shuffle. =]