Cool pictures, Foxtail! That bunker gives my claustrophobic self the heebie-jeebies!
The bosal is beautiful. I used to love riding in one, but it got lost somewhere along the way. Mine was very similar.

Evilamc, you are getting out there! Our trails were too slippery yesterday, too, so I rode Sissy down the road a bit, and then I got mad at her, and made her work circles in the muddy arena. The good news is, she gaits in a circle now...when I first got her, she woud only gait on the straights, then fall back to a dog walk on the corners.

Here is Sissy's fuzzy head, with Tina and Mary ahead, from day before yesterday.
---
Last edited by greentree; 05-12-2016 at

06:52 PM

.
20.02.2014 - 20km; total: 187,5km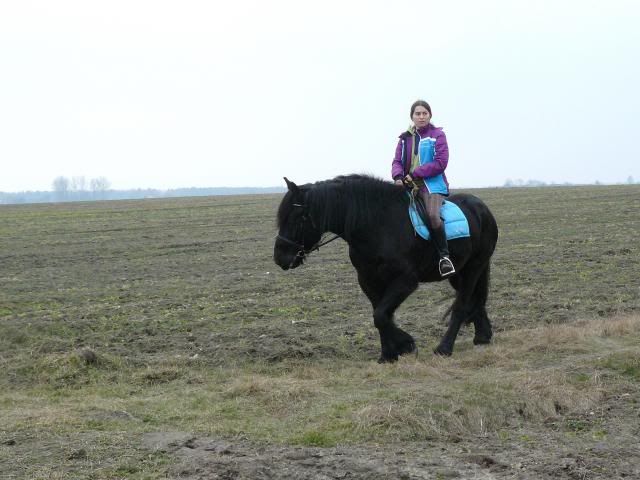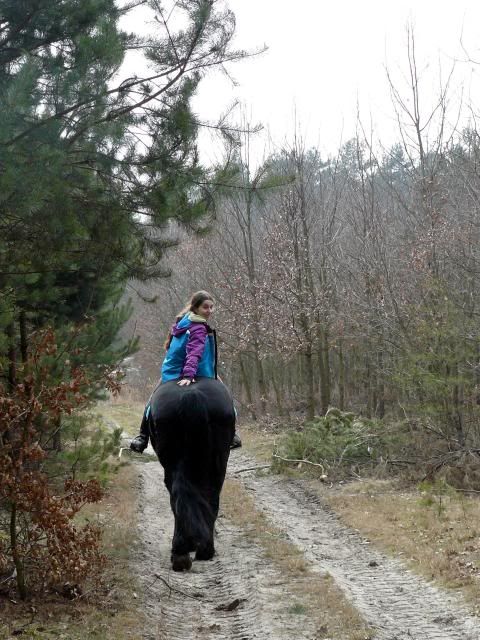 Where did all your snow go Any? That was a quick melt. You and your horse look absolutely gorgeous. I however would need a crane or at least a step ladder to get on as I am very short.
any: Your horse is a towering statue of beauty! You two look very good together. So relaxed and calm!

greetree: thanks! I am really enjoying the bosal with April. Lately, she has been raising her head when I show her the bridle, and she used to lower her head around me for bridling. Yesterday, when I showed her the bosal, she started to raise her head a couple of inches, then looked at the bosal and had the funniest look in her eyes. I want to say it was relief, but who knows? Then she dropped her head back down and let me bridle her, with a calm eye and relaxed body. Much improved!

April and I rode alone just up to the neighbors and back, 2 miles. She did a spook-n-spin at the llamas while a car was approaching. My neighbor in the car said "Dang llamas!" to us as she drove by.

We galloped up the hill, walked calmly back and then worked on fore and hind turns, a few slow spins and opening and closing gates, then ended for the day. It was the best ride we have had in a month!

I have decided to make an appointment with the horse dentist because I think April's teeth are bothering her. In the meantime, the bosal is awesome!
Oreos Girl
- he isn't so tall ;) about 160cm maybe few more but not over 165
there is still some snow here but it's only spots now /in places where was thick layer or in shadow places/
Foxtail Ranch
- thank you ;) I take that as a compliment ;)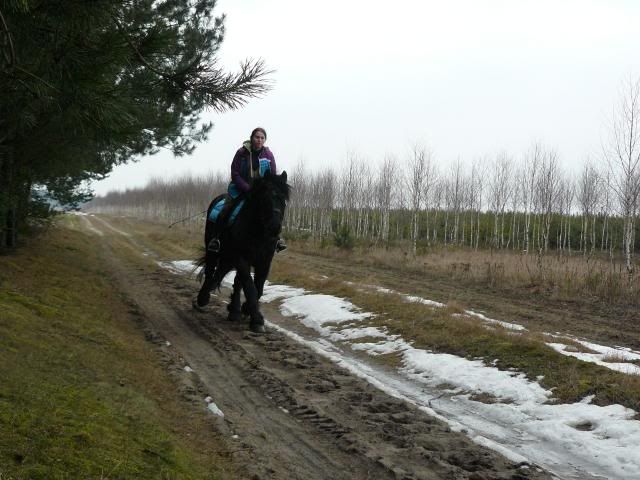 Greentree, no wonder you never lack for something to do with a herd that size!! Next time you are bored (ha!), I would love to see pics of everyone.
Foxtail, those are beautiful pictures. I assume you are in southern Oregon if you ride in places that used to be japanese camps? Glad to hear your mare is appreciating the bosal. Also good to have her teeth checked, as it sounds like something is going on to make her resent her old bridle.
Any, can you tell me your secret when it comes to getting ride of all that snow and leaving behind lovely, dry footing?! I am so very jealous!!
Quote:
well snow is finally melting so I thought we could get a little ride in...made it to the trails and they were just icy slushie snow mess.
This was me today. Got on Dream and didn't get very far before realizing the thaw yesterday and the re-freeze overnight and the thaw today left the path a crazy combination of nasty icy crust on top, icy layer on the bottom, and heavy slush in between. So instead of being able to ride on this lovely day (its 50F here today.. FIFTY!!), I am inside the house cleaning (and pouting).
Weather is only going to get weirder, with warm temps and an inch of rain expected tomorrow, then temps start the downward spiral with highs only in the 20s expected by Monday. Oh, and maybe another "substantial snowstorm" late next week. Hopefully that storm thing is only media hysteria. So. Over. It.
2014 mileage
...
02/19/14 dream 5.29 miles 5.0 mph 95.00 total miles
02/20/14 dream 2.30 miles 3.4 mph 97.30 total miles
---
There is no joy equal to that found on the back of a horse.
phantomhorse13 - patience! just patience xD
You are right Any, he is what we call in the US between 15.3 and 16.1 hands tall. Still I have to use an 18 inch (46 cm) step and put Oreo on the down side of a hill to get up on him and he is 15.1 hands tall.

So I told my dad I was stilling his new horse April. She was so easy to get on.
Quote:
phantomhorse13 - patience! just patience
Nobody who knows me is likely to call me a virtuous person.. so that is indeed something I am certainly lacking. Dammit.
---
There is no joy equal to that found on the back of a horse.
Any, I LOVE your horse!

I am through feeding, and sitting here listening to thunder, and wanting to smash the stupid weather radio!!

Gotta fix dinner for the humans...hmmm

Nancy