2017 Rides-share your trail
---
Looks like I get to start our 2017 thread!
Had a great New Years day ride with my friend and her daughter and my mom. My mom is a rank beginner pretty much...I got her a lesson last time she was here to help her because I'm a terrible teacher...and she said this time when she visited she wanted to go on a "real" trail ride...Ya no. So I took her to the rail trail, a very SAFE first ride lol!
Picture of us together. Lol I was trying to help her get Orianna positioned and trying to keep Jax positioned at the same time...I failed. This was taken at the entrance to the first tunnel!
Cool bridge you go over at beginning/end of ride :)
Then we decided to grab lunch at McDonalds before getting off :) We rode through the drive through
Jax ended up being a bit nervous about the strange guy in the window so I ended up having to hop off to pay :( Oh well!
We had a great ride and Orianna was a SAINT for my mom. Lol my mom was barely holding the reins and just had her hands resting on the pommel pretty much the whole time. Orianna just follows Jax and every now and then gaits to keep up. Shes the best guest horse EVER. Jax actually did quite great too! He wasn't rushy back at all which was surprising. I did have trouble getting him to gait though...but wasn't really in the best situation to work on it with three people following behind me so I just let him trot and posted it.
10.4 Miles! Starting the year off right!
First 2017 Ride
---
Wow, @
evilamc
what a great ride you had. Very interesting and long trail. I've just been lurking these last couple months. I did a lot of riding in October but then it dropped off dramatically in November and December so I thought I'd just wait until now to start posting regularly. I also feel I have a lot to learn about this site.
My New Years day ride was on Ramsy. My favorite riding horse, well, most the time. I just moved him to a new stable Friday but he seems to be settling in well. I'm excited because there are trails right there, first time I've had trails without having to trailer. Its a beautiful place. I'm not sure you all would even consider it a trail ride it was so short but it was raining and to be honest I was going to just hand walk him since I don't know the property at all yet but then he was all tacked up and the mounting block was right there so I couldn't help myself. He was jiggy but I LOVE how he did not hesitate or balk for a second walking right off away from the barn and other horses. He is so independent and brave I love love love that about him.
Below was the only picture I could get. I guess I have a new goal, to get my horses to stand still long enough to get pictures. LOl. The other was just a blur.
My Goal is to do 100 miles on each of my 3 horses. I know that's awfully ambitious but why not.
Ramsy ytd 1.9
Boomer ytd .5
Woohoo for the 2017 thread! Glad to see people have already gotten some saddle time.

I am on the road home from a great weekend in Florida. I got to ride not once but twice yesterday to start the year off right. I will update my journal and mileage totals when I am home.
I have enjoyed reading about everyone's rides in 2016 and will do so for 2017, I haven't ridden since the end of Oct. as I suffered a knee injury (torn meniscus) and am still on crutches so that put an end to my riding for a while. My riding friends had a great ride yesterday and a pot luck after. We try to do this every year.

Looking forward to reading about your rides.
@
kklenk
Any goal set is a good goal! Its good to start small and build up too. I was WAY off my goal in 2016. I moved, opened a business and just have had so many projects going on I didn't get much saddle time. I finished 2016 with only 318 miles between both my horses :( Hoping to do closer to 500 this year. Most my big projects are finally coming to an end and we're doing some logging so I may finally have some trails through my woods and not have to trailer to ride! Thats so great that your new barn has trails you don't have to trailer to. Nothing is better then having a brave horse too!
My daughter and I went on a ride around our place. It got up to 50F. My neighbor and his friend was cutting and moving wood on our place, the horses didn't mind all the noise as we rode by.
Yay 2017!
I haven't set a goal out for myself this year just yet. I'd like to reach 100 on Stryder, if not more. A lot of that will depend on if I get a truck and trailer this year too.
I rang in the new year Yesterday (the 1st) with a two mile trail ride. This time I brought my long lead rope with me so I could work with Stryder over some of his obstacle difficulties. He really doesn't like puddles.. or ditches and trying to push him over them in the saddle was just making him angry. So I got down and we'd walk over them on foot, then I'd get back up and ride him over them. Until I start going out with other horses more, this will probably be the way we build up his confidence.
We trail blazed today and decided to just wander through the woods and see where we ended up.
Ended up at the hay field we sometimes ride in, though it took going through a huge thorn bush to do it.. Ouch.
So, 2 miles for Stryder so far!
---
EQUUS KEEPUS BROKUS
Love all the ear pictures!

I just had another surgery on the 21st (that makes an average of two a year for the past three... I bet this is getting old to all of you; it definitely is to me!), so still no riding for me.

But this is one of my favorite threads, and I'll live vicariously through you all <3<3

Happy New Year!
---
The sensitivity of the internet baffles me.
It was so satisfying to add a brand new 2017 tab to my Excel mileage tracker today! :)
It was a pretty gloomy day to get started, and the footing in the woods wasn't great. It was the first time this winter that there was an icy crust on top, so it was slow going as we broke our way through.
We looped back up to the road, where things were a little better, but still icy spots.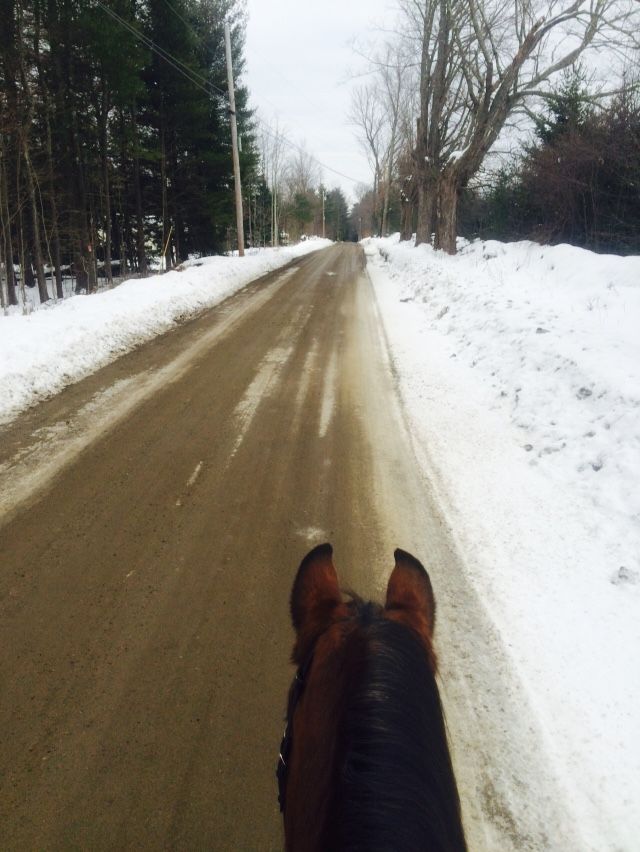 Overall, a slow, short start to the year at less than 2 miles.
I'm going to set my 2017 goal at 175 miles, which may or may not be realistic. I'm still not completely sure of the full trail system at the barn we moved to this fall, since we got there during hunting season and it's just finally wrapping up. So hopefully we'll have more room to roam soon, as I don't have a trailer so I'm sort of left with what we can ride to!
Sending healing vibes to everyone who's recovering and looking forward to some saddle time later this year.
Total 2017 miles: 1.71