I second the Best Friends bareback pad! I just got one and I love it...I would stay away from anything with stirrups attached. It will cause you to slide around a lot and it will put pressure on the horses withers...it doesn't distribute weight like a saddle would.
I ride my horse mainly bareback...neither of my saddles fit him anymore so I don't really have a choice until I find one. But I'm tall and pretty thin and my horse is built fairly well (although he doesn't look it in the awkward angled photo below), minus his back being a tad long, and he doesn't have any back soreness issues. I think he actually prefers riding bareback. I am a "sticky" rider and don't move much at all when I ride...If I do, it is because he startles himself or bunny hops over jumps lol. I don't see any harm in riding bareback consistently if you are a quiet rider and aren't bouncing and sliding around all over your horses back. I always check his back after every ride to see if he has any discomfort, and so far so good!
This is the only picture where you can see my bareback pad...its cheetah! There is a newer version which I originally wanted but the online stores were completely sold out and the one I ordered took over a month to SHIP it so I cancelled the order and got this one instead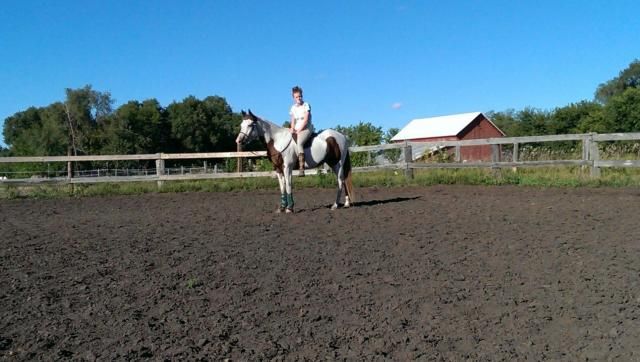 ---
Last edited by shellybean; 09-14-2013 at

09:56 AM

.
Shellybean, can I just say you two are really cute together! :)

I knew someone who got that bareback pad with stirrups thing and after a few rides the horses shoulders were sore. I'm pretty slender so I always worried about giving my horse a sore back from my seat bones, but I check all the time and no issues.

Personally when I'm out on the trail I like to have something I can hang a bag from that has my emergency stuff because I hear just too many bad stories these days about trail accidents.
Posted via Mobile Device
I ride bareback if it raining and we want to ride we jump on bareback. Bareback is easier any way no saddling up just put on bridle and go.
I've heard that too. But I guess it can be okay, unless you're too bouncy on their back.
Foal
Join Date: Jul 2013
Location: Waiheke Island,Auckland.New Zealand.
Posts: 4
• Horses: 0
Went bareback riding today (forgot girth gah) however was good to do if only once in a while.Reminds you of where those other muscles are haha.Did it with waterproof trousers on too ,yikes,lucky I've got an exceptional horse.I find bareback riding great for aides and feel more secure.