I ride with lots of folks who trail ride in snaffles. Simple O or D ring snaffles. I would ride The Biscuit in one if he responded well - and one day he will. His trainer is working with him on that. He was rode in REALLY harsh bits before I got him and he can be hard to put the brakes on at times but he is getting where he responds so much better.

I am with everyone else. If you horse is a happy camper - ride in what you have.
i've never ridden any of my horses in anything but a snaffle in any type of conditions (arena, trail, etc.). what works for you and your horse is what WORKS for you and your horse.
I break all the rules. I ride in whatever bit I feel like on a given day. Snaffles, curbs, tom thumbs, mechanical hackamores. I even direct rein in them. Gaited horse folks direct rein in curbs all the time. I have never noticed a difference quite honestly from something like a Myler with the swiveling mouthpieces and a basic curb with no moving parts. Now I love my Myler bits (I have 3) but I also ride in normal curbs and my horses ride nearly the same no matter what bit I use.

The only bit I feel gives me less control is the snaffle, but hey, they ride great in that too. I just get less breaking at the poll in a snaffle, and if we go for a canter it can be hard to slow them up. But basically, I switch up all the time and the horses know me and ride the same for me no matter what I use.

I personally have had good luck with the tom thumb, much to the annoyance of everyone on the internet!
Quote:
I ride my horses out on the trails w/snaffles all the time.
Me too. Have for years. My old guy is pretty heavy and strong on trails, so I use a Waterford on him. Not a gentle snaffle, but it works for us. Many I know use regular d snaffles. But I would say, if the TT is working, and you stay off it unless you really need it, stick with it-at least on the trails. You may want to do some ring work to get your horse listening better. I just never bothered with my old guy-should have, but he has been semi retired for several years and I have other projects.
---
Signature undergoing edits. Please standby.......
I really enjoy the french link snaffles. I used to use the single joint, but I like how there isnt the nutcracker action of the single joint, and (I dont know if this is going to make any sense) I feel like its wigglier than a single joint, making it harder for the horse to brace.
I ride my pony in a snaffle bit, and my ex racing thoroughbred in a d-ring snaffle bit! It easy on there mouth, and relaxing rather than using a harsher bit that would be used for training or specific disciplines.
Dont let your brain explode!! Relax and go with what you two are comfortable with. IF you have control,and a light hand,I wouldnt worry about it.Im not sure who told you about never riding trail with anything less than a curb,but I beg to differ.I ride mine without a bridle or halter and have never had any problems.This pic was taken in 1971 and theres been plenty of trail rides since.Not just on her,but all of my horses.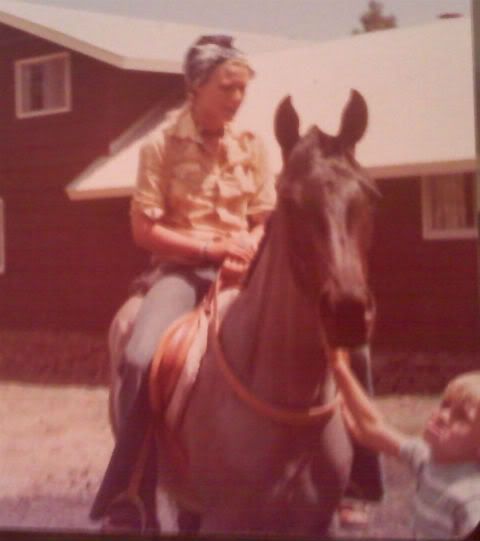 ---
Last edited by oceanne; 04-15-2012 at

01:43 PM

.
Wow, neither me nor my horse got the trail ride = curb bit memo. My boy came to me in a TT, tossing his head any time you touched the reins. I switched him to a french link snaffle and he quieted right down. We use it in the arena, on the trail, at exciting events with lots of strange horses and even last week when we followed cows for the first time.
Definately go with what your comfortable with! Don't let anyone tell you what you can and can't ride with!
Posted via Mobile Device
I am riding with a mild curb bit, but it is pretty irrelevant what I use because I rarely touch her mouth. She rides along on a loose rein most of the time. If I need to slow her down, then the bit is there. She neck reins unless she really doesn't want to go that way. Then I can direct rein with the curb. She can be a totally psycho horse, but she doesn't sit there and tug on the bit all day. I left the snaffle because she doesn't respond that much to it when I need a bit.
---
Celeste
Carpe Diem!