I tried to find some photos that showed a profile view of a rider going down hill. Not many in my collection. Guess I'm hanging on when gong down steep hills instead of taking photos.
Here is m daughter going down a hill. And I think she is in pretty good body positon.
Another steep downhill. But it is hard to see the riders psition and many are just kids hanging on.
As far as the horse going off a 10' earth bank. I ride that area a lot, and sometimes you just have to do it. It's Butch Cassidy and the Wild Bunch country and those rider want to taste the challenge of what the Outlaws had to do. But most times there is an alternate route around. But i a possee was chasing you, there was no time to search out alternate routes
Oops That not the photo I selected.
Looks pretty good to me, does one get to cross that river too?
oh my goodness, I haven't done anything that steep yet. I see people really are pretty upright. As always, beautiful pictures!
Barry, if you look across the river you can see the trail start to climb up the opposite side. So yes we cross the river after descending the hill.
This is from the other side of the river looking back at the trail she was riding down on the far bank. The above photo was taken just below the turn around in the road in the picture below.
Sometimes even on steep hills, we have to sit up when we ride laterially across the hill. You can that non-horsey friend of my daughter on the sorrel horse leaning into the mountainside, because she is nervous
---
Last edited by Painted Horse; 03-20-2012 at

11:40 PM

.
I like having my shoulders a bit more forward when going down a steep hill. I try to put a bit more weight on the front, which can regulate the speed better. They can plant and walk. Putting weight too far back will weight the hind legs which will tend to slide. In some cases where people weight too much on the haunch, I have seen hind legs slide uncontrollably. This is how I teach my cross country students. It is more commonly seen in English than leaning way back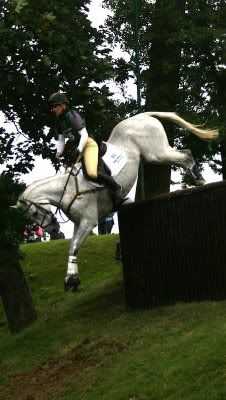 The bank ridden well (about the only jump ridden really well)
All my years guiding pack trips into the Colorado rockies, I always rode this way down steep hills and never had a horse slide. Weight the haunch and it is much more likely to.
---
Last edited by Allison Finch; 03-21-2012 at

12:58 AM

.
PH - Simply magnificent country to ride in - lucky man.

If one can ride a horse, there is just so much to see in this world.
Alli , a few years back, maybe an old man like me could have coped with the banks but that downhill fence would be too much for me and certainly for my horse.
What about if you're trotting/cantering down hill? Do you still keep your back parallel to the ground with the trees? I don't have many hills to perfect my position on, and they're all small, so I never really feel like I get anywhere.
Quote:
The key thing in coming downhill is to keep in balance with the horse and to sit still and upright with the trees. The horse must be given control of its head but the rider should keep a very delicate touch with the mouth through the reins.
Keep the horse going but slowly, slowly

As for the cowboys, well I'd have looked for another spot along the trails to descend. It is the rider's responsibility not to put the horse in jeopardy of hurting itself , especially falling.
I agree, also knowing the ability and limitations of the horse your riding.
There are some I wouldn't think twice about baling off down the hillside at 9-0, and others I wouldn't cross the bar ditch in my front yard..lol
---
I DON'T LEAD 'EM AND FEED 'EM, I RIDE 'EM AND SLIDE 'EM.