Endurance saddle- center fire rigging
---
I finally figured out why it never appears that my saddle is fitting correctly....

Endurance saddles are usually equipped with center fire or 5/8 position. The 7/8 rigging that is on most trail saddles won't work for endurance riding -- endurance horses need the full range of their elbows, without a cinch too near them. Western saddle rigging tends to pull straight down, putting more pressure in the front of the saddle, but the rigging on endurance saddles should pull more from the center of the seat. Quality endurance saddles will have a rigging system that avoids bulk under the rider's leg, eliminating chaffing and irritation. Remember that center fire rigging requires a rather wide cinch (6-8 inches) to keep everything in place.

It has a rigging double rigging that I haven't been using (to do a v rigging). I've been cinching up the traditional way and not using the other rings. Also, from the description about endurance saddles (above), it does sit farther back from their elbows.

Does anyone know how many times to loop in in the front ring before using the back ring?
---
Last edited by Newby32; 02-12-2012 at

11:26 AM

.
I think that may depend on what kind of saddle you have.

The saddles that I am familiar with with center-fire rigging don't give you an option of how many times to loop through, they have billets that attach right to the girth buckles.

Could you maybe take some pictures of your saddle and the cinch?
---
There is no joy equal to that found on the back of a horse.
Also, if you click beneath the saddle, you can get a bigger picture. This post is in the wrong forum. I meant to post it under "tack". (sorry)
I would actually love to see how it is supposed to work as well as pictures of other people's saddles. I am most likely doing it wrong.........
---
Celeste
Carpe Diem!
I got this saddle for Christmas. It is really comfortable, but I am wondering.
Is this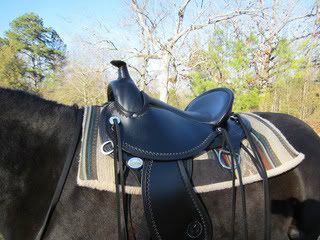 supposed to be rigged up like this?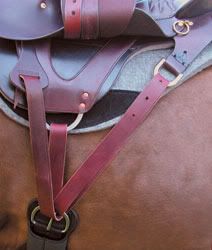 ---
Celeste
Carpe Diem!
Celeste- That's exactly what I'm wondering. How many times did it go through the first ring before the second ring was looped through? Mine is long enough to through the first one twice, then the 2nd and still have some left.
From your picture, it looks like it went through once on each loop.

I will check out your link too. Thanks! Below is a picture of my saddle on my horse, but rigged incorrectly. The problem is that once we are riding for a while, it slips to the left. If it was cinched down on the back loop, I think it would hold better in place. Most people at my barn don't have saddles like this and have no idea how it's supposed to be rigged up.
It looks like we have similar riggings. Do you think that your saddle is a bit too far forward? It seems to be higher in the front. Or does it just look that way? Hopefully somebody will know what they are doing here because I don't ........
---
Celeste
Carpe Diem!
the chest strap looks tightish. And I agree that it looks too far forward.