English saddles on the trail
---
So Phantomhorse13 and Brighteyes have helped me about riding with an english saddle and understanding as I would like to try it but fear I will get really hurt...I believe mostly it's because of the irons and how they are so small I feel I wouldn't be as secure as I have had some incidents that I have been a close call.
For all those who didn't read I am use to riding in a western saddle or my treeless hybrid saddle. I feel they give me a sense of security incase something happens and I really enjoy that I can really feel my horse underneath me but I would really like to use my wintec as well. It was my xmas present and I've only used it for local shows and in the pasture where I usually ride.
I think I would feel comfortable with caged(not the hooded stirrups)endurance stirrups/irons as they are wider,squishy,and I think it would help me as I am sure my nerves would be up just thinking about the what if my foot slipped through.
Also so you just use a reg. english pad as I imagine these would get soaked with sweat! I finally am able to get my saddle pads up in the gullet without them sliding down...thank goodness as this was driving me crazy!
Here is my endurance saddle..it's technically an treeless english saddle but with western fenders and stirrups. I can change them over to english leathers and irons if I choose.
Here is a picture of my wintec...I will get new updated ones as I have adjusted the fit of it and I don't have the nylon/rubber stirrups leathers anymore so it looks a lot better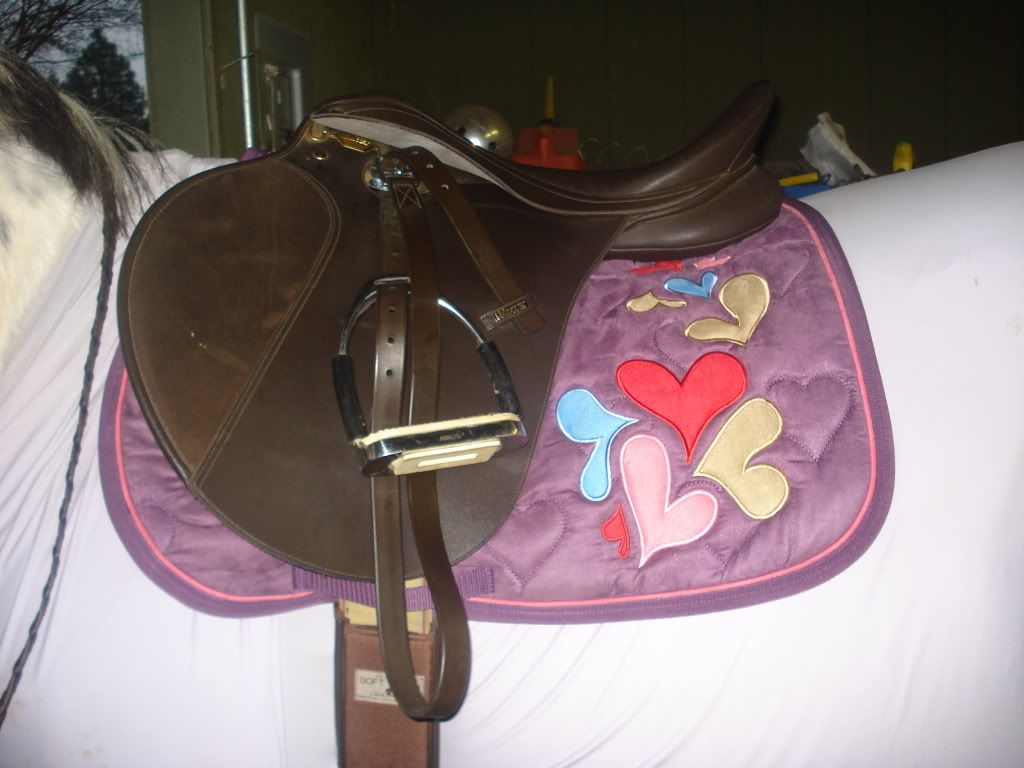 is the treeless a torsion? i have one of those as well and i love it!
my first suggestion for your english saddle would be to get a seat cover for it. i suspect the wintec feels very slippery compared to the suede seat of a western or the fleece seat on the treeless. doesn't have to be the highest quality one and break the bank, but i suspect it will make a huge difference.
and you can always change the irons on the wintec and leave the current leathers. i ride in my torsion with english leathers (synthetic ones) and the caged endurance stirrups. just make sure you get the smallest bar size, so they don't wobble a lot.
---
There is no joy equal to that found on the back of a horse.
I normally trail ride in my western saddle, but I switch to english sometimes. I usually take the stirrups down a couple holes so that I am not so preched upon the saddle, and I have a deeper seat to stay in better. I use normal english stirrups, and they work fine as long as you remember to keep your heels down and wear boots with heels. As for the pads, I dont use a thin one, I use one of the thick pads. You can get one of the sheepskin ones (mine is fake sheepskin, way cheaper and you dont have to worry about ruining it) or get one with a padded inside, just to make the horses back more cmfortable on long rides!
I learnt in a western saddle and I used to ride in a stock saddle but now a english.
My english saddle makes me feel free insted of trapped. :)
Trail riding is the main thing I do when riding, and I feel perfectly fine in any saddle. As long as you are comfy and feel safe is all that matters, oh and the saddle fitting you and the horse correctly! :P
Nice saddle rug btw, I have the same but blue! :P
SAM_1240.jpg
No that is not my saddle and it does not fit me, but mine is like that but not synthetic and fits me. :)
---
Horses give us the wings we lack...
Hey th ats awesome! I love that saddle pad..cute huh?
I was going tp say that saddle looks pretty big for you.
Lol, it's my Mum's saddle. We was trying it on him to get a rough idea for sizeswhen I got mine. :)
---
Horses give us the wings we lack...