Let me start by saying that I have never high-lined a horse.

But... the stable where I board the owners do it all the time. They offered to let my horse and I come out with them on some of their weekend rides this summer. They say that they usually start working with a new horse on high-lining two or three days before a trip and have never had any trouble.

Don't know if that helps or not, but they seemed confident that any horse could do it relatively easily and without much fuss.
Sounds easy enough Yadkim.....
Paint, I know what you mean as far as hearing.
I coughed up close to 5 grand last year for hearing aids....
It's a huge quality of life improvement....they're really small now, very comfortable, and clear as a bell.
I hear things now that I've NEVER heard before.....
Sorry, ladies, still don't hear the wife very well, I paid extra for that feature. LOL.
---
For we wrestle not against flesh and blood, but against principalities, against powers, against the rulers of the darkness of this world, against spiritual wickedness in high places.
This is a guide that one of my camping buddies wrote. They are the ones that got me into it.
Horse Camping - TROI
These pics are from my first camping trip that I took with them. My mare had never been high lined before, but she ties well (both straight tie and cross tie) and other than a little confusion at first, she figured it out very quickly. The bay and chestnut are their horses (Sancho and Jesse). They are senior camping horses. They are out nearly every weekend that is nice enough to.
---
Proud owner of ~Mana: 6yo Arabian gelding~Pearl 13yo Arabian~Danzer 14yo Arabian mare~ Tiny mini filly
My horses in hunting camp.
Tired horses after a long ride in Yellowstone area
Lead ropes are long here, Mainly because had laid down and I lengthened the leads so they could lay down
Here I have some buckets of hay cubes under their noses to feed them and keep them busy This highline has been up and few days and needs to be pulled tight. The ropes stretch a little each as the horses tug on them, ( Unless you get the Kevlar Ropes, They stay tight)
---
Last edited by Painted Horse; 03-02-2012 at

01:53 PM

.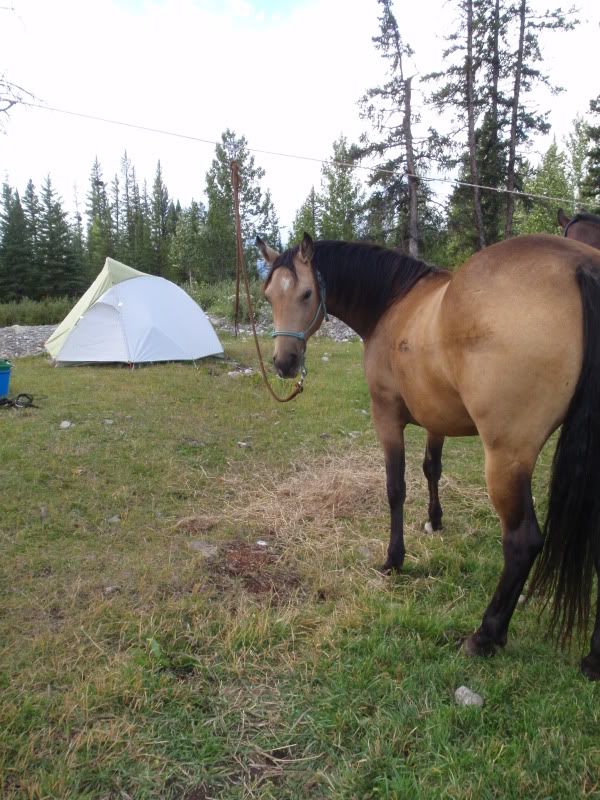 Here is Willow on for the first time, it doesnt take long for them to get the idea.
Anyone have a knot eliminator break? I had one break. I have used them for many years and I guess there is a first for everything.
How did it break? A horse pulling back on it? or just got dropped on a rock and the metal fractured.

I originally started with Knot eleminators, But over the years have lost them one by one and just replace them with a short length of cord tied in a Prussic Loop. Lighter, very cheap to make, adjustable.
Camping last year. Came back from visiting with friends campfire and noticed my horse wandering off. The part that touches the picket line(pressure)cracked in two. We always have more of a taught picket line but never had issues. I like your idea of a loop. Do you have a picture of it. I hate putting actual knot loops in my picket line.
---
Last edited by Painted Horse; 03-04-2012 at

12:36 PM

.
I have never had to do any special training for tying to a high-line. Just follow basic common sense. Don't tie horses too close together and be careful which horses you put together. Watch a new horse for a little while to see how they react. They figure it out pretty fast. Usually you will need to tighten your line after the horses have been tied for a little while as it will stretch some under pressure. I have never had the kevlar lines, just normal rope so we always have to tighten them periodically. Move your lines if you are going to be in one place for an extended period of time as the horses will trample things down pretty well if you don't.