Currently stuck waiting for tests for the export papers for Bolivia, so taking the horses out one by one for little hacks around the village, just to remind them what work is. All doing well given that they haven´t been ridden out alone in six months - they´ve always been together - and I´m very proud of them. Interesting being able to demonstrate that riding bitless does work, something that is virtually inconceivable here in Argentina.

We´ve also disovered another spook-object - horses with leg-protectors attached to their saddles. Basically, instead of chaps, people have these huge pieces of stiff hide attached in front of the stirrup leathers, so from the front the horse looks as though it has wings. The first time that Quillay saw a mule with these - and it was galloping towards her, as well - I thought she was going to lose it completely. However, she managed to limit herself to whirling around on the spot and galloping a few paces, but when she realised it was following her, she stopped that tactic and opted to return in the original direction...
---
Four horses, two people. 4000km in to the South American leg of our trip,and now in Brazil. Drop us a line on
The Great Horse Trip
Quote:
How's this??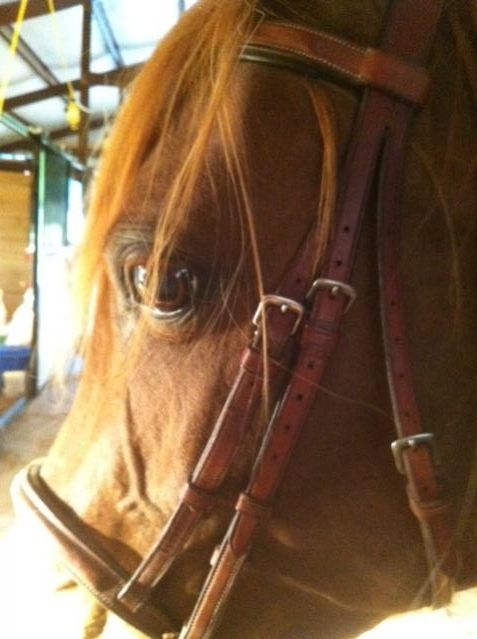 *grabby hands*
what
a handsome horse...
---
Four horses, two people. 4000km in to the South American leg of our trip,and now in Brazil. Drop us a line on
The Great Horse Trip
I don't check in too often, but I really really love seeing everyone's pictures of their rides. It makes me so jealous! All I have to ride on are the roads and down in the subdivisions around my house. I really miss riding in the woods, but it's a 20 minutes ride to the park - and without a horse trailer there is really nothing I can do about that, lol

Since Rose passed away while trying to have her colt, any my other mare losing her foal (it was a still born), I have just been trying to work with the 2 horses I have left and try to get them sold. I have been doing a lot of groundwork with them, as Smokey is still very very hot headed and has too much energy and the mare that lost her foal has been out of work for about 6 months.

After losing Rose, and the 2 foals I almost decided not to ever own a horse again and to just look at them on a computer screen, but I feel a physical ache to be near them and to ride! I guess I will have to settle on getting a gelding from now on - no chances of foals that way!

I hope I will be able to find another nice dead broke horse like Rose was before too long so I can get back into riding. But for now, I will keep watching everyone on here and looking at all the beautiful pictures everyone has! :)
Aw, RiverBelle, I am sorry to hear about all your horses troubles! Sometimes I want to toss them all out and start knitting, too.

Y'all keep your fingers crossed, please, Alaska(mare in the picture) stayed at the vet last night to be bred TODAY!!

Nancy
Riverbelle, so sorry to hear of the loss of your foals. How heart breaking.

Years ago, the horses I had were all mares. When I bought horses when I turned 50, they have all been geldings. Love my geldings. Get a gelding...no babies no problems.
We rode Friday and Saturday down near Bryce Canyon. The fellows I was showing around forgot their health papers so we couldn't go into the park, So we rode some of the surrounding canyons near the park.
Up Losee Canyon
Across the top and drop down into Casto
Casto Canyon
Then on Saturday we rode in the Grand Staircase Escalante
Down Sheep Creek
Up Willis Creek, BTW the fellow in the blue shirt and Fedora is stranger we met the day before, He is from California and was out in Utah riding by himself for 3 weeks. So we invited him to tag along
And through the narrows before returning back to the truck
It threatened to rain both days, But we lucked out and made it back to truck before the rain started.
Tired horses on the high line
Beautiful pics, PaintedHorse. I always enjoy looking at all the details in each pic as I look through them.

No riding for me this weekend. It was all work and no play. The only interaction with the horses was feed and water with a little fly spray to get them going in circles..lol
---
I am Second
Born Once, Die Twice. Born Twice, Die Once.
Rode Bella a little over 20 miles on Friday and then rode Dare 4 miles. On Saturday rode Temp and ponied Bella 12 miles and then rode Dare 7 miles, Sunday i was sick. I tried to go ride, but my head was hurting so bad it made me sick to my stomach and i decided the best thing to do was go back to bed. Haha. Dare is doing really good with the mounting and dismounting, i can't believe how smart he is. He just gets batter and better everyday! It sure was hot on Friday though, we have to get our horses and ourselves acclimated to the heat again.
Oh well, it happens every summer. Saturday in the morning we got caught in the rain and it would have been ok if it had been hot, but it wasn't and the rain was super cold. And then it got hot on our 2nd loop. Of course. lol.
When it cooled down to a balmy 85 degrees, the DH and I went for a short ride. 2.2 miles. It was quite a ride though! The Princess was hyped up. She wasn't bad; she was good. Rather than wanting to follow, she wanted to lead the way. I let her lead some of the way and made her follow some of the way. She was very good; it just felt like I was sitting on a rocket that was about to launch.

I made her stop and let the DH get ahead so that I could canter a bit since he didn't want to. She went right into the canter with no problem. I thought that we covered the distance pretty quickly. The gait was smooth and nice; just too fast. When I got back to the house and looked at the GPS, I saw that rather than our little slow 10 mile per hour canter, we did 20.5 mph. It wasn't hard to stop her and she transitioned well.
I was just surprised that she was so ready to go.

I thought about it a little bit and I think I figured it out. We usually ride in the mornings after they are lazy from grazing all night. The flies and the heat had them driven into the shade all day. They were just hungry enough that they weren't quite themselves.

47.7 miles
---
Celeste
Carpe Diem!
Painted Horse - those were gorgeous pictures! Celeste, sounds like you had a great time.

I went out to see Biscuit and Sarge today. My surgery was 5 weeks ago today and I went walking at the mall today. I am not a fan of the mall - I hate shopping - but it is a nice place to walk. I had my cane but my knee was the one that gave out! I walk every day so that I can strengthen my legs but I am thinking when I ride that will also help strengthen them. I go back to the doctor in 6 weeks from today. Hoping he will allow riding then but right now, even if he said I could ride I wouldn't. Back was hurting last week but is better now. Hoping to ride at least the last part of the summer!!