Finally got some more saddle time yesterday. I pulled in the driveway and took one look at the trailer then thought to myself, NO!. Went out to the pasture, haltered Trusty and headed for the house. Got him brushed down, saddled, bridled and soaked with fly spray before walking him around the yard a few laps to get the air out of him so I could finish cinching him down.
Went for a nice little 3.7 mile roam around the neighborhood and got some good work out in the deep ditches as we climbed up and down them their entire length. Oh he was nice and sweaty by the time we got to the other end where we turn to go back towards the house.
My phone camera does not do well to take pics with shaking hands. lol That is Hwy 231 to the right and I'm happy to say he never even paid the cars and trucks any attention as they flew by coming towards us. He did get a little huffy at the 3 deer that jumped out of the bushes and headed for cover on the other side of the ditch from us. Side stepped once then grunted, huffed and puffed at them for not giving him a warning then right back to looking forward. lol
20130521_184408.jpg
OG, sounds like its going to be a very interesting trip. Take some pics for us cause you know we all like pics..lol
---
I am Second
Born Once, Die Twice. Born Twice, Die Once.
Guess I should have updated the mile-o-meter too huh? lol




17.7 miles
---
I am Second
Born Once, Die Twice. Born Twice, Die Once.
DH and I rode for 2.7 miles. It was hot and the flies were bad, but I still had a great time. My horse got to kicking at a horse fly on her belly so hard while walking that she tripped and almost fell out from under me. Thankfully she caught herself and neither of us was any worse for the wear. On a good note, our canter was much more controlled today. The speed was 9.9 mph as opposed to the 20.5 mph we did last time. It was a much more pleasant canter.

50.4 miles
---
Celeste
Carpe Diem!
Celeste, I gotta meantion that you are failing at this lowest milage contest..
Congrats on all the riding
When will you post pictures of your pretty girl??
It seems to rain, and rain hard, evey day I am off work lately. Unless of course, I have other commitments. I am so frustrated & Chivas is so fat
I am off to clean stalls & unload feed, meeting tonight @ 7pm so no riding again, and scheduled for slew of tests at the hospital tomorrow, then its back to work. Grrr
Here she is. I don't have any conformation shots.
Note food in mouth. Always eating!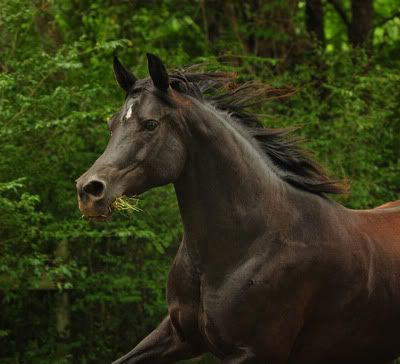 ---
Celeste
Carpe Diem!
Celeste - she's a beauty and I do mean that!!!
Quote:
Celeste - she's a beauty and I do mean that!!!
Thanks! I love my girl!
---
Celeste
Carpe Diem!
She is gorgeous, Celeste!

I rode my new guy all by his self today for the first time and he did great! We trotted ans cantered alot. I definitely won't have to worry about go with him cause he has plenty of it! We did about 4 miles. And that was a good workout for him. :)
Posted via Mobile Device
Very pretty mare Celeste! She looks to be a lady through & through
Beautiful mare, Celeste. She just looks like she demands heads too be turned as she passes by.

AnitaAnne, your opportunities to ride sound as often as mine. lol Hopefully we get some free time soon to ride more consistently.
---
I am Second
Born Once, Die Twice. Born Twice, Die Once.