Got up yesterday morning to this beautiful day (looking out of my front door)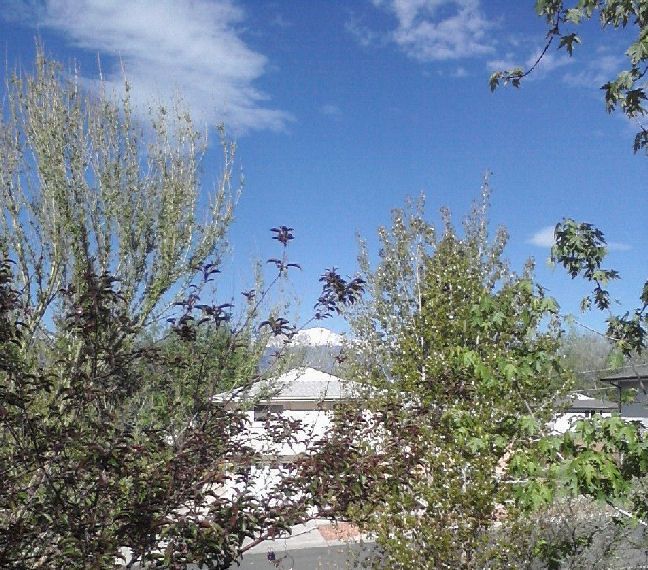 We are having a really late Spring, my cherry tree which blooms in April is just getting top blossoms now. But, I couldn't resist putting some miles on such a great day.
It turned out to be one of those weird days - road construction (we have to ride a few blocks through the neighborhood to get to the trails) but a good opportunity to work through Hercules' fear of new/scary things. Once on the trail, the nearby Army base began heavy artillery training. Walk, walk, ka-WHOOOMP!! Herc jumps but keeps it together. Walk a little more and a ka-WHOOOMP so strong we could both feel the vibrations. A little more dancing but we're moving forward. Then a bicycle approaches and Herc shies away (the first time since last year) but I knew he just had the jitters. We trotted to burn off some stress. We make it to the water fall, it's one of our favorite places. Lots of shade trees and the trail actually goes over the water to join the main branch that has a beautiful water fall.
His face looks so worried
I got off and tried to capture a better picture of Hercules, but he was just not in the mood to relax. So I get back on and we head home. He's just a bundle of nerves and his back felt "twitchy", he spooked at people walking, a squirrel climbing up a tree... just one of those off days.
So we only logged about 7 miles and we were both really glad to be back home. Poor guy, I really wanted it to be a relaxing day but the energy was off. Oh well, if it were all smooth and predictable it would be boring. Hope everyone else had a great day :)
We did another 2.7 mile ride today. I think we may have come up with something for the flies. We spiked our fly spray with some concentrated permethrins to make it stronger. I totally soaked their legs. This is the first time since the flies came out that they didn't stop repeatedly to bite flies off their legs. When we got home, we rinsed the spray off since it was so strong. We had to get the mud and sweat off of them as well. They really do love to get hosed off!
53.1 miles
Next week it's back to work. I have really gotten spoiled with this vacation!
---
Celeste
Phew,,finally!! lol
---
I am Second
Born Once, Die Twice. Born Twice, Die Once.
Oh Roadyy, you want me to go to work? Torture..........
---
Celeste
Quote:
Oh Roadyy, you want me to go to work? Torture..........
Yes, darlin. I want you to go to work oh and please tell me you have to work Monday. lol
I'm setting up getting a couple of horses coggins done so I can head for the trails Monday morning so I can enjoy a whole day of riding, stopping for lunch for me and the horses, then on the trail again. I'll be taking the camera to capture some nice scenery if everything falls into place.
---
I am Second
Born Once, Die Twice. Born Twice, Die Once.
Cruel man that you are..............
---
Celeste
Celeste, she is gorgeous!!!! I had to wait forever for the pictures to load but it was worth it!!!
Quote:
I want you to go to work oh and please tell me you have to work Monday. lol
Tuesday Roadyy.............
---
Celeste
We rode 3.2 miles today. It was a beautiful day and a good ride. We had several events.

The horses started snorting at something in the bushes and stopped, then I heard and saw movement that I am pretty sure was a big snake. Good girls!

Then The Princess got mired down in the mud crossing the creek. It has pretty much turned to quicksand since all this rain. No wonder they don't like that creek. I had to get off and help her get unstuck and across. Then I remembered that my myasthenia gravis (muscle weakness neurological problem) won't let me mount without a mounting block. I tried. Well I finally found a nice high place to stand and I mounted up and we started off again.

I did an 11.5 mph canter in an open spot. The girls were really good today. All this riding has paid off with good behavior.

If we keep using that creek crossing, I think that we are going to build a wooden bridge. I am afraid that one of them is going to get hurt in that bog.

Total 56.3 miles.

And Roadyy, don't worry. I probably won't get to ride much for a while. I have the kids coming in for the long weekend and then it's back to work on Tuesday.
---
Celeste
---
Last edited by Celeste; 05-24-2013 at

08:43 PM

.