Okay, I can't figure out how to link to facebook photos in my post. They are not showing up for me. I used to use photobucket without problem, but have seen others post from facebook and thought I'd try it... what is the secret?
Quote:
Okay, I can't figure out how to link to facebook photos in my post. They are not showing up for me. I used to use photobucket without problem, but have seen others post from facebook and thought I'd try it... what is the secret?
I don't think fb links are allowed?
If you want them to show up, you need to upload them to your photobucket account and then put in the image code.
---
Celeste
Carpe Diem!
I took my niece out for a ride she went out on Bloo, refusing to double with me on Si.ne. Bloo's been in the paddock for a while so he was a bit high strung. He wouldn't let me get ahead of him even when we headed home but he held up for it and didn't spook when the snow fell off the trees on him. Just a short ride home so 2.3 miles in total. 5.3 miles and 2 angry lectures from the physical therapist so far. I'm on a roll.
---
Show me a horseman who hasn't fallen and I'll show you a man who has never truly ridden.


Took the horses out for a slog today, despite all the rain we got last night (made me think of Denise and others who have been having a deluge). While most of the snow is now gone, it's been replaced with mud and/or standing water. Never thought I would be wishing for snow!!
2013 mileage
01/03/13 dream 1.95 miles
4.4 mph
1.95 total miles
01/06/13 dream 6.56 miles
4.1 mph
8.51 total miles
01/07/13 sultan 6.77 miles
4.8 mph
15.28 total miles
01/10/13 dream 6.55 miles
5.7 mph
21.83 total miles
01/11/13 george 7.06 miles
5.7 mph
28.89 total miles
01/12/13 dream 4.83 miles
4.1 mph
33.72 total miles
---
There is no joy equal to that found on the back of a horse.
Tyrrell Park Jan 12.jpg
Kellie and I went out this morning on a very very soggy ride. Water standing everywhere. We went out a different way and down to the bayou. They are running the TransCanadian Pipeline through the park and the huge mats were down all the way to the bogs. Trucks and machinery going around there. The horses spooked at it and Biscuit's spook was hard but in place. I thought he was going to be on top of the moon for a minute there!
We rode to the bridge and back down the bayou and turned around and came back and then up the marsh road again. So soggy and nasty. The water in the ride away was probably fetlock deep in water and had we been in the woods it would have been almost knee deep in mud! It was warm today though and we were in short sleeve shirts. Biscuit was sweaty and dropped and rolled when I turned him out. Didn't take the Garmin but tracked it on Google Earth where we went. It was about 4 miles. More rain coming - Gaaa! sick of it already.
It is muddy here as well. Between the mud and a ton of hunters trying to get in the last Saturday of deer season, I decided not to hit the trails. I did ride The Princess in the arena. I feel like we made some progress. We still have a lot of work to do on our transitions, and she did very well today. I hope that I will have a lot more riding time this year.
---
Celeste
Carpe Diem!
I think the weather is confused - It's the muddle of January and it is 70 degrees outside? What is the world coming to!?

It has been wonderful out the past few days. Nice sun shining, and a wonderful temp., but it seems like I will never get out to ride.

The past few days that have been really nice, I have been having to run my business', which is taking up a lot of time. And on the days I can ride, it wants to rain... and when it rains, it pours here in Kentucky.

Yesterday, I was able to sell one of my horses that has been needing a new home. She was a 13.3 hand red dun pony, and an older lady bought her to gain confidence in riding so she could start riding her TWH again this summer. So now I have money to buy hay!

I plan on getting out tomorrow after finishing this order of candles and riding both Rose and Gracie, and getting Smokey out of a good long lunge. That is if it decides not to rain....
Hello, all! I'm relatively new to the forum and was so excited that there's a section for trail riding. I moved my horse to a new boarding barn in September that has trails, which we haven't had access to for the past year and a half. When I saw the thread about 2012 miles, I found a Garmin Etrex Vista on Ebay so I could participate this year. Unfortunately, the weather and footing hasn't been cooperative for trail riding in the start of 2013! We finally got out today and it sure was muddy!
A little about us: I'm a 19 year old college student and during the academic year, I can only see my horse on weekends. So we won't get very high milage until summer break, but I plan on taking full advantage of being home. My mare, Lizzie, is a Morgan in her mid to late 30's. She has a benign tumor that interferes with wearing a saddle, so I ride her bareback. Liz is the most hyper horse I've ever ridden and she absolutely loves trails. She's a fantastic trail horse- she would rather put herself in tricky footing than rub my leg on a tree
So today, we got out on the trails for the first time in a few weeks. I used my GPS for the first time, which was really cool. Liz and I mostly explored today... we found a bunch of new trails! To get to most of the trails, we have to cross a small river that's about 10 feet across and over 2 feet deep. Liz went right through it, which was fantastic because she used to be really scared of running water. We explored the main trails on the other side and have a lot more trails to check out. We also came across 2 wild turkeys, which I don't think Lizzie has ever seen before, and a small herd of deer. My good girl got a little scared of the turkeys, but her spook is to stand and snort, which I appreciate! Hopefully, the weather stays nice enough for us to continue going out!
Here's Lizzie, tired out after our ride!
2013-01-13 13.57.08.jpg
And just because she's cute
2012-10-31 09.55.15.jpg
So we rode 3.46 miles today, with an average speed of 4.5 MPH and a top speed of 7.6 MPH (at the trot)
Looking forward to logging trails this year with all of you!
Finally got on my horse for the new year. My friend Becca met up at 1099 which is state lands just north of Macon, GA. Poor Oreo is out of shape and it is really warm for a horse with his full coat on. He was one sweaty beast when we got back to the trailer.
Becca and her horse Wedgie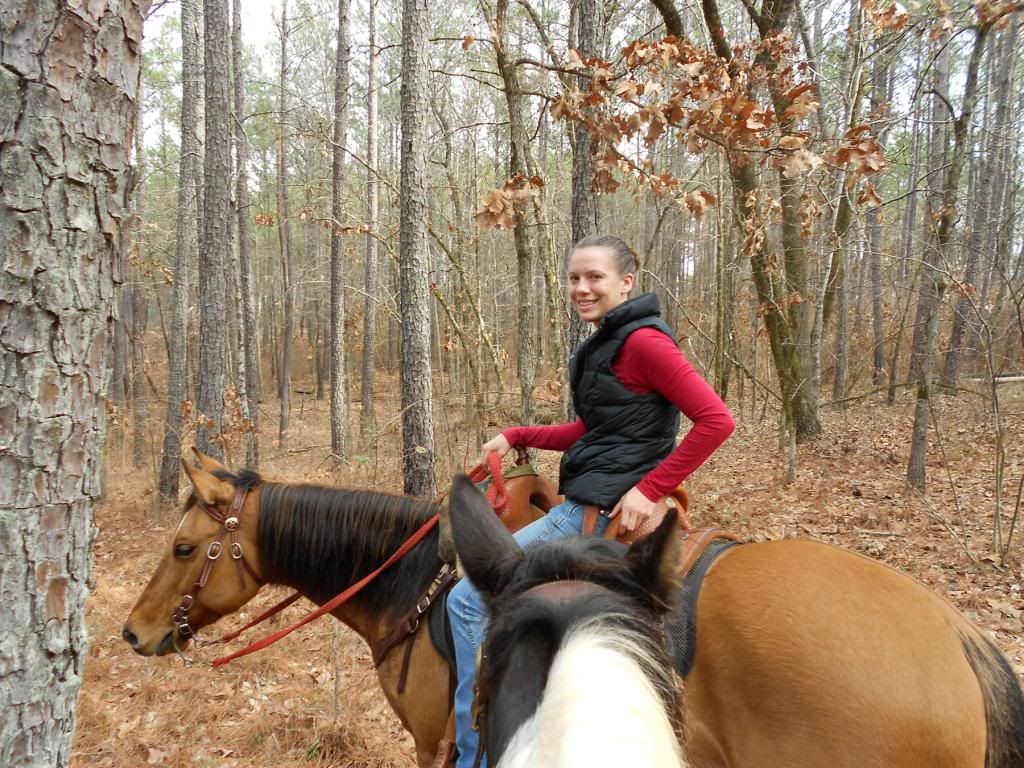 Becca on the trail.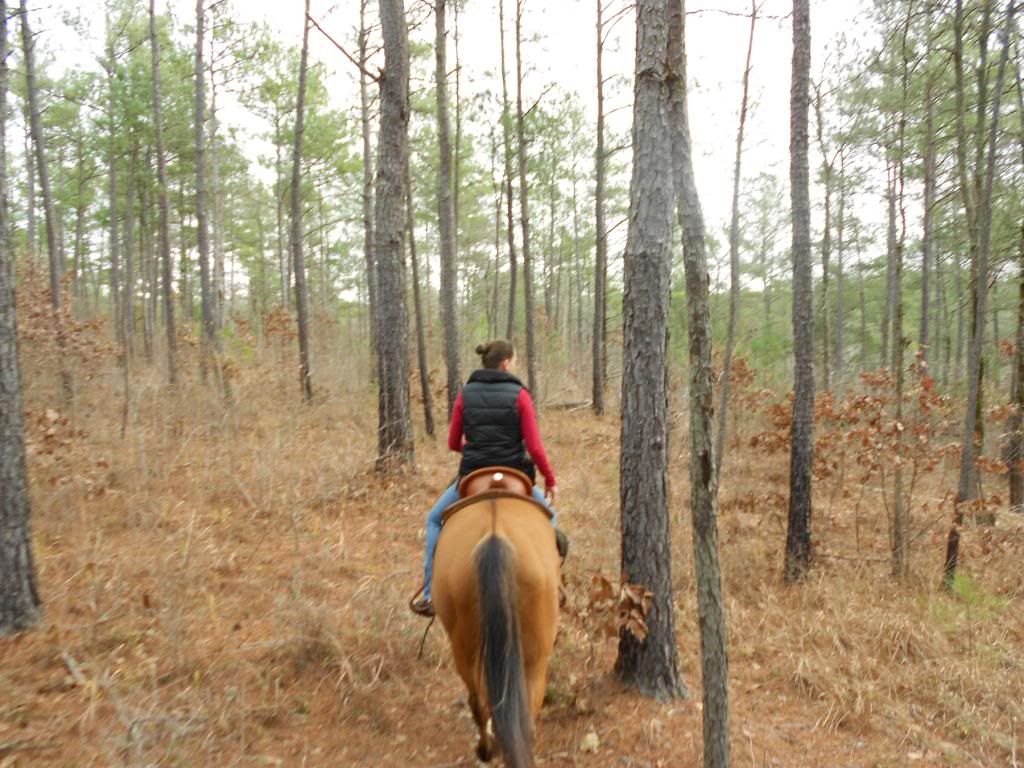 Me and Oreo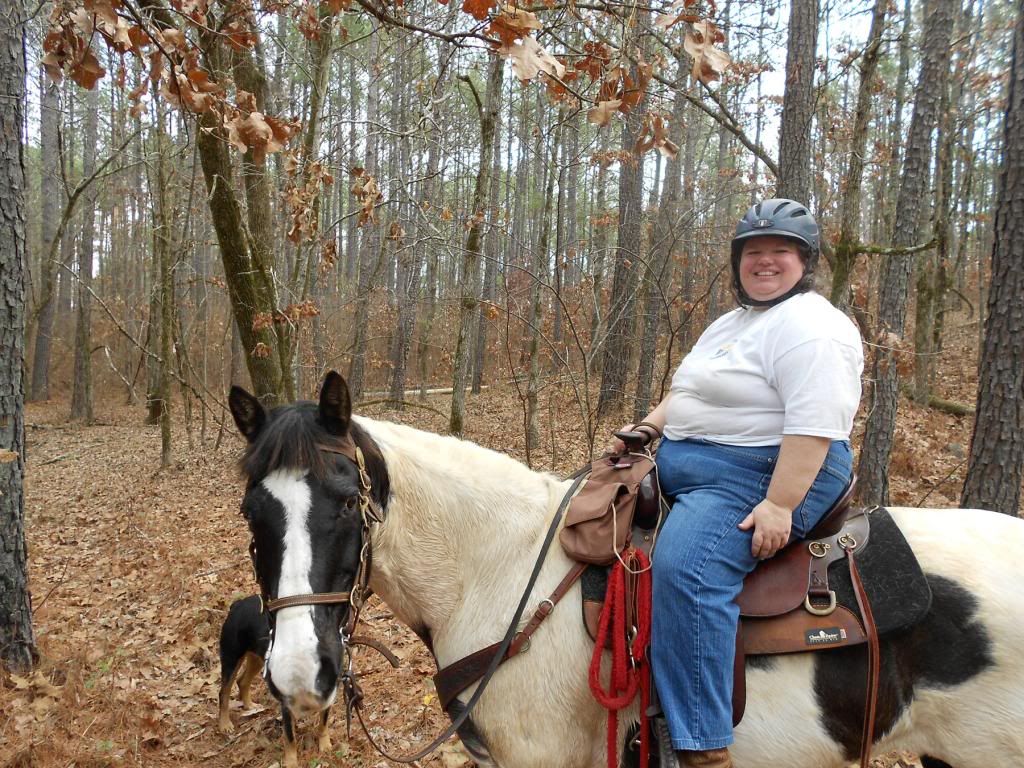 We did 4.3 miles. I didn't look at the average speed but the fastest was over 16 when Oreo decided to gallop up a hill.