I hope the cat ate him!!
Posted via Mobile Device
Any time that we get down to less than three cats out here on the farm, we get damage from mice. Barn cats are a good thing.
---
Celeste
Carpe Diem!
Looks like our barn cats are laying down on the job
Praying for y'all, Denise. Please tell the drivers in Houston that I do not miss them!

Nancy
Quote:
Dastacy, welcome to our thread. I have used Base Camp before but I mostly use EveryTrail. It does show elevations.
Continuing to keep your mom in my thoughts and prayers Denise! Also keeping you in them since you are doing so much driving back and forth to Houston! I miss a lot of things about home in The Woodlands while I am here at school - but traffic isnt one of them! Ive heard from my mom thats its gotten even worse recently.

My horses are fine. Whiskey got some hoof boots to ease his barefoot drama on the rocks until his new shoes come in. I picked up a fly mask for him today while I was grabbing feed, and realized on the drive home that I had grabbed a bright red one! I'm sure thats gonna look just fabulous on my red headed carrot hahaha

Drifter is fine. The cuts around his neck have already started healing up and his leg yesterday was fine. Still giving him a few days off. I am busy with some class stuff and work, and figured the rest wouldnt hurt him. I need to wrap him in bubble wrap. I thought accident prone horses were just something people talked about- and then I bought him! Gosh. He is awful. Sure footed and smart as heck on a trail - but in the pasture- Lord help him.

Using Whiskey tonight in a demonstration of Native American symbols painted on horses for some of the kids I give lessons to. I have a friend taking pictures so I will try to post them. Whiskey's never been painted on so this might get real fun! haha I usually use Drifter but his dark bay color makes it harder to see the paint sometimes. I figure this way I can do my demonstration on Whiskey (chestnut seems to allow colors to show a lot better) and then let the kids paint whatever they want on Drifter. He thinks kids are great. Especially when all he has to do is stand there.
Quote:
Thanks for the welcome and leads on trail mapping software. I look forward to doing a little armchair trail riding and will see how it goes. One of the things I want to be able to do is indicate distances between points on a trail. Then I can create 'How far' questions for kids on Horse Lover's Math.
I use garmin mapsource.
You can download it, along with topo maps etc, at no cost, here:
http://gpsfiledepot.com/
---
For we wrestle not against flesh and blood, but against principalities, against powers, against the rulers of the darkness of this world, against spiritual wickedness in high places.
come on now...Houston doesn't have bad traffic!!! LOL I swung through Baytown, across Hwy 225 (nightmare!) to Loop 610 and up Fannin. Crossing the lanes to get to the exit to Fannin was crazy - the oncoming ramp people will run over you.
Took hubby to his appointment - he will have an endoscopy ultrasound something or another Friday in Houston. My mother is not wanting to have chemotherapy but her surgeon still wants her in the acute care facility to recover before sending her home so we will be back and forth to Houston for a few more weeks. The prayers are appreciated. The shock is wearing off and reality is setting in. Hurts to even think about it as my mom is darn near perfect.
I just got home but am turning around to go back to Houston so I can meet with the doctor very early in the morning and my sisters and I can get a game plan going.
Glad Drifter is better! Thank God they often heal so fast!
It is opening day of bow hunting season, so I didn't go on a trail ride. I did take the time to ride in the arena just a bit. My horse was very well mannered. This was the first time that I rode her with my new Tolkat woolback cinch. It is my impression that she likes it better than any of the other cinches I have used with her. She seemed more relaxed, yet also more willing to maintain her gaits than usual. She is such a little "Pea Princess" and any little thing upsets her. Maybe this tack setup will be the magic one. I guess I will know for sure after a few more rides.
---
Celeste
Carpe Diem!
Well I risked bow hunting season. I even forgot my orange vest. I rode with 2 very good friends. One of them, it is only the second time we have gotten to ride together. I didn't take my camera but here are some that Amy posted on Facebook so I stole them.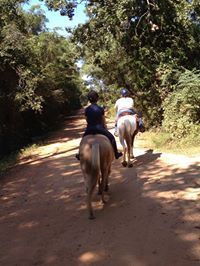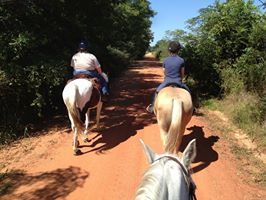 Someone (ok me) always forgets to check the GPS until the day of the ride, so it is dead. We rode for almost 2 hours so I am guessing about 6 miles. Brings my total for the year up to a grand 69.1 miles.