phantomhorse13 -
Might I suggest you research comfrey poultices for Dream.
I can't be of too much help on the frequency though. Maybe something like a poultice every day for the first week or two then maybe every other day? I think consistency would be what I would be trying to achieve with maybe a few days here and there of no poulticing for maybe a month or so.?.
And mixing it with dmso here and there could help speed it up by carrying it into the ligaments a bit better. But again I don't know too much on that so you would need to research it.
---
Truth passes through three stages. First it is ridiculed. Second it is violently opposed. Third it is accepted as self evident.
Drifting Shadow, you are from the Woodlands??? I grew up in Spring...back when it was the country,lol. In Northampton. Did you ride at Jones Forest? We moved from Spring in 2004, out to Brenham.

Small world!

Nancy
Phew had to catch up!! Oreos girl, love the pics of yalls ride!!
Denise, I hope everything is going okay. Still thinking of you and your family constantly!
Green Tree- I lived in the Woodlands from 1997 until 2008 when I graduated and came to college! Still try to go home occasionally. I grew up riding at RedBarn which turned into Tally Ho Farm around 2000 I believe. Kim Cox is the owner/trainer. It is across I-45 off the feeder down by robinson road I believe. If I remember the street names correctly! Also did some xc training at Texover in Conroe! It really is a small world! A familyjust moved to my barn down here from Katy and their daughter's new H/J mount is my friend's old horse!! I saw him in the paddock today and about fell out. I was like "OMG IS THAT HORSE'S NAME RENEGADE?!" I am sure I scared the crap out of them LOL. It was awesome though.
The weather down here in MS was AMAZING today. Took Whiskey out on a trail ride with two friends. About a 2 1/2 hour ride and he got 3 brand new exposures! We walked around some giant rounbales, crossed a wooden bridge and saw some cows and their newborn calves in the day light. He was non plussed about the round bales, spooked on the bridge but seemed embarrassed once he realized the noise was just his shoes on the wood and I dont think he knows how he feels about the cows. He was very interested in them and never spooked but we did pass by with a lot of blowing and prancing. He kept his head though so I was very proud of him. Even had a nice little gallop.
One thing that did freak me out was he fell asleep in the cross ties. I saw he was dozing and I went to put on my boots and the next thing I know hes laying down on the ground! Thankfully my vet was right there because he was checking on another horse that was injured and he came over because he heard me yell out "Whiskey! What the hell!". He checked him out and he said he was fine, he looked like he had just fallen asleep which sometimes happens. Scared the heck out of me. I have never witnessed that before.
Drifter is out with some SI pain. Thinking it is from him thrashing around when he got stuck in the fence. I was grooming him yesterday and ran the brush over his hips and he about buckled. He is on some stall rest with some bute while I wait for my chiropractor to come out. I swear that horse has a death wish. I am hoping the diagnosis isnt anything too severe.
Now for pics!
trail1.jpg
trail2.jpg
trail3.jpg
trail4.jpg
trail5.jpg
trail6.jpg
trail7.jpg
Welp, Whisk went down again today. I went ahead and hauled him to the vet school. They are gonna watch him over night and run some tests tomorrow. My vet will call me with news tomorrow afternoon he said.
They seem to think he is just sleep deprived (which goes along with a lot of the advice I have gotten here on HF). They are going to do blood work just to make sure, and run some tests to see if they can figure out if he's hurting somewhere or something. No detectable lameness, no gait change. Herd situation hasnt changed. It's so frustrating. Poor guy. I'm hoping it really is he just isnt sleeping and not something else going on.
Drifter had a chiropractor visit today and his hips are already feeling a ton better. So at least one horse is on the mend! Just in time for the other one to do something, ha.
Snapped a "family portrait" of 3 out of the 4 kids. Whisk was already at the vet school by this point.
family pho5o.jpg
DS, so happy you had a nice ride but so sorry to hear about Whisk!! I hope they can shed some light on the situation very soon. If only they could talk sometimes..
I finally got back on Gamer for an actual ride today. Didn't do much - only a mile and a half at the walk - but she was a good, if somewhat lazy girl. No issue tacking up or mounting, walked quietly, no unplanned dismount for me. I didn't bring the camera as I was more concerned with staying calm than playing photog for a change and DH forgot to bring his phone (he and George were babysitters).
Dream is handling her jailing well. She is allowed 15 min of hand walking daily now, so I am getting her out and she is behaving, just voraciously eating every blade of grass available (apparently free choice hay just isn't the same
).
2013 mileage
...
08/22/13 dream 8.99 miles 3.9 mph 680.26 total miles
08/23/13 dream 22.81 miles 4.6 mph 703.07 total miles
08/25/13 dream 11.12 miles 4.4 mph 714.19 total miles
09/15/13 gamer 1.42 miles 3.0 mph 715.61 total miles
---
There is no joy equal to that found on the back of a horse.
Thanks Phantom! I am glad Dream is handling jail time well :) Its no fun explaining to them "no you HAVE to stay in here" once they start to feeling better and are convinced its time to get out haha.
Got a new addition today! An unexpected mini. New name isnt final and more information about him can be found under my thread in "Horse Talk". He is cute as a button and very sweet. I think he will be a great addition to my collection of misfits.
Here's a pic :)
Ed10.jpg
Ed6.jpg
Hay all, sorry to read about all the horse problems going on! Is there something in the water? I am having all kinds of kid problems, and unfortunately the vet can't help them
DS i sure hope the vets discover what is wrong with poor Whiskey soon, and he gets better. I've never heard of a horse falling asleep and falling down before.
Your new little project is a cutie pie! Have fun with him.
Dawn, no hay can compare to GRASS!!! Poor Dream, but she sounds like she is being an angel to put up with such restrictions. I sure do wish we could explain things to them, and them to us, but I like to think they understand that we are helping them feel better.
So glad Gamer was being a good horse, maybe she missed having you close?? I have always thought that horses enjoy going out riding with us, almost puff with pride sometimes, as long as we don't overdo their good will.
Denise, how are things going? I have been worrying and praying for you.
DS, that is one cute mini.

I didn't post this before because I didn't have the mileage, but my friend Donna and I rode Sunday (say yeah for riding 2 days in a row). It was much shorter only 2.4 miles.

Year total is 71.2
I am really getting spoiled this week, three rides in one week. Tonight was a very nice night out, low 80's. We rode 2.9 miles tonight. I took our newest addition with us for his first trail ride. He did pretty good considering it was his first. Given that he saw horses for the first time Friday night.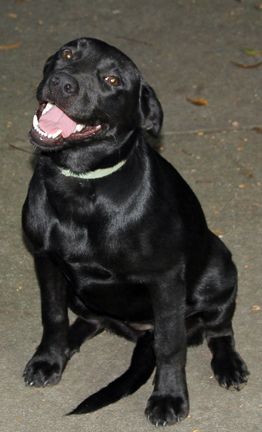 This is Freddy. One of my colleagues found him at her house Thursday night. I picked him up on Friday (the 13th, hence the name). He is a young male black lab. He was already housebroken and has been walked on a leash before. I am trying to find his owner but no such luck so far.
If you take him to your vet, they can check to see if he is microchipped.
---
Celeste
Carpe Diem!