Quote:
I am riding with Celeste tomorrow. hehe
I hope the rain stays away!!!
---
Celeste
Carpe Diem!
Celeste - PP is a hoot. Biscuit will startle/spook/give-the-stink-eye to downed trees, logs, chunks of trees yet pigs exploding out from under his feet or me swinging a crop and screeching like a wild woman will not phase him. hahahahah horses are so freaking funny.

It poured buckets here yesterday. My cousin went up to Ebenezer with our riding group and said it was pouring down like crazy last night. They are out riding right now....so jealous! I am finishing a wedding cake and then heading for Houston to be with Mom. She has had a few good days and I want to be there with her for that.

Hope everyone can get out and ride - post some more pictures y'all. I am going to go see Biscuit on my way out!
We beat the rain. It is pouring now that I have been home for a couple of hours. We rode 5.7 miles today. Got lots of desensitization done today. An empty log truck came by, plastic bag on the road, and a tree branch with leaves that I tore off. The last one was funny because I tore off the branch because he had flies biting his ears. He didn't like it behind him and out of the corner of his eye. I rode for a while with it on either side and then would move it around until we came back to the truck that was then fully loaded with cut trees. Celeste didn't ride PP. Both horses did well.
Sept 16th, 7.2 mile trail ride with a friend
Posted via Mobile Device
I thought I could edit my old post to add the pictures but here we go. Celeste will probably kill me because I didn't ask before posting this, but I think she looks good.
Thought I took more of the scenery but this is the only one I have.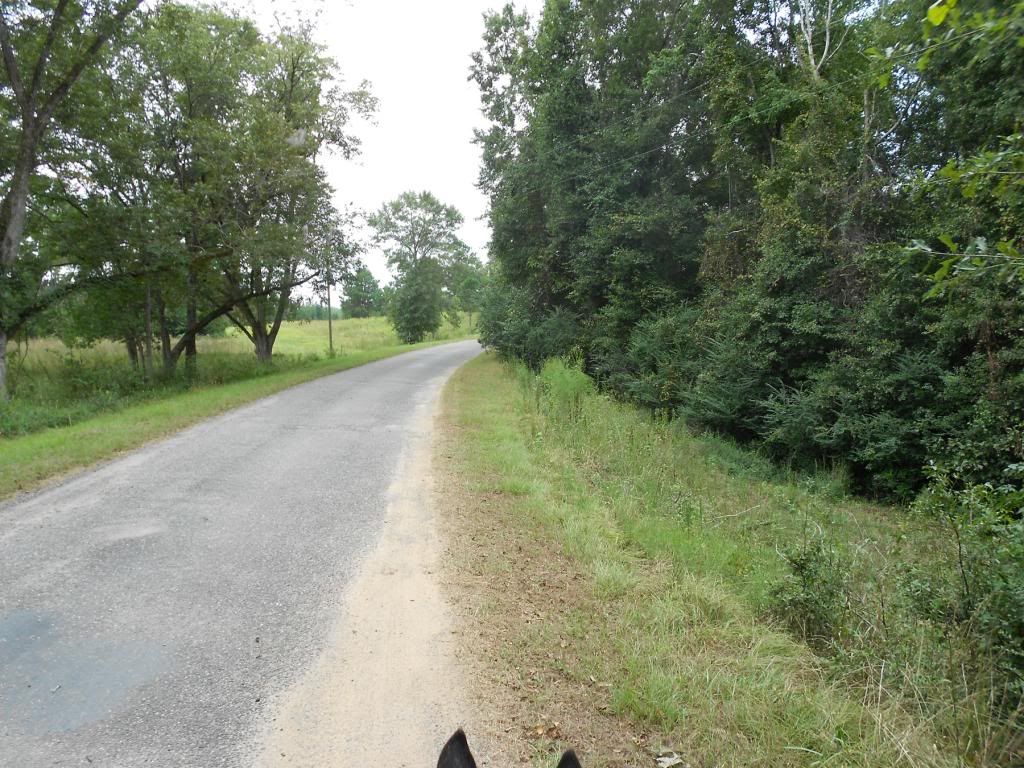 Well you already heard my story of the day! We had a great time. I rode Abby, and she was her usual angelic self. You forgot to tell about the deer that jumped out.....
---
Celeste
Carpe Diem!
I forgot that one but even though Oreo stopped, he has been within 10 foot of a deer and not flinched.
So happy to hear you beat the rain! It was pouring down when I woke up Saturday, didn't stop until about 3 pm. I have caught some sort of bug, and have spent the weekend in bed.
The good news is I think I found some hay, bermuda, and he'll deliver it for 4.50 a bale, a little higher than I usually pay, but better than nothing!!!
I hope it doesn't rain Wed, maybe he can deliver it then.
Leyna, I'm sorry but I am not going to be able to crew for you at the Yellowhammer, we are too short on nurses so no vacations right now. I am going to try to stop by on Saturday, if I don't work Friday.
I am totally bummed about missing that ride. Too much overtime and I haven't been able to do much of anything with the horses at all. Darnit.
See ya'll next week.....we're headed to Cataloochee....
---
For we wrestle not against flesh and blood, but against principalities, against powers, against the rulers of the darkness of this world, against spiritual wickedness in high places.
Celeste, you look great. I'm totally dig'n the orange ;)