Wow! The pictures of the fall leaves are stunning!
I went on a ride with my mom this afternoon it was about 8 miles but my GPS ran out of battery so I didn't get the whole thing recorded. It was the longest ride she and her horse have been on this summer so far. (She is just getting back into horses after 30+ years).
I found he a very good beginner safe horse Gus in June. He is 15 yrs old been there done that and he keeps her safe. They make a great pair. I am so glad I get to share riding and horses with her.
This is a picture from today. We went on a new trail because Gus's hoof boots haven't come in yet so we are trying to stay of the soft trails. A little paint mare stuck her head over to watch us go by.
And because you probably want to know! This is a pic of Gus (my mom's gelding). (Can't really see his face because of his spiffy fly mask lol).
Oh, Denise, my deepest condolences on the loss of your sister-what a shock to have to go through at this time-you are just being hit on all sides. So glad you are getting help for your current cake. I do wish your weather was better-who needs that on top of everything else? Prayers definitely coming your way & to your family also.
Beautiful pictures PH, such bright yellow leaves! But...is that snow on the ground? It was 89 degrees here Saturday, as we walked around the local Octoberfest.
Do you see coats on all the riders? This area was totally white on Thursday with a heavy storm, But it had almost melted off by Saturdays ride. We parked at 8200 foot elevation and rode up to as high as 10,500. Sop yeah, October on the mountain and you can have snow.
By the way, It was also Elk Hunting opening day. And I guess we all forgot to wear blaze orange. It goes to show how worried I get about being in the forest during hunting season.
Oh, and the Government shutdown affected us. The Pit toilet door at the parking area was locked, So the women riders had to go in bushes.
Landon decided his miniature horse needed to come along for some exercise.
---
Last edited by Painted Horse; 10-06-2013 at

02:20 PM

.
OMG gosh the pictures are gorgeous. Thanks for sharing them.

I went out for a little ride this morning with Kellie. We just rode around the road of the park as the woods were way too wet to ride in without tearing up our trails. Biscuit, Sarge and Elan all kissed me up and made me feel a little peace. My horses always lift my spirits and they are truly a help in times of troubles.

I went for a private viewing awhile ago and it was rough. I am going back to be with my mom for her private viewing after while. My poor son's are again going to pall bearers in a family member's funeral...last Wednesday for their grandfather and tomorrow for their beloved aunt. My kids were very close to Dana. She was truly a very sweet person. She had two little dogs Sofee and Scooter that are just bewildered as to where their girl went. My brother in law calls Scooter V!ginaBoy (probably TMI to tell y'all that) because he whines all the time if Dana is out of his sight. They have a house up at Lake Livingston and Scooter whines all the way there for 100 miles because he can't sit in Dana's lap. I feel so sorry for her pets - they don't understand why she isn't coming home.

Thanks to all of y'all for the uplifting thoughts and prayers. This year has just freaking been rough.
Cold and Hunters! Oh my!
We got caught out in the Talladega Forsest on the last weekend of deer season last year, Jeez that was bad!
I had totally got the dates wrong so we were the only riders out there, and the hunters were all over. I nearly was shot twice (well they were aiming at Chivas probably) my youngest & I were both wearing orange coats, but it wasn't enough to keep them from shooting at us. I just kept hollering when I saw them take aim...
Denise, my heart is breaking for you, your boys, and those poor little loyal doggies. Who is taking care of the liitle pups?
Cyber-hug
I just don't understand hunters in states back east. How could they possible shoot at a horse and rider. What kind of strange deer do you folks raise back there that could possible resemble a horse & rider?

I mean this weeks hunt is for Spike Bull Elk. So a hunter has to identify that the animal is a Elk, and that it is a bull elk and that it only has spike horns. He has to look at and make sure what he is shooting at.
Mingo Trails 9/28/13
---
Last weekend my friend and I rode out to a place called Mingo trails. It is a private camp that you can pay a membership fee for or pay for each trail ride.
My friend trying to get her phone GPS working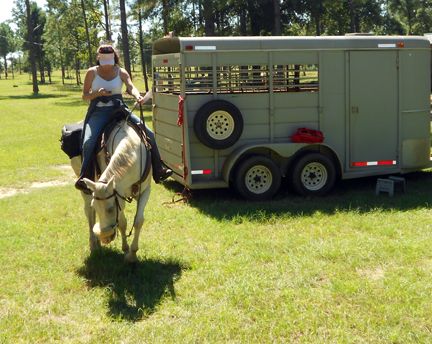 The trails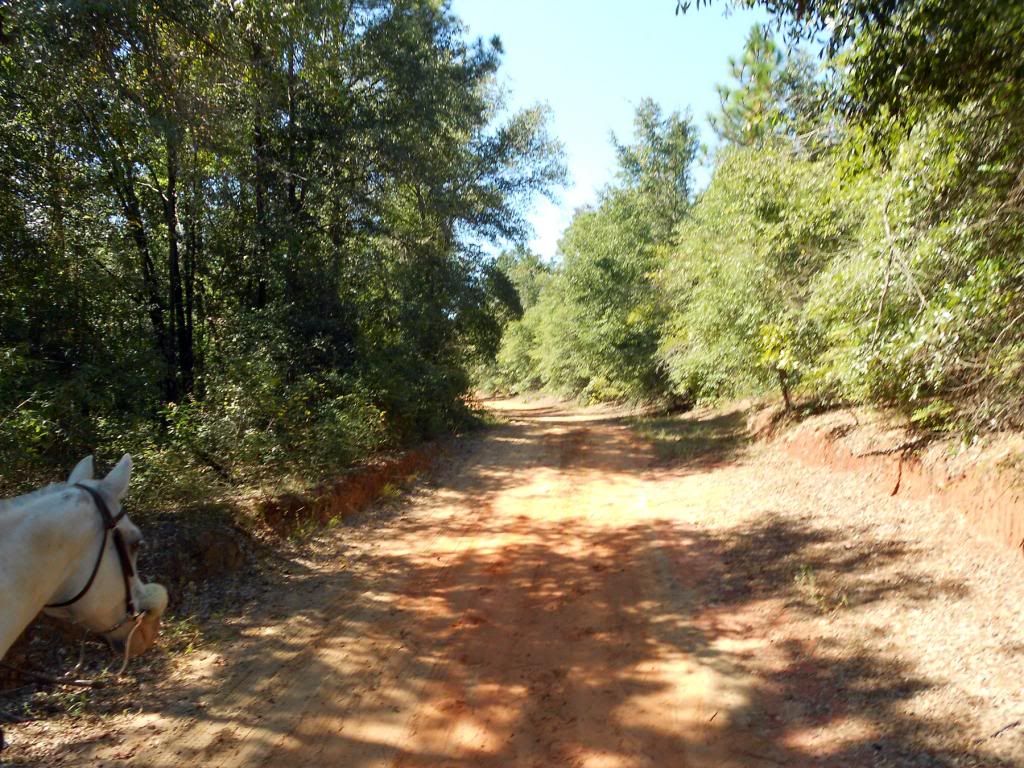 Our best trail dog Mocha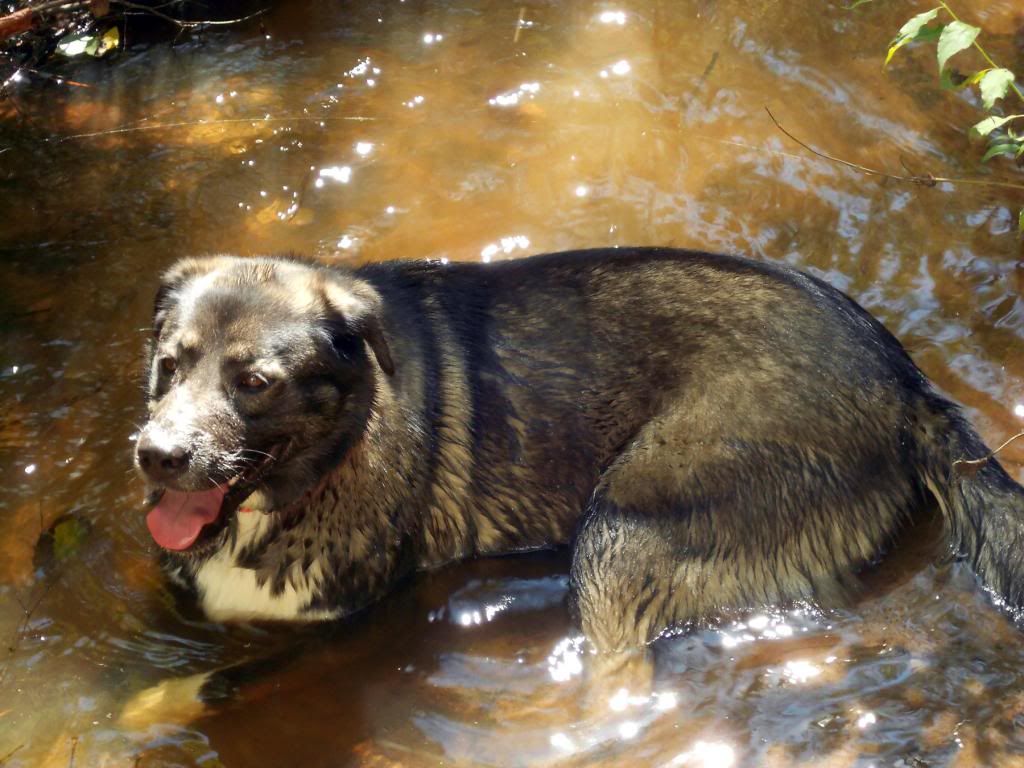 We rode exactly 6 miles for a total of 89.6 miles
Today I looked at a little haflinger today. Unfortunately her feet were really bad and she was very ouchy so I passed right now. She is supposed to send me pictures in a month if she gets shoes on. Her brother is driving her hours on pavement with no shoes. She is walking on her soles and her frog.
Quote:
Thanks to all of y'all for the uplifting thoughts and prayers. This year has just freaking been rough.
Yes, for me, outside, looking in, it sure seems like you've been through more than your share this year.
I hope for better days ahead and hope you can find some comfort with the many pleasant memories of the loved ones you've lost.
I wish I could carry part of your load, but I can't, but know, we all have our own cross to bear. You're not alone in the struggle.
Just know, there are better days ahead and much left to appreciate.
---
For we wrestle not against flesh and blood, but against principalities, against powers, against the rulers of the darkness of this world, against spiritual wickedness in high places.