He is certainly doing a LOT better! I have a bit of the opposite problem-trying to get my (quite obese) donkey looking more normal. Thankfully, the horse was at a good weight. Overfeeding can be a big problem also.
Biscuit looks sooooooooooo much better. A little TLC and a lot of groceries make all the difference.
---
Celeste
Carpe Diem!
He does look a lot better but it did take a while to put shine on him. Obesity is a problem too but it certainly wasn't Biscuit's. He had never had his feet done on a regular basis and that took a while to teach him that. He was extremely head shy for a very long time. Every time I took his bridle off he nearly had a cow - he is still not totally over that. I drop his bit set first and then take the bridle off. If I try to take it off both at the same time like a regular bridle he gets upset. He used to toss his head all over the place when asked to slow down, speed up, stop, etc. Now he rarely does that as in almost never. He used to be a total nose to tail pony and that took quiet a while to stop him from that too. That is what his former owner had wanted him to do and he was just doing what he had always done. LOL he has come a long way in 3 years and still has a long way to go but we are having fun getting there!
I have been seeing some horses in a pasture not too far from us. I drove over and introduced myself to the owner. It turns out that she hasn't been riding much lately just because she doesn't have anybody to ride with. I hope that she will be a new riding buddy!
---
Celeste
Carpe Diem!
A 'little OT, but I had a most interesting evening.... went to a saddlebred show. An acquaintance bought a horse for their daughter, and we went to watch her show. The horse is gorgeous, and she is such a pretty rider. We followed them back to the barn after her first class, she placed well, but the horse was MOTORING around the ring. Most of the others were on school type horses, and she really outclassed them. Her father mentioned that her horse looked like he was on drugs, standing there in the cross-ties of the stall, and when my DH kind of laughed, he told him, yeah they don't hide it, they just go down the stall row shooting them up.....EGADS....she rode a MUCH slower horse in her second class later in the evening, so they must have given him some more.

I love saddle horses, and saddleseat, but THIS?? no.
Celeste that is wonderful! Hope you and she will have many happy trails!!!
Greentree - that is just wrong. Gaaaa...isn't that what training is supposed to do for horses/riders? So many people do this now it is de rigueur which is a shame.
Biscuit and I got out for a ride yesterday. I had to be smarter than my horse. He refused to come into the little corral yesterday and when I walked out to the pasture he walked away from me.
I went to the barn, got the Gator and went down there with the feed wagon. I was pouring out buckets of feed and he came into the corral - I shut the gate.
He tried to evade me twice but finally let me put the halter on him.
It was mushy out there it has rained so much. Biscuit hates mushy ground and acts like he is dying to walk across it. OMG I still can't walk good and I could have walked faster than Biscuit and Elan yesterday. We did come up on a huge crane that the horses were a little uneasy about but we finally got them to go around. We rode about 6.3 miles down the bayou. Going to the beach next week so we aren't in mushy ground.
Took Oreo and Flicka up to Oculmulgee National Forest. I also call it 1099 (the state portion). Met my friend Becca up there. We both brought extra horses and 2 students from the college I work at came to ride. We went 8.5 miles. My horses are worn out, I am worn out. We went down one hill that the horses had to sit on there butts. The weather was great, and the fall colors were great. Now to the pictures.
I like all the contrast of colors in this one.
The other 2 girls ahead of it.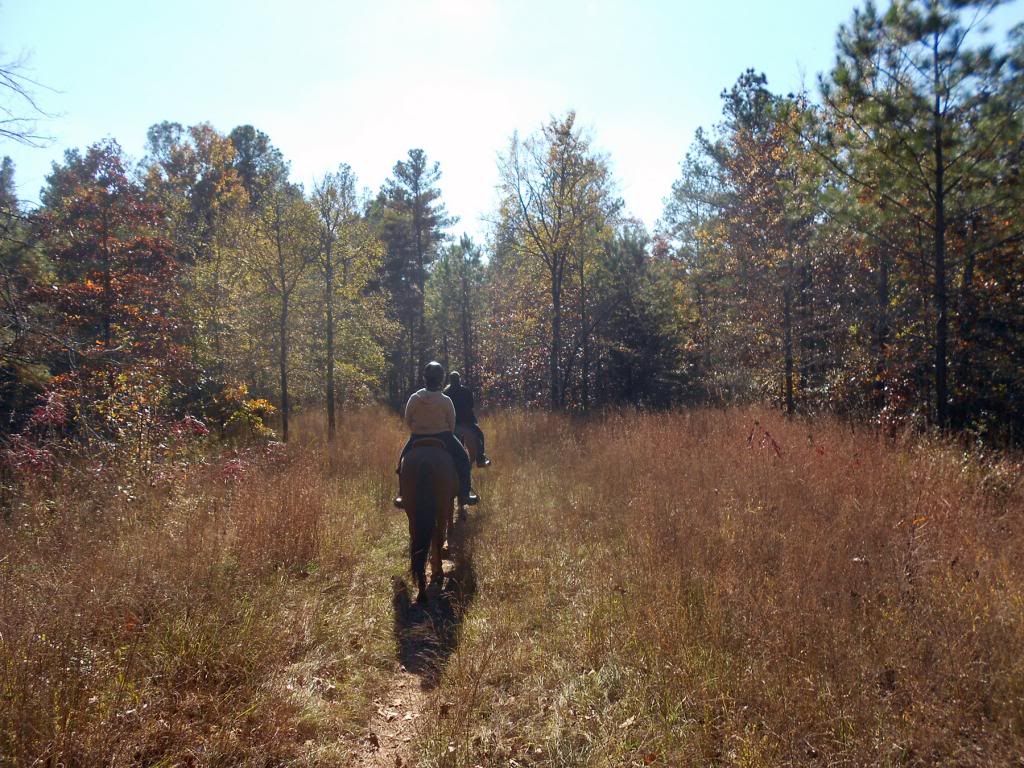 Lunch spot on the river.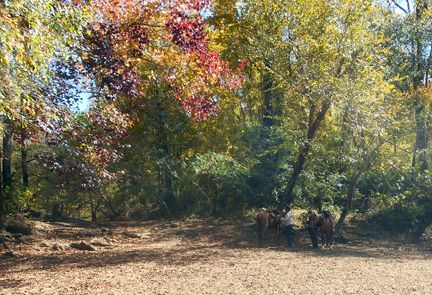 The sun coming thru the trees, highlighting the colors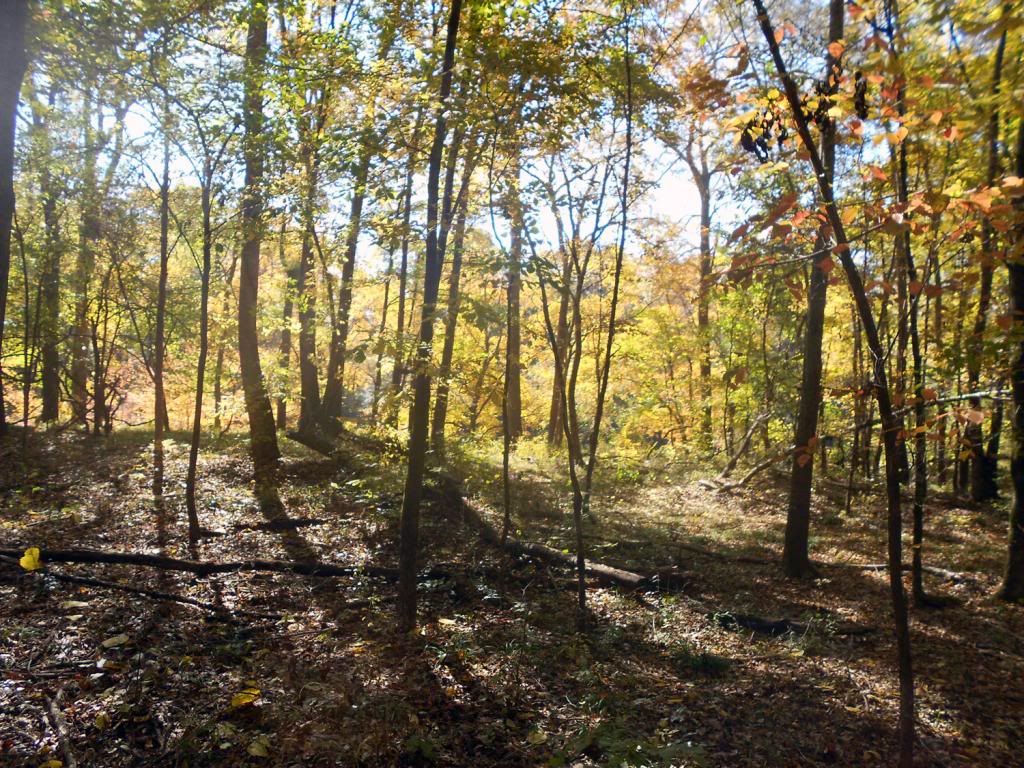 My total for the year is now 104.8.
Next weekend we are riding at Watson Mill Bridge State Park and camping.
Oh, Celeste, the pad still rubbed but probably because I had the wool blanket underneath. He didn't pee at all on the trail which is highly unusual. I am ordering one right now.
Was his back as sore as it has been? I hadn't even thought about the peeing being due to back pain but I bet that is it.
---
Celeste
Carpe Diem!
He still had a rub spot, not as bad though. But he had 3 weeks to heal.
Another... um, shall I say interesting, since this is a PG forum?... day with the new horse and the sadistic women I ride with. It's cold and windy, so the horse is pretty excited to start with. Then we get all tacked up, and then have to stand around about 15 minutes while the women adjust things, yell at the dogs, and I don't know what all, which gets Nova pretty impatient ("What are we standing around for? I wanna GO!"), so I have jigging and some half-hearted attempts at bucking to deal with for the first mile. But eventually she settles down, and I think we're going to have a nice ride ahead. Shows you what I get for thinking.

The dirt road we're on zigs and zags gently down the side of a mountain for about 4-5 miles. So we get to the bottom, and I figure we'll have a nice ride back up the way we came. But no. Sadistic woman #1 says "Let's take the shortcut road* back up", and sadistic woman #2 says "Sure, let's go". So we start walking up this steep track, and I'm ok with that. Then they decide they're going to trot, and I can sorta manage that. Except I notice that they're pulling away from me, and I tell Nova "OK, trot a little faster now". But she thinks I meant "canter", and I'm holding on for dear life when she says "Whee! I'll show those guys. I'm gonna GALLOP the rest of the way up."

Well, one of us enjoyed that, and she was very well-behaved the rest of the way back to the trailers.


*"Road" here being an euphemisim for "About 20 years ago some logger bladed a track, and it isn't completely overgrown yet."