Dang James...sounds like you had a fun day!
James, did you stay on? If so, you had fun. You'll figure that out when your heart rate comes back down to normal.
---
Celeste
Carpe Diem!
Didn't ride yesterday but Biscuit helped me straighten up the tack closet of the Brenderup. Wish I had had water and some cleaners down there - I could have actually cleaned something instead of just straightening it up!!
Biscuit was only mildly curious about this!
Biscuit is a good helper.jpg
tack closet.jpg
Quote:
James, did you stay on? If so, you had fun. You'll figure that out when your heart rate comes back down to normal.
Well,
maybe
I could get to enjoy it, in a few years when I finally learn how to do it properly. I might even have enjoyed it on Ellie, because I knew and trusted her. But this was the new horse, young and not much trail experience, who my friend (sadistic woman #2) said we should bring along slowly (Yeah, right: we see how long that idea lasted
), and only the second time I'd done a whole ride on her without a lead rope.
But I have to say that Nova did pretty good, despite the screaming human on her back. Yes, I did manage to stay on, I think because I was so busy trying to find the brakes that I didn't have time to fall off
---
Last edited by jamesqf; 11-04-2013 at

10:40 PM

.
James, it sounds like you did a great job. I also would have screamed. I think that you might want to find somebody else to ride with; somebody that understands about the dangers of green horses on the trail.
---
Celeste
Carpe Diem!
Denise, he would be more helpful if there were a wedding cake in there!

James, sounds like fun to me, but DH would agree with you!

Nancy
Kinda like me going "Oh S**t" the other day when Oreo started trotting the last part of the downhill. I wasn't sure exactly what position to take and wasn't real happy, but I survived. My friends thought something serious had happened because I ended up yelling it louder than I meant to.
Denise, Biscuit looks like he's deciding how to fold that back up! I love a helpful horse
Cool to see ur tack closet, it is small, but bigger than mine 'cause my Brenderup doesn't have tack storage in it! I really wanted the Baron or the Royal when I bought it, but I couldn't get financing for the bigger models.
James, next time put those sadists on the new horse...and let loose with a YeeHaw as you charge past...Nova may go loopy, but you'll be safe
james, if the screaming human didn't cause her to dump you I think you've got a good on on you're hands. Though I do like AnitaAnne's idea.
I thought about riding but my tack trunks caught my eye so I figured I'd give them a good look through. I found 7 different reins that didn't match each other or any of my bridles and were never mine but no one knows where they came from. I also found a cooler, quarter sheet, and stable sheet that no one has ever seen before. It's amazing what sort of breeding happens in these boxes. I wish Bloo and Pretty Boy would have helped me clean those out.
And a few pictures from the first trail with Tribble.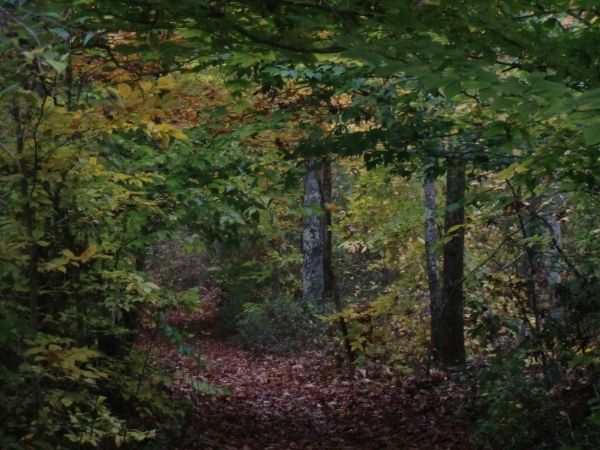 ---
Show me a horseman who hasn't fallen and I'll show you a man who has never truly ridden.


OMG those pictures are GORGEOUS!!!! Yep, James if they don't freak out with screaming like crazy they are a good one. Hahahah Biscuit has had me screaming and flinging around when that spider landed on me. OMG Biscuit was a saint. I am sure he told Elan his owner was a little challenged
Anita, the tack closet is really made for English saddles and putting two western saddles in it is a challenge. I am going to go through my tack bag and put duplicate brushes in the trailer and not take the tack bag any longer. It is just too crowded in there. I have 2 sets of hoof boots, extra bridle, zip ties, powder for me, little bit of baling twine in case of something (LOL don't know what that would be!) vet wrap and a bucket of treats for the horses. I threw out a big fanny pack backpack kinda thing, all kinds of balms, some trash I forgot to throw away.
I need to tighten up the trailer and only haul what I will actually need. It is little in that closet!