My friend Pam came over again today. Donna and her student also came. We rode 5.4 miles. There were tons of pickup trucks, 4-wheelers, and those little mini-car things the deer-hunters love. I rode the Princess. She went psycho a few times, but she never got totally out of control. She was just really excited because she had never met these horses before. Pam should have shoes on her own horse by next weekend. I think that we will have more fun then, because my old horse that she has ridden the last few days is painfully lazy. She is almost 27 years old, so we felt like we should cut her a little slack. The Princess seemed be a lot less of a "smarty pants" by the time we got back. She didn't scare me even when she got crazy. I don't know whether it is because she was not as bad, or if it could just be that this new blood pressure medicine that I am taking has a calming effect.........

115.3 total
---
Celeste
Carpe Diem!
I think llamas and alpacas are in vogue right now as pets. The first time the llamas were at the fence I let Roux compose himself and then prompted him forward. He took three stunted steps and then froze. Head up and snorting. Then he had a full blown panic attack. He started shivering and breathing really hard. I knew he was setting himself up for an explosion so when he did I was ready. He then did a mini rear / pirouette and shot back a few steps the way we came. Well at that point I figured why push it (I was alone and it was at the end of our ride) so I got off and led him to the fence. I then stayed there with him until he settled down and then when he was calm enough I rode him back and forth by the llamas until I felt that he had got the point that despite the fact they looked like horse eating aliens they were relatively harmless.
Even with doing this he still has horse PTSD about walking by that fence even though the llamas haven't been at the fence line that close since. I looked it up on line and I think that un-cut male llamas smell like stallions because their hormone composition is so similar. I know that Roux can get pretty upset by stallions so I am chalking it up to hormones.

I love the parade steer pics! What a beauty!!
Quote:
Ok, I know I said I wasn't going to replace the 3 I'm selling, but by God, I couldn't resist. My wife, little Jessa, and I went to the rodeo last night and I ran across the most amazing mount ever. He is so amazing and takes care of whoever is on him better than anything I've ever seen. I climbed on his back and he acted like I was a feather sitting there. Sure footed, big boned and broad are superficial things I used to describe this gentle giant. Oh, pics right, gotta have pics of this amazing ride don't I? Ok ok here ya go...
Here is little Jessa riding him
Attachment 315273
Here he is with me atop him as if no one was in the saddle.
Attachment 315281
I'm just not sure how the three remaining horses are going to act.. Wonder where he will fit in the herd and how long it will take to get acclimated.
Hahaha this is awesome! You gave me a good laugh
I just got back from the Equine Affair in Springfield, MA. It was a fun weekend watching clinics, demos, and shopping till we dropped (for the horses of course). My friend Rachel also came to ride Selena and help me practice some things we've been working on. Here's Selena decked out in her Western attire practicing some Western Pleasure and lateral movements.
rach.jpg
rach2.jpg
And here is little Miss Vee growing up fast as ever! Poor girl is losing all her baby fuzz!
1.jpg
2.jpg
3.jpg
4.jpg
My friend and I went up to Watson Mill Bridge State Park this weekend with one of my friends. It was kinda cool the first night as it got down into the low 30's. We were slow moving on Sat. morning because the cold. Got out on the trail by 1 pm. It was definitely hunting season outside the park. Guns going off everywhere. All the deer were hanging out in the park. We probably saw 10 deer, 2 of which were bucks.
The trails are great, well taken care of. No ducking under low branches, no stepping over logs. I will say one thing. Worst bathroom facilities ever. There is one toilet and sink in one room for the entire camp and 3 cabins. It was heated. There was also one shower that was not heated.
Trails and horse ears.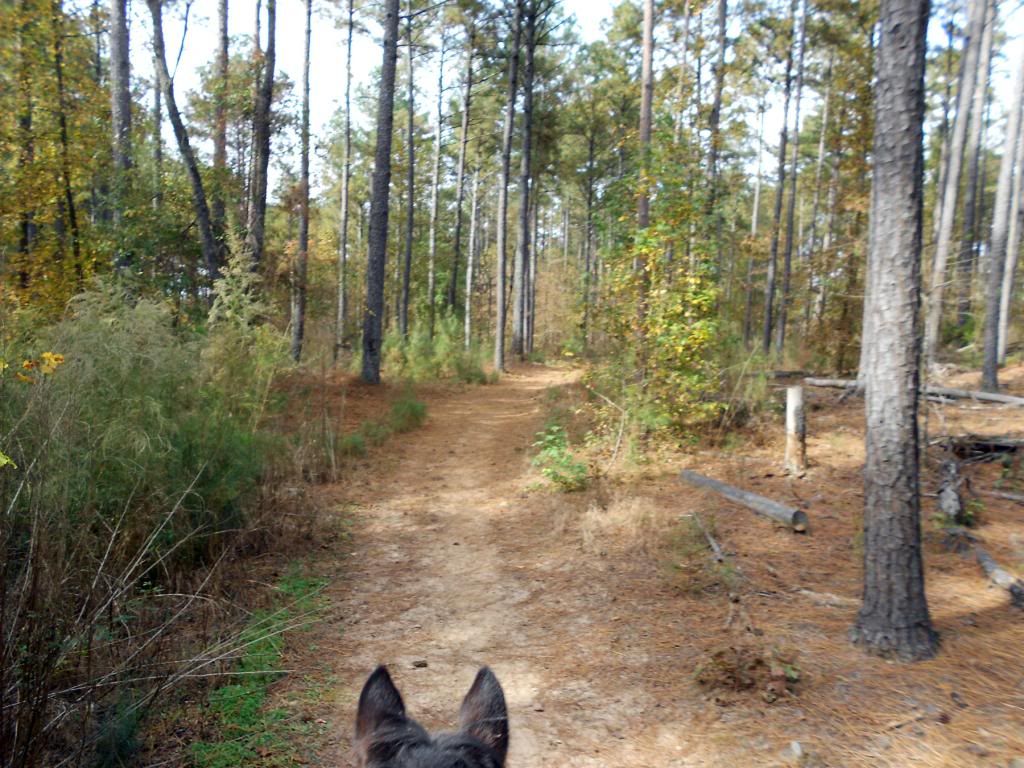 Got lost which is something that seems to happen to the two of us a lot. Wondered on to private property by accident. This the road.
Getting lost let us see this pretty farm.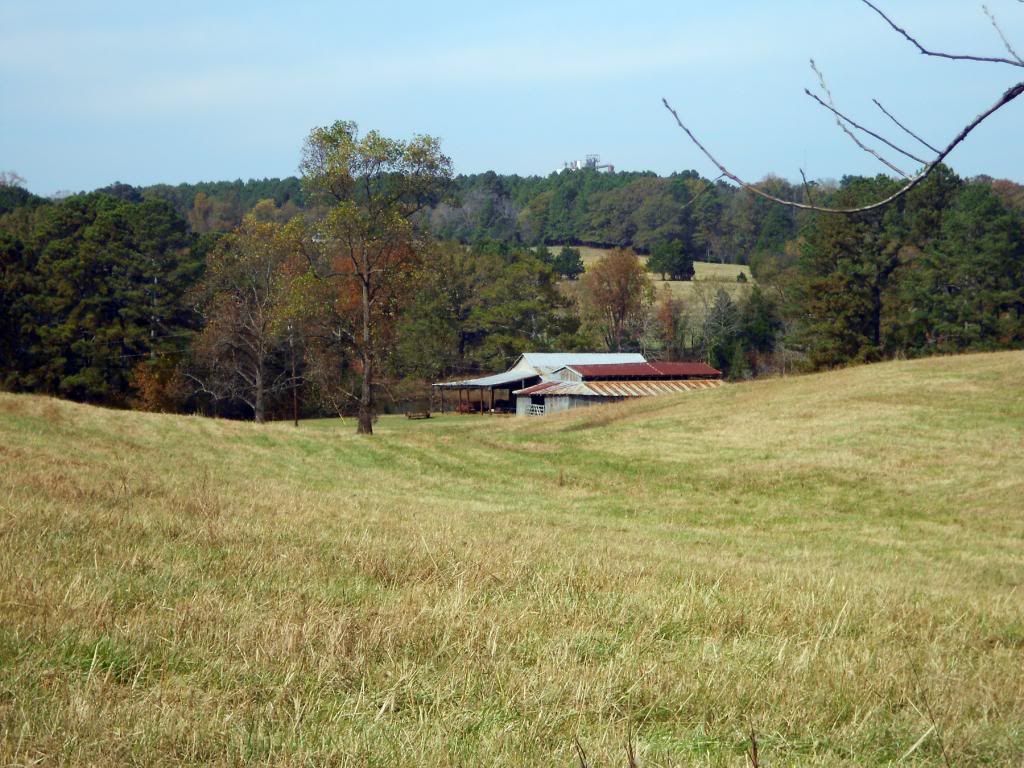 One thing we saw lots of were deer.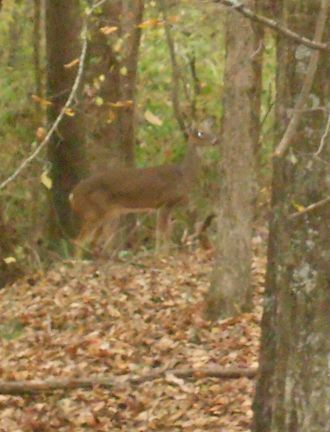 We did 9.9 miles the first day, I was skirming in my saddle by the time we got back. And did 4.6 miles today. Total for the year is 119.3. Unfortunately, this was probably my last ride until after Thanksgiving.
Forgot to add, we could drop Oreo if the middle of no where and he would find the trailer. We were riding a trail today that we didn't ride yesterday. Come to what looks like it could be a trail but there were no markers. Oreo was convinced it was the way to go. The trail was much rougher (obviously not really a trail), but it was clear to see which way it when (like it was an old trail or old road). Sure enough we come out onto one of the main trails and he cut several miles off our trip today.
Quote:
Total for the year is 119.3. Unfortunately, this was probably my last ride until after Thanksgiving.
NOOOOOOOOOOOOOOO. You can haul over and ride with me tomorrow.
---
Celeste
Carpe Diem!
Out for another couple of hours with Nova and SW2 today (SW1 had to work), mostly on a road that winds through fairly level forest and meadow (no mad charges up the side of the mountain, IOW). We were going to work on Nova trotting & cantering on command, not when the other horse does it. Wandered through a bit of woods on a cow path, over small fallen trees & things, then walk/trot/walk on command. Even got down into a small ravine to drink from a creek.

Things were going so well that we decided it was time to work on cantering. And that went well at first, until I realized that the girth wasn't as tight as it should be, and the saddle's slipping around. "Oops!" I said. "Better stop and fix it."

Turns out Nova really likes cantering so much that she's not going to stop. And indeed, is going to add a bit of crow-hopping to the canter by way of protest, which I didn't actually realize a horse could do. Anyway, I came off, did a nice tuck & roll and came up on my feet to see Nova giving me this really disgusted look, as if to say "So TELL me when you want to do circus tricks, ok?"
Quote:
NOOOOOOOOOOOOOOO. You can haul over and ride with me tomorrow.
Okay, now I'm jealous.....I NEVER get an invite from Celeste! LOL.
---
For we wrestle not against flesh and blood, but against principalities, against powers, against the rulers of the darkness of this world, against spiritual wickedness in high places.
Quote:
Okay, now I'm jealous.....I NEVER get an invite from Celeste! LOL.
You are officially invited. You and your wife should load up and haul down here. It is most likely close to 200 miles and I doubt that the ride is as glamorous as the rides you do in the mountains. But you are invited. One thing is that I can pretty much guarantee that you won't be attacked by bears. 4-wheelers and pickup trucks are the closest thing you will see.
Oreo's Girl had to work today.
I took The Princess for a little 1.2 mile solo ride. (DH really didn't want me wading deep into the deer hunters alone, so I kept it short to keep peace in the family.) She was hesitant to go past scary things, but she did. She spooked a few times. For most of the ride, she was quiet and walked on a loose rein. She jumped a little bit when we turned to go down the steep hill heading back to the house, but she calmed right down. I think that she is going to finally be a good girl.
116.5 total

---
Celeste
Carpe Diem!
Went over to NJ this weekend for the Mustang Memorial (full thread
here
). New camp and new trails were great fun, though no lack of the sand and pine trees the area is famous for.
Rode with my DH and a good friend on her young horse, who had his big boy pants on for the majority of the day.
2013 mileage
...
10/05/13 george 51.35 miles 7.9 mph 789.14 total miles
10/06/13 justice 30.31 miles 6.9 mph 819.45 total miles
10/24/13 tuesday 2.03 miles 3.7 mph 821.48 total miles
10/25/13 tuesday 49.53 miles 6.1 mph 871.01 total miles
10/26/13 shiloh 30.03 miles 7.8 mph 901.04 total miles
11/09/13 george 49.44 miles 9.2 mph 950.48 total miles
---
There is no joy equal to that found on the back of a horse.