Denise, I am sorry to hear your mother is failing and will add you and yours to my prayer list. I have not read updates on your husband and the other family members that were ailing. How are they doing? I also hope that Biscuit can get over his ailment also.


EL6, beautiful trails and glad Selena is sound again and able to see those sites with you.

PH, how is the rehab coming with Dream?

James, sorry for the painful fall that leaves you unable to ride for awhile. Hope you heal quickly and can get back out there soon.



I rode Turkey morning with my daughter around the pasture on a couple of the horses. Then Friday had to put m old man dog down at the age of 13. He would have been 14 next month. The best dog I ever had. Buried him on the new place where we can put a park bench next to him and enjoy the company.


Hoping to get the back of the new property fenced soon and able to bring the horses to the new place.
---
I am Second
Born Once, Die Twice. Born Twice, Die Once.
Roaddy, thank you for the kind words and the prayers. I spent the night at my sisters right beside my mom. She slept most of the time. She woke up for water and to use the pot chair. Bless her heart - she went right back to sleep. I did tell her I got the little LQ trailer - I am not sure if she comprehended. She would have been thrilled for me.

James I hope you are feeling better. So sorry you can't ride right now but healing well is the best for now.

Biscuit's front feet seem normal - the back are still looking like cankles. The vet said 3 or 4 days and they should be more normal. He had one dose on Monday and so by tomorrow evening I am hoping for more normal looking fetlocks!
Denise, I am sorry about your mom. I am very thankful she isn't in pain. I wished I had a gooseneck with some living quarters but that is a pretty low priority right now. Nice find even though I haven't heard of that brand.
James, unscheduled dismounts are never fun. Hope you heal quickly.
Congratulations EL6 on Selena being sound
Now to my news. My newest edition is here. His name is Fiddler. He is a 7 year old Quarter horse gelding. He is 14.3 hands. He has been used in barrels, dressage, trail, and trail competitions.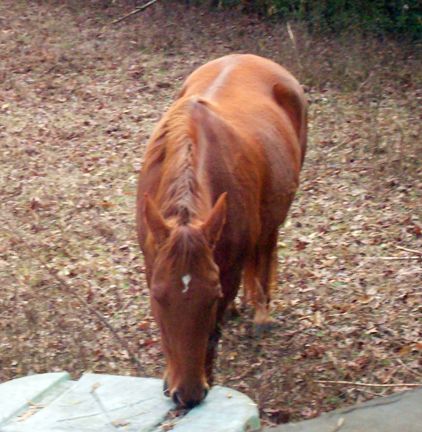 Kristen, woohoo to Selena being sound!! Bet that is huge relief!!

Denise, that trailer is super cute. Never seen a purple awning before, so it was def meant for you. So sorry to hear about your mom but glad she isn't in pain.

Roaddy, so sorry to hear about the passing of your dog. They never live long enough and a good dog is a true blessing. May you find some comfort in your memories and being able to make a place to sit and remember him.

Dream's rehab is going well. She is kind enough to not dump me in a heap and run off during our rehab rides, which is what I suspect she would rather be doing (versus walking placidly along). We started 5 min of trot work this week, which is not very long at all in her opinion! I can put her back on full turn her out the first of the year, which I am counting the days until and suspect she would be too if she could.


To everyone in the path of this nasty storm that is working its way across the country, I hope the reality does not match the predictions (esp in terms of the ice). Please keep us informed how you are doing.
---
There is no joy equal to that found on the back of a horse.
Sounds like lots of people are having a bad go of things. )8 Roadyy and QOS, you're both in my thoughts.

On the brighter side... that's a real cute pic, Oreos <3 Congrats on the new addition.
---
The sensitivity of the internet baffles me.
The trailer arrived at my house around 11:00 AM . I took pictures as it was coming up past the house but don't have them uploaded yet. The lady I bought it from ran though everything with me to show me how it was set up with the electrical parts and how and where it drained, etc.
two horse slant is mine.jpg
Looking forward to getting it spiffed up and ready to go.
I am at my sisters so I haven't even had time to fool with it at all. I think the hospice was right when they said a week - and that was Sunday. I am going to stay here at my sisters except when I have to go check on Biscuit. I want to be with her to the very end. Say some prayers for our family.
Denise I love the new trailer! That is something exactly what I have been looking for. I love the purple how fun. You and your mom are in my thoughts as well.

James, I am sorry about your wreck - broken wrist is not nice at all.

I am in the midst of finals and I wanted to ride on Tuesday (a beautiful sunny day) but I decided to study instead which I regret now because the weather took a turn! Today we actually has snow... again. And it never got above 35 which is cripplingly cold to us New Mexicans lol I do not like being cold even a little cold - know I am a baby. So I don't know when I will ride - hopefully early next week.

Last night my mom looking longingly at one said that she wishes she had an abetta synthetic saddle (she says this a lot). I could barely contain myself! Little does she know! That is exactly what I got her for Christmas - it shipped Monday and should be here tomorrow! That will give me time to make sure it fits Gus well. It is only 18lbs so she should be able to carry it around and lift it on Gus herself which will make her really happy. I don't know if I am going to be able to wait three more weeks to give it to her :) I am going to get Gus all tacked up on Christmas Eve and put a big bow on it and surprise her. We are planning on riding on Christmas day so it will be perfect!
---
Angus (Gus) - 18yr Pinto (Est. 2013)
Now we're seeing spots! Winsome Warrior - 4.5yr Appy (Est. 2016)
Roux - that is so sweet of you to get that for your mom!!! How exciting! She will be thrilled.

It is supposed to rain here and be colder than a well diggers butt this week. Yuk. Don't know if we will be able to get a ride in this weekend or not. We will have to see.
Well, it has rained for 2 days, even though we have been under a winter storm warning. I just left the horses out, knowing if it REALLY turns winter, they could be in for a day or so. This afternoon, the trees were turning white with ice, so I brought them in, all wet and shaking. The rain turned to heavy sleet for about 10 minutes, then just QUIT!!! yay!

I made Williamsburg turkey soup for dinner, even though I wanted Mexican, because the weather was too nasty to drive into town. Now the kitchen is a mess!!

How sweet of you, Roux, to get that saddle for your Mom!

Denise, I LOVE your trailer. My friend Tami always had purple stripe on her trailer...she would die to have a purple awning!! Now you can come up here and ride with us. You got LIVING QUARTERS!!!

Nancy
Thanks Nancy. Maybe one of these days I will get up there!!! The former owner had the awning put on in the little town of Kirbyville, Texas. It is the bomb.

I can't wait to trick it out with my own stuff. Been looking on line for certain things and ways to make the most of the space it has. When I get it done I will post pictures of it for y'all.

Ugh...the insurance is $507 a year. That bites.