I wonder if i can upload a video i took of riding? Saturday i rode Bella 22 miles at 13 mph. Then took Rossi out for 9 miles at 10 mph. Sunday i took Rossi out for 15 miles at 10 mph. And today i rode Rossi 19 miles at 14 mph and ponied Bella for 14 miles of it. Our weather here in Florida has been GORGEOUS! High of 66. Sunday and today i rode in a short sleeve short!
Posted via Mobile Device
give it a whirl. Would love to see it. We have had pretty weather since Wednesday. Hope it lasts!!!
Thunder and I got out today. It was sunny and beautiful - I didn't even need a sweatshirt! We decided do a 3+ mile loop along our backroads. Not very scenic but the roads do have wide flat shoulders for the most part, which are good for trotting. We were almost back to the barn/pasture when my ADD kicked in and I decided to check out an abandoned house nearby. As we rode around back, I noticed a gate at the edge of the property, and discovered it led to a trail that meandered back into the woods. Naturally we decided to explore and I was surprised to find it actually went quite a ways back, finally bringing us to a wide open field. However we stopped and turned around there, as we heard shooting and spotted a couple of atvs on the crest of the hill. Later on (after getting home) I looked at satellite images of the area and was elated to discover that I can easily cut through the field[s] and get back to another nearby deserted (gravel) road. I'm always tickled when I find new places to ride!
I always feel bad for this horse...he resides completely alone in a little pasture a ways up the road. It makes me sad to see horses living without any companions. I let Thunder greet him over the fence today, but then felt horrible when it came time to leave.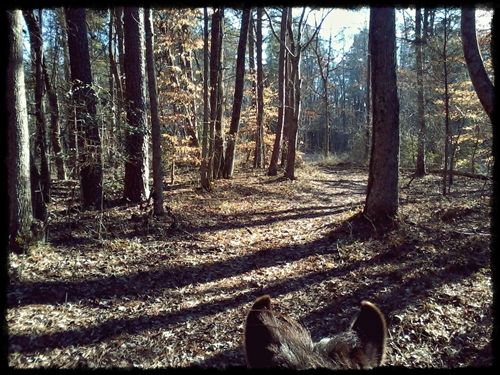 Franken-stand!
At the end of the day we completed 6.08 miles in an hr and 45 minutes:)
Total Miles for 2013: 17.08
.
.
.
---
Last edited by prairiewindlady; 01-21-2013 at

10:27 PM

.
very nice!!!!! Loved the pictures!
I think I may join in here.
I don't know how much I'll post in the next couple months, because I don't know how much I'll get to ride in that time. It all depends on how much snow we get.
I got out with a couple friends today, I rode PC and we went 6.0 miles. Not a really long ride, but we climed over 1,000 feet in elevation. So my poor fat girl got a bit sweaty.
Here are a few pics of our ride.
PC is the Black mare with the star on her face.
Wahoo! Went a little crazy and decided to go for a ride since i was feeling a little better. i have been coughing non stop since I got back (all that cold wind got to me I think), but still do not feel bad. That persistent cough just keeps hanging on :/ ha.
Today was Drifter's 8th birthday! It also was my Memaw's birthday, and sadly the 4 year anniversary of her death (My how time flies, cannot believe it has already been 4 years!). She would have been 69 today I believe. I am not too positive on that.
Anyways. Celebrated both birthdays with a ride IN THE SUNSHINE!!! Cant believe it! Decided to use the trail time to work on Drifter's cross country stamina. We went a total of 7 miles according to my GPS. We did trot/canter sets the whole way. Drift and I were about both ready to die when we finished our final run back to the barn. He recuperated quickly though which I am glad about. He has come a long way from his injury!
Our route was as follows:
2 loops around mare pasture (about 1.5 miles in all)
xc course- road (another 1.5 miles)
Up road and back (4 miles)
I only got pics when we were on the road because we forced to walk in some locations due to steep terrain and such. We faced some nasty barking dogs and the usual rude drivers and Drifter was a champ. We also were trying out some new splint boots he got for his birthday today and they were wonderful!
The last pic is a mash up I did for a comparison shot. The top picture was taken about 9 weeks ago at the beginning of his rehab after his stifle fracture. The bottom picture was taken today. Not the best shot for comparison, but he has slimmed/muscled up. He was looking like a chunk when we started :) But he is finally looking like my TB again ha ha.
Total for the year: I lost count .. but I think about 11 miles? Not too bad considering the weather and pneumonia has been trying to hold us back!
65268_10152425177775058_1088947671_n.jpg
67655_10152425174740058_422004107_n.jpg
397765_10152425178025058_2096722481_n.jpg
552851_10152425179290058_317828667_n.jpg
74662_10152425451410058_510453058_n.jpg
I know I'm not your mother, but it surely does worry me that you are out in the cold wind so soon after pneumonia. Please stay warm.

Looks like you had a fun ride though.
---
Celeste
Carpe Diem!