Quote:
Your Welcome! It sure looks nice and warm...wish I was there!
It was nice and warm! Short sleeve weather, i even broke a sweat at one point! Haha.
Released from the walk restriction!!!
---
I just got back from the doctor. I do not have MS. I was thrilled beyond belief. I do have something called sensorimotor polyneuropathy and now must see a neurologist to find out what is causing it. I may never walk straight again but maybe I will. I will have to wait and see!

Because it is not a spinal cord problem, I am released from my walk only restriction. I told him that I feel way better after riding and I do. My muscles are fine - in fact, strong the resident said.

Biscuit and I will resume our walk/trot/canter as long as I can stay balanced. I am still stumbling like a drunken sailor but on Biscuit I don't look so drunk! Onward to my trail riding - now it just has to stay clear and no more rain. As soon as it dries up in the woods I will resume riding by myself. Woot!! Can't wait.
QOS - That is great news! Congrats :)
Great news, QOS!

I don't post here, but I always read this thread.

I only go 20 or 30 miles a year on Journey, but to me this is the most interesting and inspiring thread on the forum! Love keeping up with everyone's adventures!
---
~~~Why walk when you can fly?~~~
ok so here are the photos from Saturdays ride at Blandy Arboretum. The total ride was 3.8 miles. Was a ton of fun. Gorgeous day and the footing was actually really good!
ok so here are the photos from Saturdays ride at Blandy Arboretum. The total ride was 3.8 miles. Was a ton of fun. Gorgeous day and the footing was actually really good!
1)leaving the unloading paddock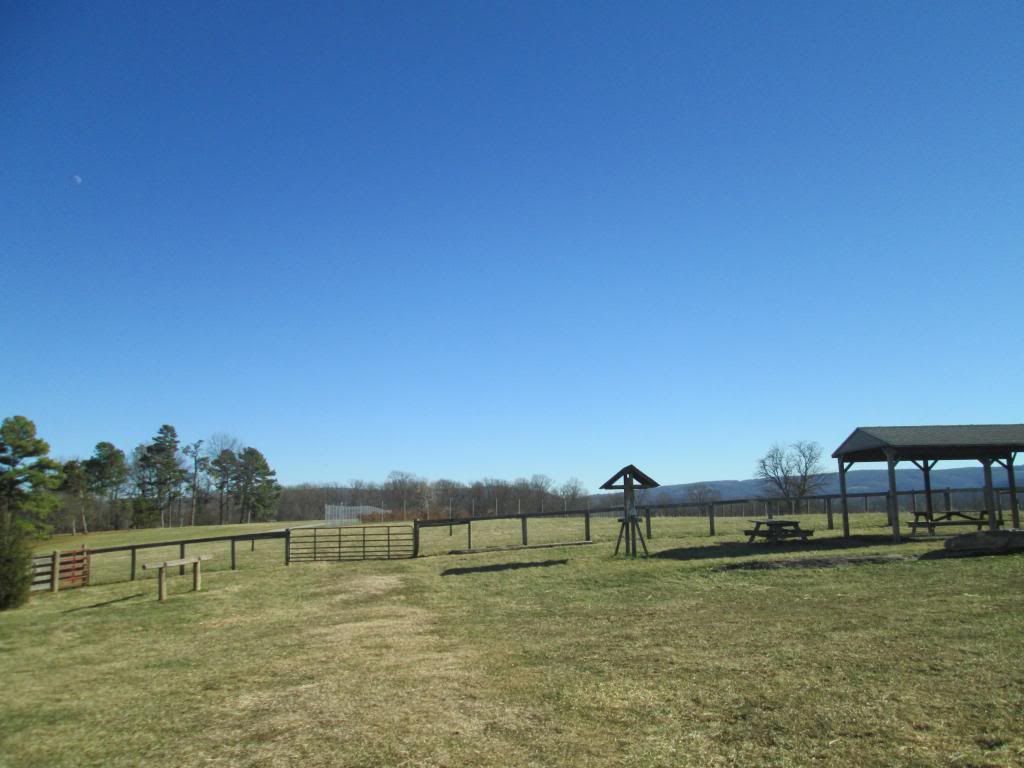 2)getting on the trail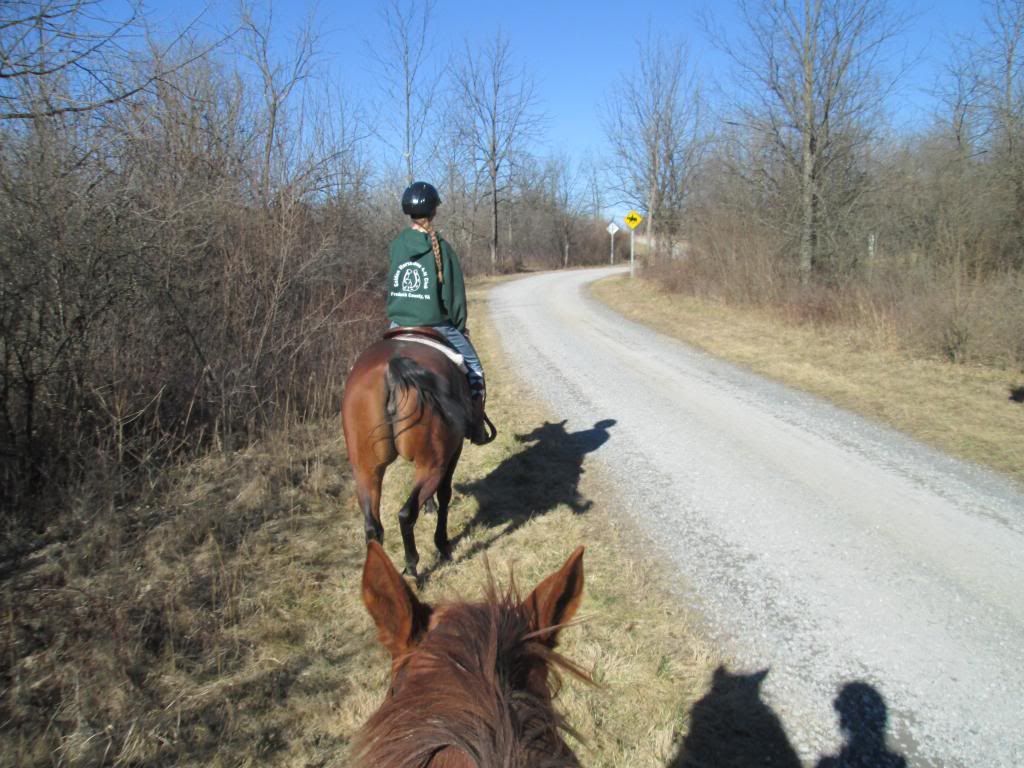 3)going into an open place that was fu6 &n to trot in (would have cantered but the other 2 horses were quite green they are ages 6&8 and quite high strung.)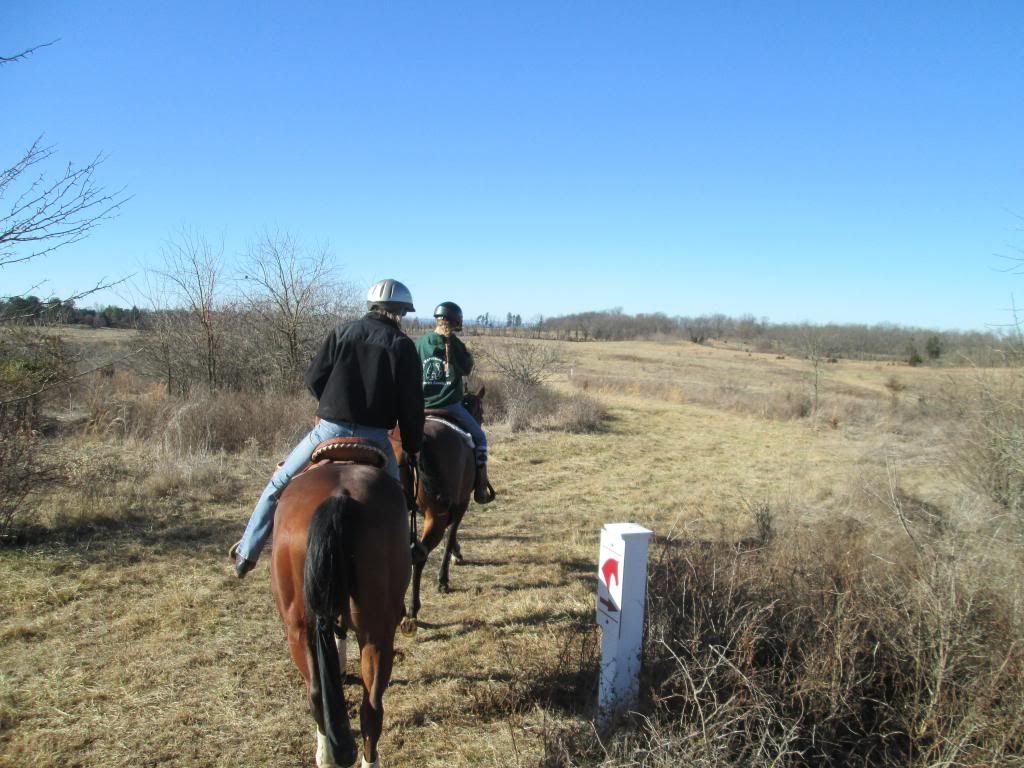 4) random pic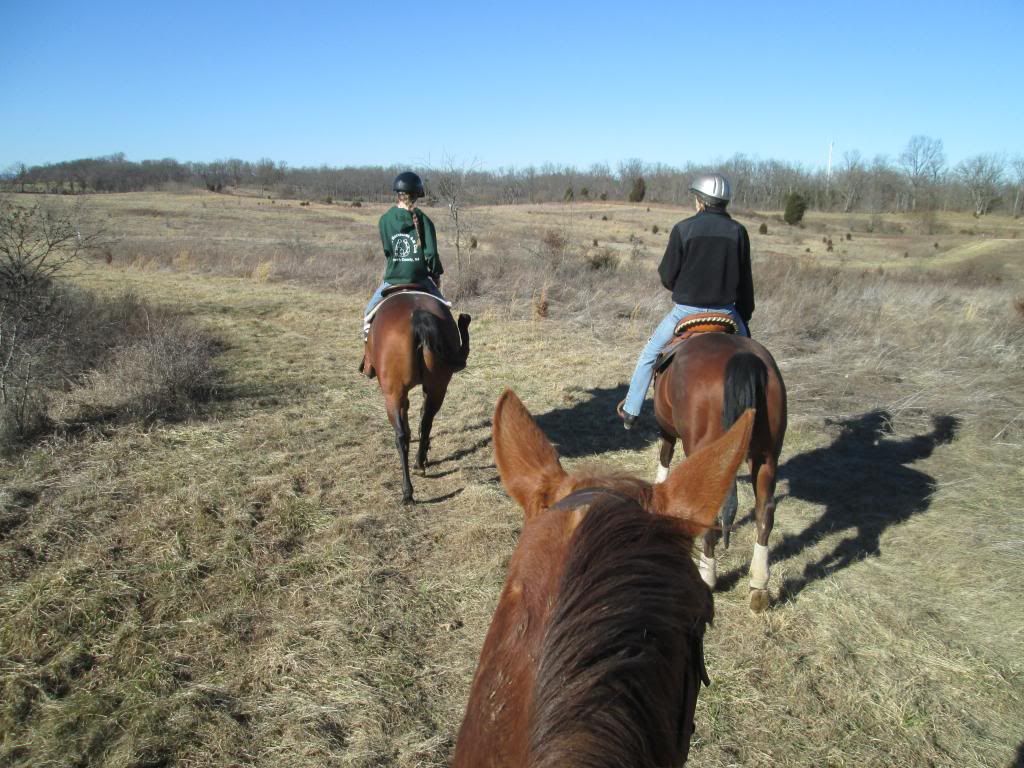 5)I am on the horse in the back that is a mud ball. Crescent decided when he got off the trailer to roll! and of cource I just had time to brush his back off and tack him up fast and he hasn't had a bath since October and no blanket so he is 100% mud!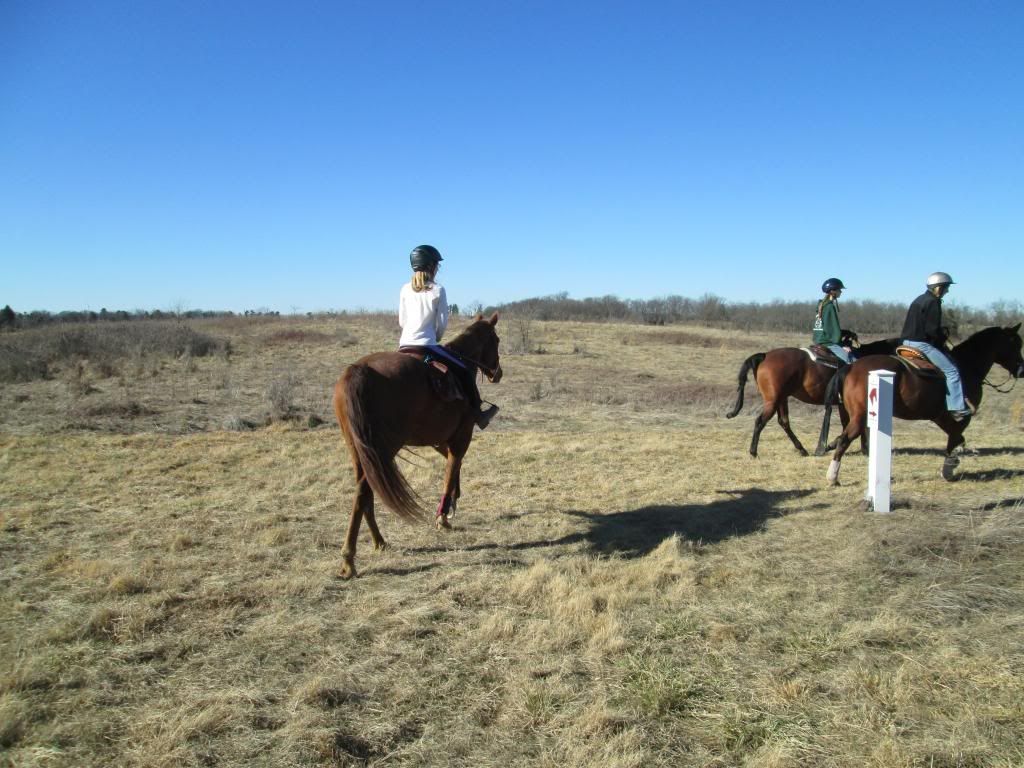 6)better view of the mud:)
7)huck (the dark dark bay) hates Crescent and tried to kill him more than once (he would rear and try to strike out at crescent) in the picture his ears are back and he is just so funny looking. he is one crazy horse! he is 6 and quite the speed demon!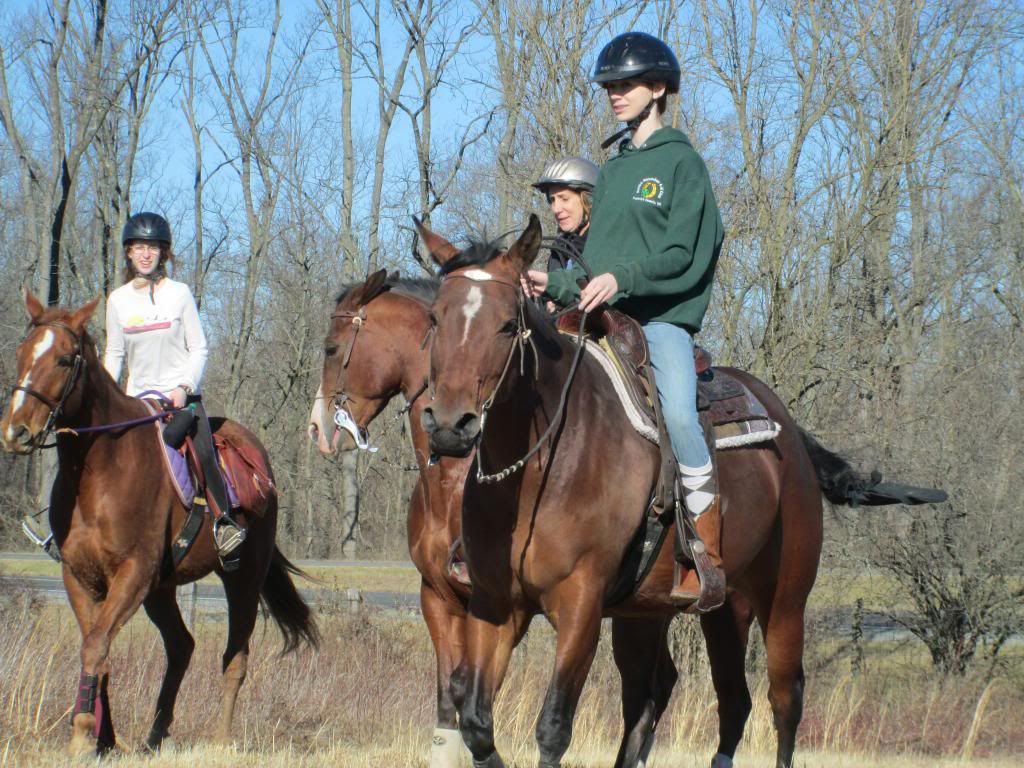 8)going through an open field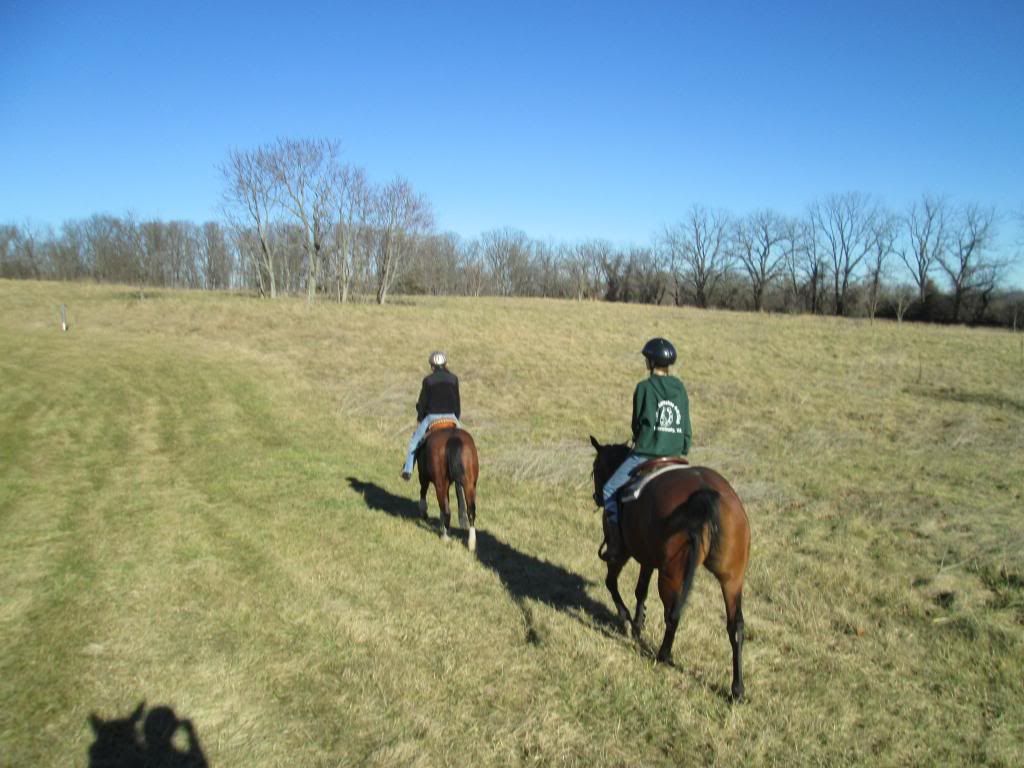 9)through the woods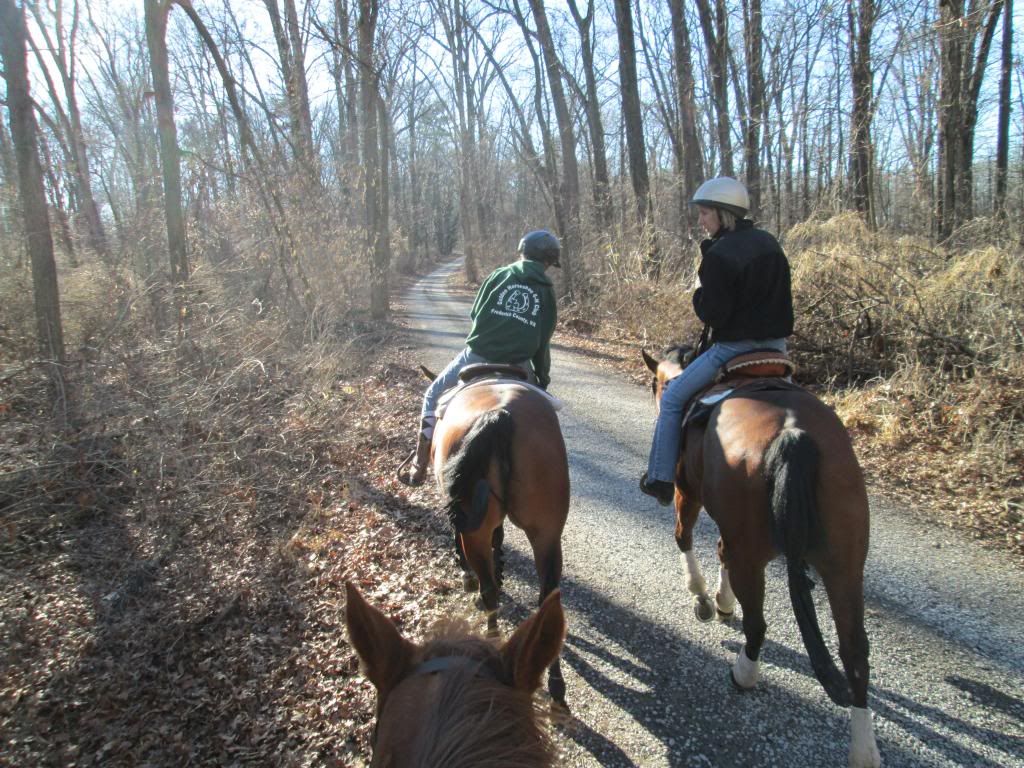 10)past the milk place (tons of cows for milk)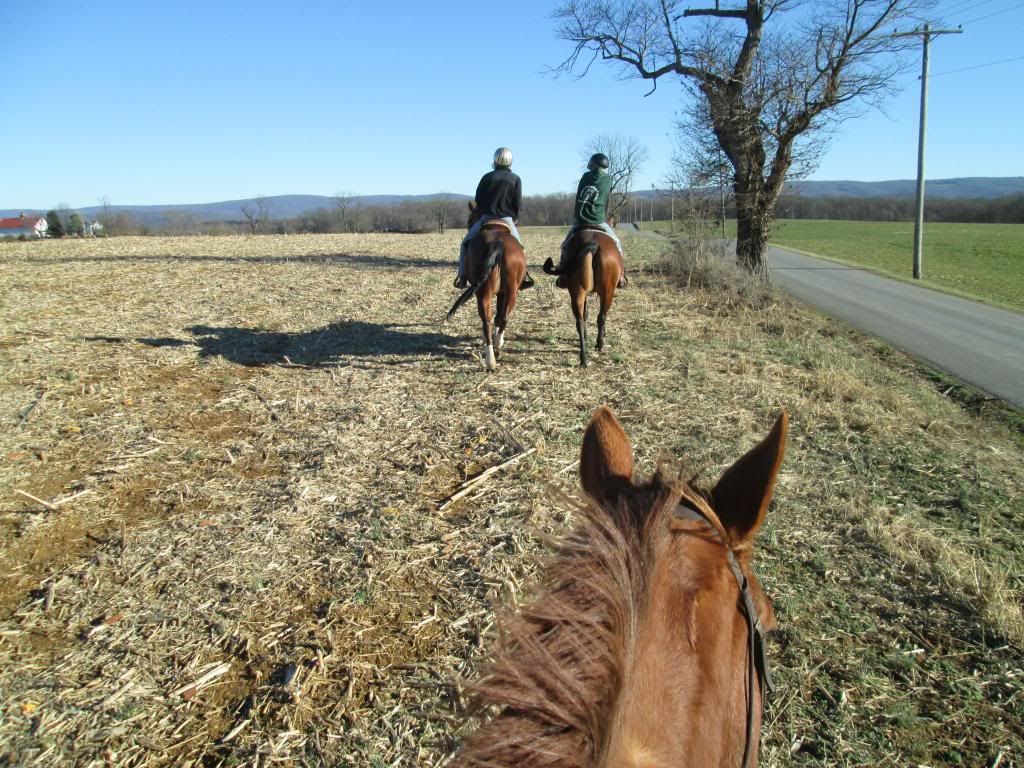 11) back to the trailer!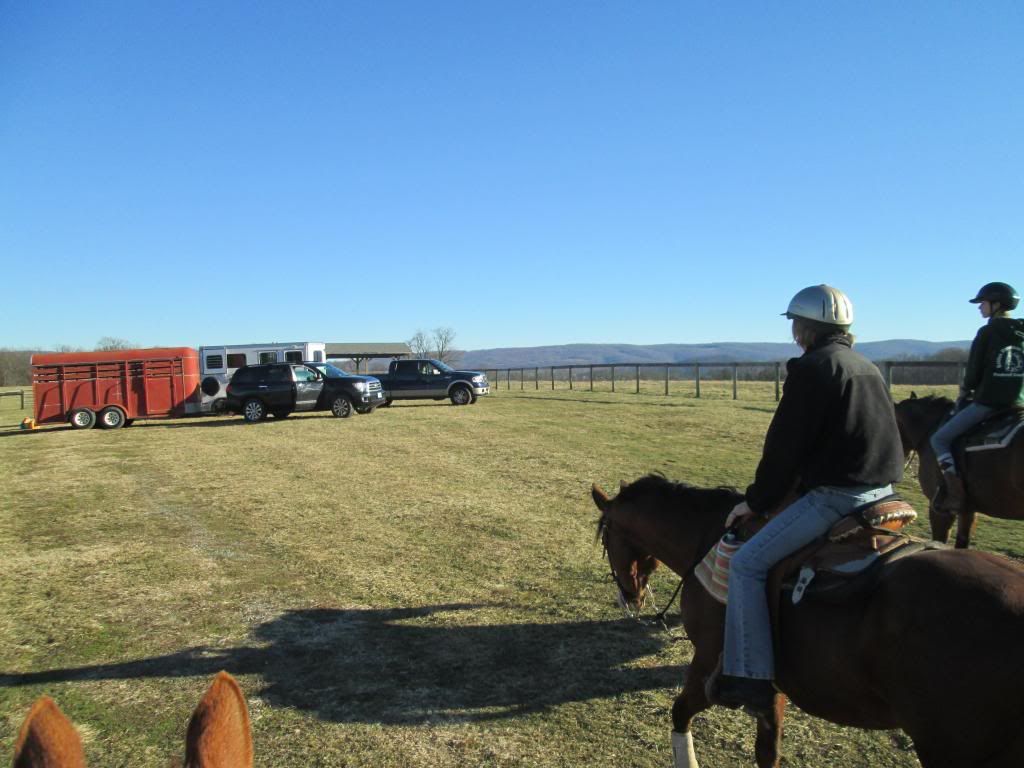 sorry for the picture overload. Hope you enjoyed them.
Thanks y'all. I have an appointment to see a neurologist in Houston next Wednesday. So hopefully everything will get better but it is already better because I can ride unrestricted!

Loved the pictures!!!!!! Post away!
Denise, very glad to hear its NOT ms. Now if only the neurologist can find what it is and fix it up for you. Can't imagine feeling drunk all the time is any fun. Is it only when you walk?

Anita Anne, I hope your boy recovers asap. I know the frustration of something being not quite right. I hope its a simply muscle strain and a bit of time fixes it right up.

To those riding right now, I am loving the pictures and videos. We have been experiencing horrendous cold - reminds me why I never could survive in places like South Dakota or Montana that have real winter all the time. The temps have not come out of the low teens, with windchills well below zero. Just going out to check the water tank is too much time outside - forget riding.

The farrier came this morning and everyone is now shod and ready to go. I had been hoping to ride this afternoon, but seeing as its yet again only 14 degrees with a windchill of -3, no way in hell am I going out (and today is the warmest its been all week). *whiiiiiiiiiine*

I so want to take advantage of my free time while I have it. I have a working interview next week, so my unemployment stint will hopefully be over. Then the weather will get nice, when I can't take advantage of it!

On a fun, non-horsey note.. I get my new car tomorrow!!
---
There is no joy equal to that found on the back of a horse.
Dawn, I don't feel drunk...I just look drunk! It started in mid October. I woke up and was stumbling all over the place. I started having electrical shocks run up and down my back and legs. When we were in Mississippi OMG I was being zinged like crazy and it made my legs go totally weak. That is when I really started walking drunkenly. My cousin (riding buddy who is an ER Nurse/Director) said I looked like I had had a stroke.
It has been a rough couple of months and I have had a hard time mounting and have to have him held because if he moved I can't move fast enough to accommodate that. Dang...could that suck any worse? Thank God Biscuit is such a good boy. Every time I got unbalanced on him and fell forward he instantly stopped. He is worth his weight in gold to me.
It is great to see those pictures from those who can get out. Here is some pictures from last weeks pokey ride.
Willow Bayou 19 Jan 1.jpg
tyrrell park jan 19 crossing the bridge.jpg
Weather is still not cooperating to get any saddle time in. Not only is it cold, its now snowing again. Supposed to only get 1-3 inches, but I will believe that when it stops!
Did get some ride time in.. got my new car today!!
---
There is no joy equal to that found on the back of a horse.