Quote:
So Bella and me did the 50 miler at Pow Wow and we got 1st place with a time of 4 hours and 12 minutes and we also won Best Condition!!! Yay!!
Then on Saturday i rode Rossi in the 25 miler. I rider optioned at 14 miles bc she just did not feel right. The vets could see a little something, but not enough to pull me. But i knew she was not 100 % so no reason in making something small into something big. But she did very good for her first ride.
Yipee! HooRay!!
1st place and Best Condition! WOW
Big Congratulations to you and Bella!!
Thank you!! She was working like a champ!! We won by 35 minutes. I was so proud of her. She ate and drank and just had fun out there. We both did!
Quote:
Thank you!! She was working like a champ!! We won by 35 minutes. I was so proud of her. She ate and drank and just had fun out there. We both did!
Smokin hot!
wow wee 50 miles is 4 hours 12 min and Best Condition!!!!! That is freaking fabulous!!!!! Congratulations.
It is raining. It is pouring. Gaaaa. Sick of rain. Sick of not being able to get out and ride.
On the happy side, I went yesterday and picked up my "former horse" Red. OMG I almost squeezed him to pieces I was so thrilled to see him. I had free leased him to someone for as long as they wanted him and they decided to move in a direction that he wasn't suited for so I went and got him in Louisiana. Hubby's bff's child is hubby's godchild and her daughter is 13 and horse crazy. I just got back from presenting her with her own horse. Hubby got his god child a rabbit as a kid so I one upped him and gave her kid a horse.
She couldn't have been more shocked. She does ACTHA rides and they are hauling him to his first ACTHA this weekend.
I got to spend the day hugging him up. He knew who I was even though it has been 2 years. I couldn't keep my hands off of him. He is stabled in a fabulous place in the forest that backs up to Ebenezer where we ride all the time so the very best part is I will get to ride with him now. Couldn't be more thrilled.
I am really enjoying everyone's photos and stories! I can't seem to keep up myself! I've been riding quite a bit but I am usually so tired afterwards that I go straight to bed, lol (I work 3rd shift and typically care for my daughter during the day and ride in the afternoons so my schedule is kind of wacky).
Leyna - congrats on your 1st place finish! That is awesome! And Phantomhorse, as always, I am enjoying your videos!
In the past week I've been on a couple of short rides, as well as some longer ones. A week ago we went on a 9.2 mile ride in attempt to find a way down to a nearby "river" (which we did). Coincidentally we also ran into the Ringling Bros & Barnum and Bailey Circus Train, which was stopped on the train tracks. Apparently they had been sitting there a while as there were people hanging out in the doorways of the cars. I hung about for about 10 minutes before realizing that they weren't going anywhere anytime soon. I found the end of the train and went around, lol.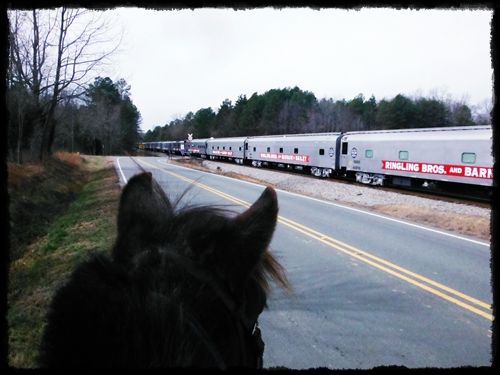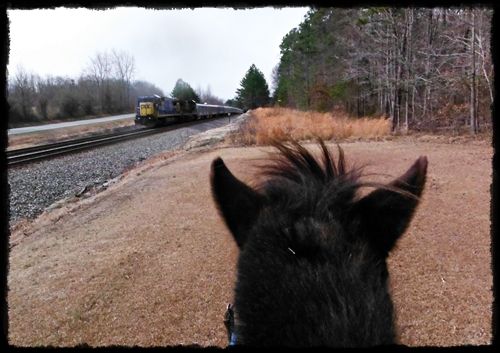 I was very proud of my pony...even at a standstill those train engines are NOISY! At one point it "whooshed" and I jumped! I swear Thunder looked back and laughed at me! He didn't even flinch:)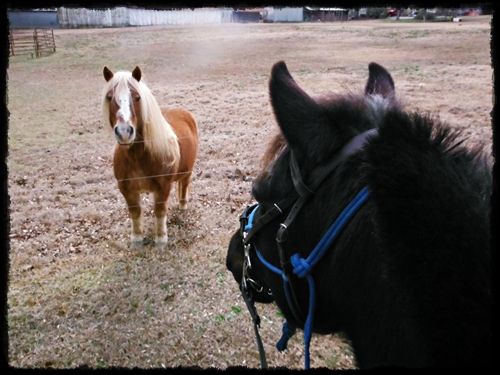 I am actually having a pit bull problem too. In my case though, I am worried about the dog. He is not emaciated but definitely on the skinny side. He barks ferociously at us whenever we ride past, but I can tell he is just scared. He is chained in the front yard and his water bucket is usually filthy (the last time we went up there he had no water at all). I am not sure that animal control could/would do anything to help him...maybe I should contact a rescue? I just don't know :(
Anyway, moving on....here is another random image from one of our shorter rides.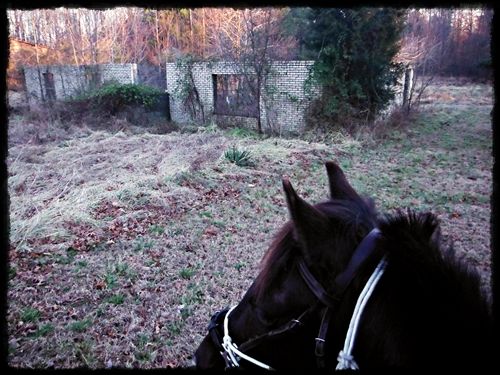 On Wednesday my neighbor called me and asked if I wanted to go riding with her at a nearby park with bridle trails. Of course I said yes! This lady is 72 yrs old and still riding - inspiring! At any rate we had a great time. Thunder made me proud (as always!) I wasn't sure how he would do as this was my first time taking him away from home, but he couldn't have been better. He loaded like a dream, traveled quietly, got along with the other horse and actually was the horse of reason in a couple of cases. The other horse was leery of the bridges and petrified of this yellow caution tape at the side of the trail. We had to practically pony him past the latter!
No photos from this ride, but I did get a video:) It's pretty boring...the trails aren't that scenic but it was nice to get out and go somewhere new (and ride with someone else for a change as I ride alone 90% of the time!)
I also rode today!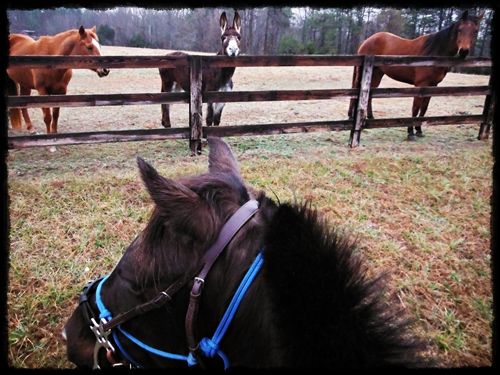 It had rained all night and it was actually still misting when we set out so it was a bit muddy. I decided to check out a trail I'd spotted off the main road that I drive everyday. It is kind of rough and I wasn't sure what we would find. To start out we had to cross a stream and Thunder was not thrilled. Something about the incline, along with the dark dead leaves that had built up on the bank made him uncertain and he balked. I'm not sure what he was afraid of but he really was scared because when I continued to urge him forward he started shaking. I decided at that point that I needed to step up and be the leader so I dismounted, removed my socks and boots, rolled up my pants and led him across the the stream. Eeeeek! It was cold!
I led him down the trail for a while - that portion had obviously not been used in a while and the only clue was the faint indentation of atv tracks in the leaves. Before long it opened up however and then I spotted orange blazes. Someone obviously visits this trail often enough to maintain it. Awesome!
SO many trails! We stuck to the main, obviously most traveled one but there were others that kept forking off all over the place. Some of them looked used, others were pretty rough. I intend to go back with pruning shears and try to tame the wilder ones at some point:)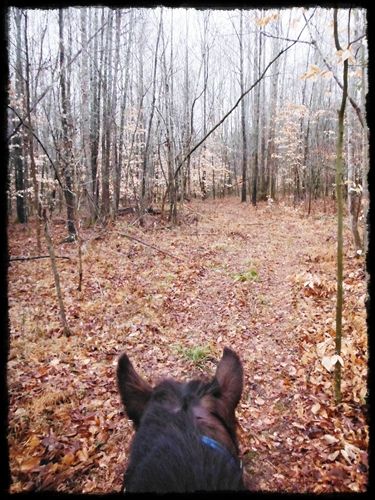 The best part of the day, by far, was our Man From Snowy River moment! The trails were pretty hilly and at one point we came across a 4-5 ft drop-off...so steep it was almost vertical! I started to gather the reins, intending to dismount. I didn't signal Thunder to halt because I figured he would do it on his own as soon as he took in the situation. So imagine my surprise when he never even hesitated, but approached, sat back on his haunches and literally slid down the hill! I automatically gave him his head and leaned so far back could feel the saddle cantle digging into my back! As soon as we "landed" he continued on at a walk as if nothing had happened. I was ecstatic!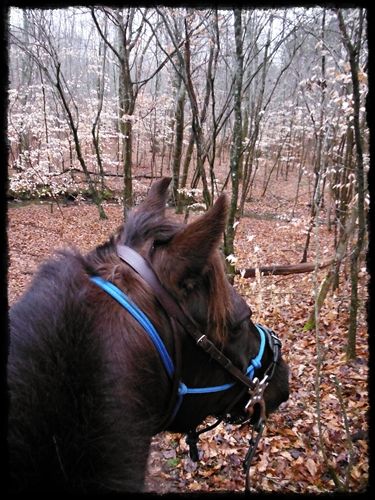 We crossed several more streams (without incident, my guess is that the leaves were messing with his depth of field at that first crossing). At one point he waded in, drank (yay - it was the first time I've seen him drink on a ride!), and then started playing! He pawed and pawed...he probably would've liked to lay down but I wasn't about to let that happen, lol! He then surprised me by turning and playing in the white froth that had gathered upstream where the water was flowing over a log. He stuck his nose in and blew bubbles. I swear he was playing with the froth, watching it move as he blew at it!
We also came across another abandoned house! It looks very mysterious...I can't WAIT to explore it. However it was on the other side of the big creek and the way down was rather steep (another drop-off similar to the last). Thunder was getting tired at this point...he had been going up and down and up and down in the slippery mud for a while so I decided that we would come back and check out the house another day.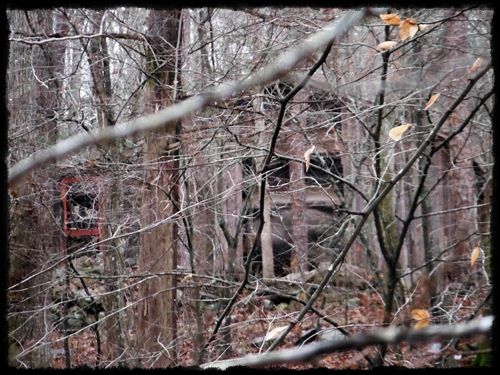 The trail I was on actually ended up running into another network of trails that I was already somewhat familiar with so we were able to do a loop and head on out. On the way home I got off and jogged beside him for a while. He is so funny when we run together. He makes a funny face and almost grimaces as he cocks his head and looks at me sideways. Such a clown! (Can you tell I love that horse? ;)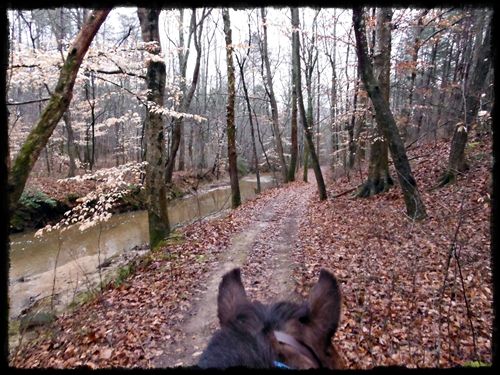 TOTAL MILES FOR 2013 (more or less): 56.8
---
Last edited by prairiewindlady; 02-12-2013 at

12:50 AM

.
wow wee Gorgeous pictures and congratulations on that Man from Snowy River moment. Love the fall leaves in the pictures. Stunning.

It is overcast here today and supposed to rain more. Sigh...our woods will not be dry here til summer gets here. We are supposed to ride this weekend up at Ebenezer...we shall see if that happens.
oh, I love love love love seeing all the pictures and videos. I have been able to ride recently as the weather hasn't been all that bad, but there isn't anywhere to ride except the roads, and I don't feel comfortable riding on the roads if my horse doesn't have shoes. As soon as I get some shoes on Rose, I will get some pictures. :)
Prairiewindlady,you really have a nice horse,I hope to find me one that will go out by himself, I have alot of trails near me but I also work crasy hours and hard to find someone to ride with.
This has been a busy week and I thought I should get the pictures processed before I posted.
So Sunday a friend and I went up to 1099 again. Went last month with a different friend. This time neither one of us knew the trails so that was fun. We first started out and thought we were on the wrong trail so we went all the way back out (1/4 mile) and couldn't find another trail so we must have been on the right one. Went back in the way we had started, my friend's dog started dashing around and lost sight of us so we had to stop and call for her for several minutes before she found us. And my horse was hot to trot. He is a spotted saddle horse and my friend has an Arab/paint mix. Oreo thought he was the Arab that day.
This is just a picture of the woods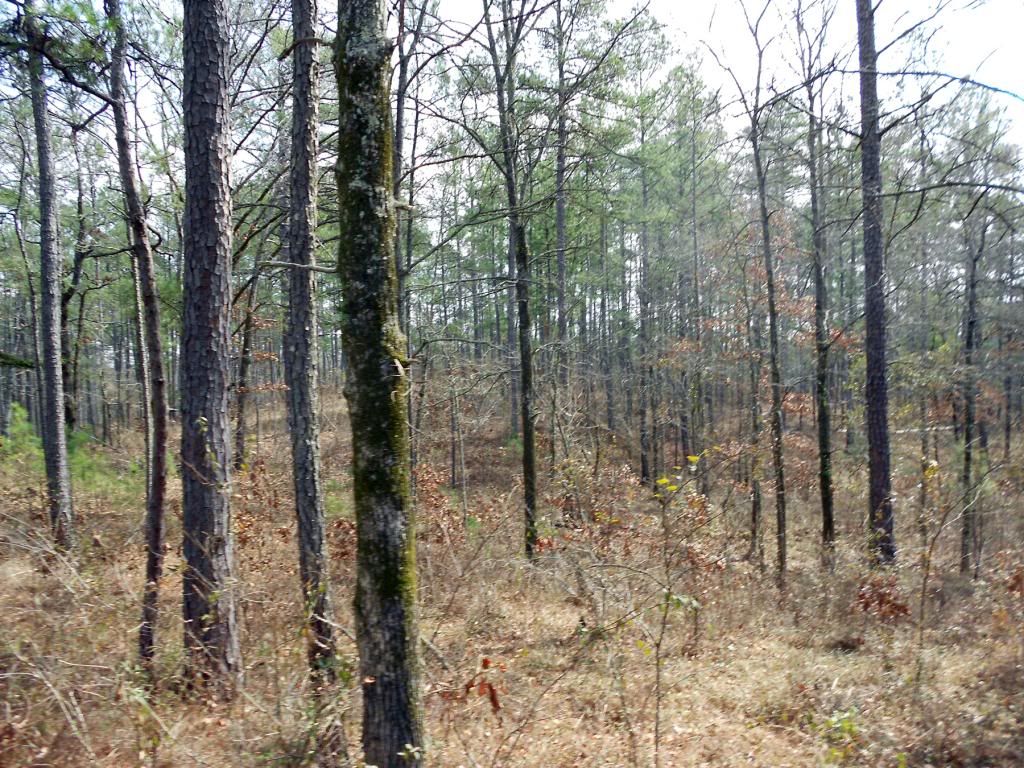 After we lost this trail we kind of made our own and ended up on what is called the river trail. We had already had over 2 inches of rain that week so the river was up.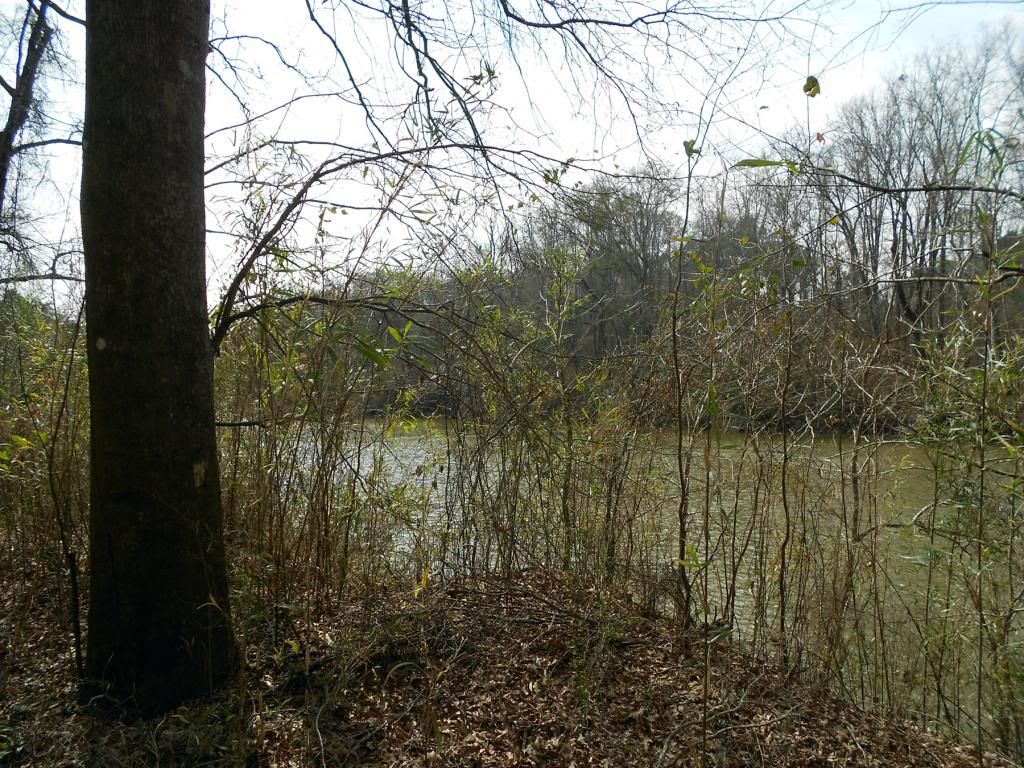 We continued up this trail until we got to here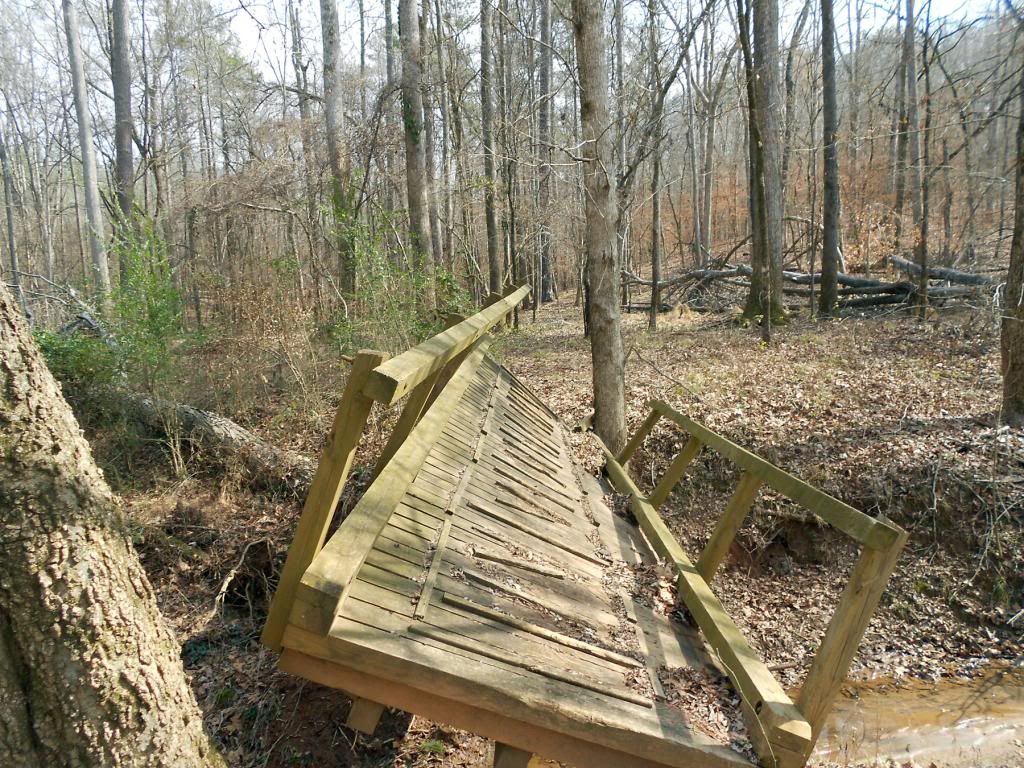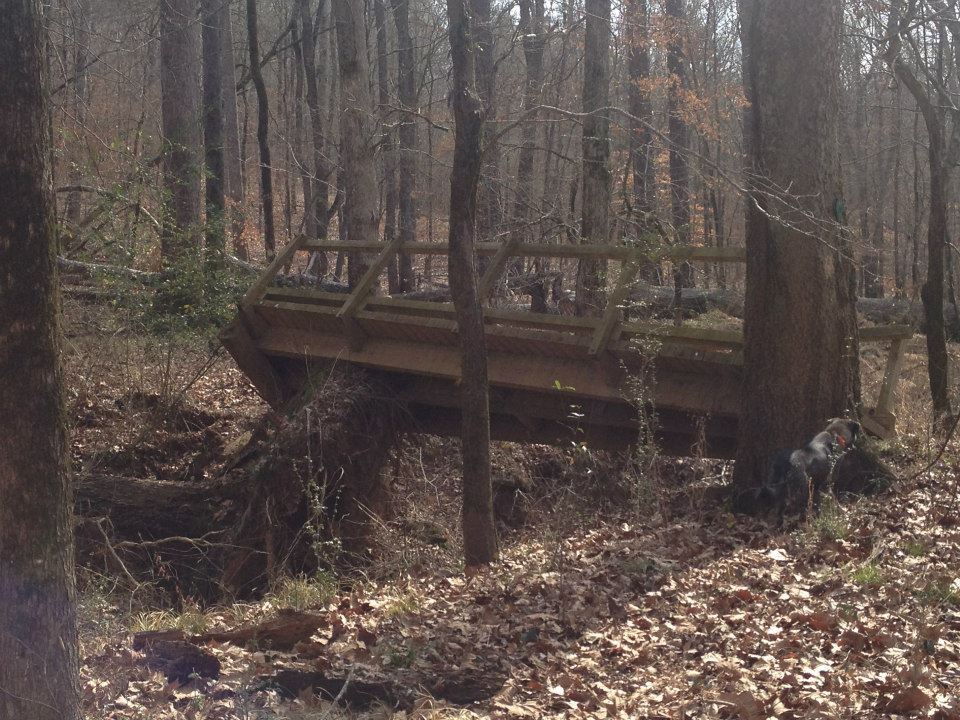 Decided it was time to turn around at that point. A tree had uprooted beside the bridge, taking the bridge with it.
We saw this cool vine that looked like it had wrapped around something as it had grown but that something was now gone.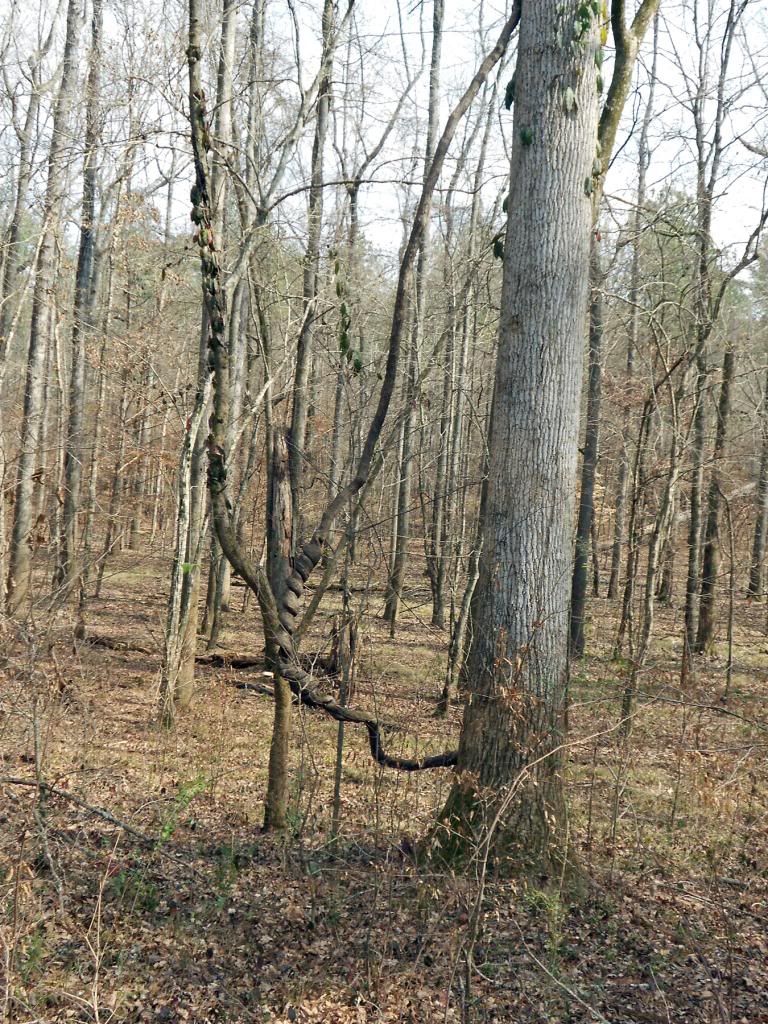 And my riding partners for the day were Amy and Puddin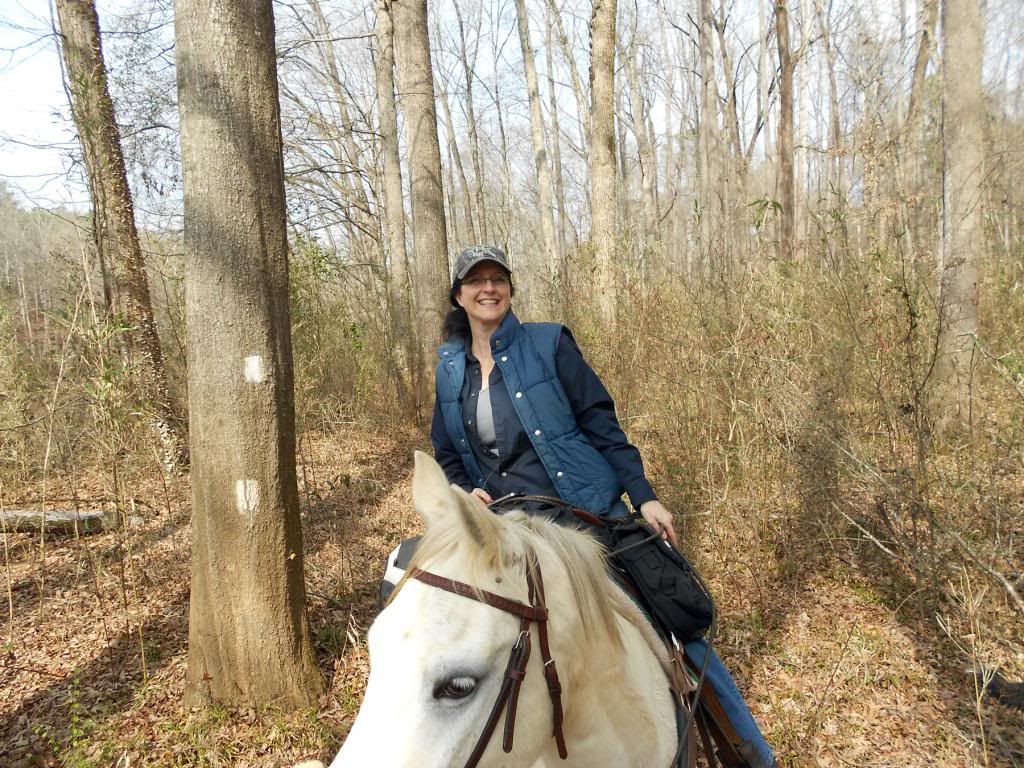 We were taking a break for a few minutes when I got this one.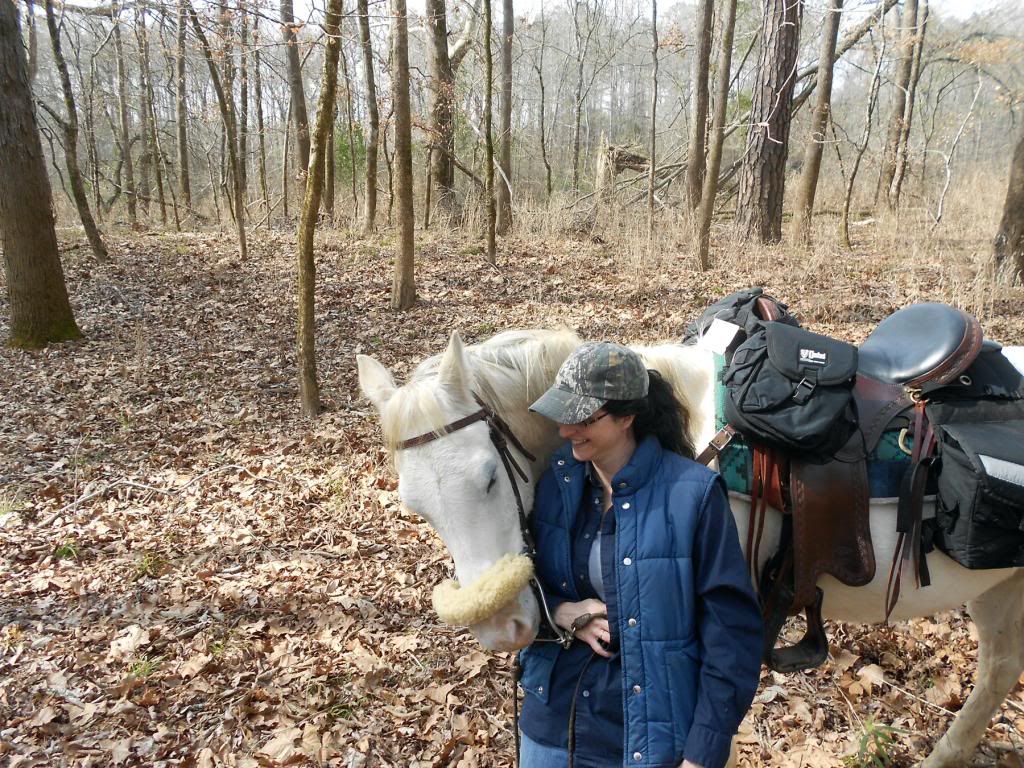 Amy got a couple of pictures that I stole from her
Oreo and I at the end of the trail sort of speaking.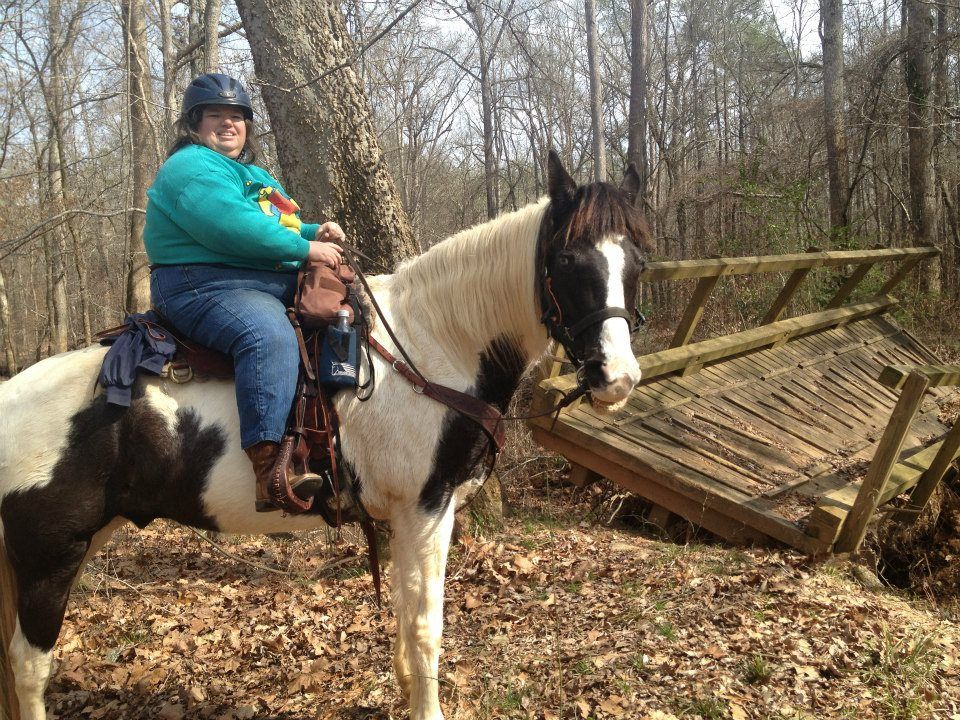 We got back to the trailer and Oreo just knew where to go. I didn't do any of this. At first he was further away from the trailer than this but we were laughing so hard and Amy was trying to get a picture, he decided he wasn't close enough and moved to where his nose touched the trailer. This is actually Puddin's halter and leadrope though.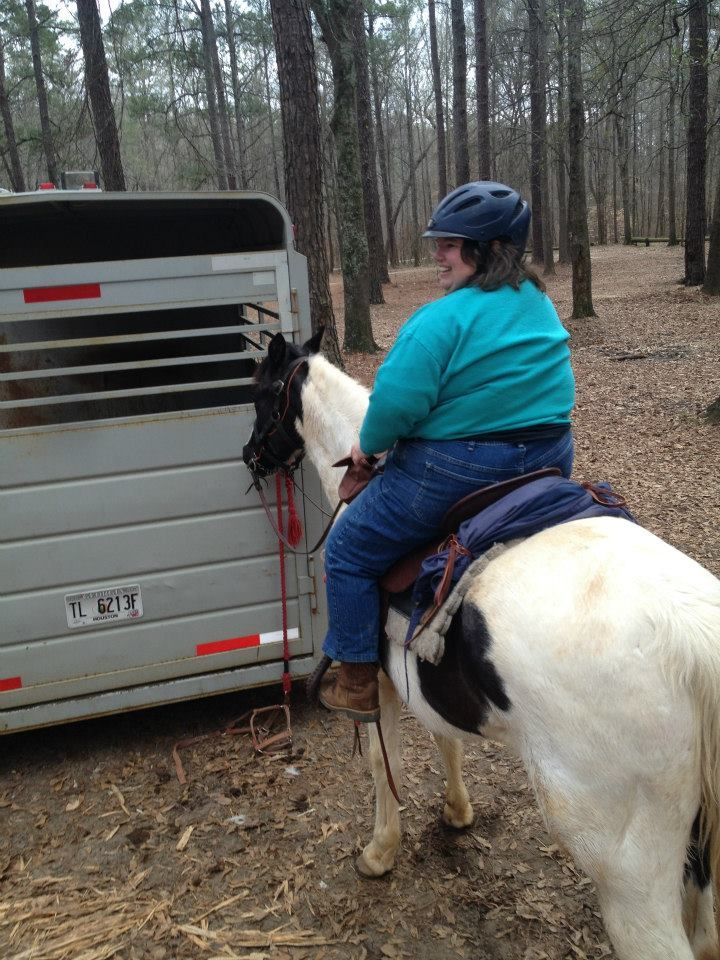 And the end of a good ride is always a good roll.
We rode 5 miles exactly that day to bring my total for the year up to 14.7.
Loving the pictures! QQS, I'm with you except it's been raining, then snowing. The driveway, pastures, trails, hay fields, everything is ice now. DH thought scraping the snow out of the driveway and entry to babies pasture would help, but it actually made things worse.
He feels so bad, stayed up late last night throwing sand and horse-safe salt down to try and fix it. I can't even believe the ice, and I helped him all I could. Attempted a ride yesterday only to find out I can practically do the splits and that my boy is not meant to be an ice skater. It was too scary with all the ice so we rode the parts of the field that were in the sun then headed back.
Walker didn't put up any fight, and his birthday is in April he'll be three. My trail horse in the making he's doing great! Couldn't ask for a better short ride.
Leyna- your endurance pictures make me wish my arab Charlie wasn't so ruined from his previous owners and his barrel past. Retired him very early at 13 because his mind just isn't there. He can be marvelous one day and shaking in a corner the next, breaks my heart. Charlie is at my aunt's for "retirement." He got a hair cut because his hair was getting too tangled.
Loving everyone's nice pictures! LOL.
---
"Every person you will meet will have at least one great quality. Duplicate it and leave the rest." --Clinton Anderson