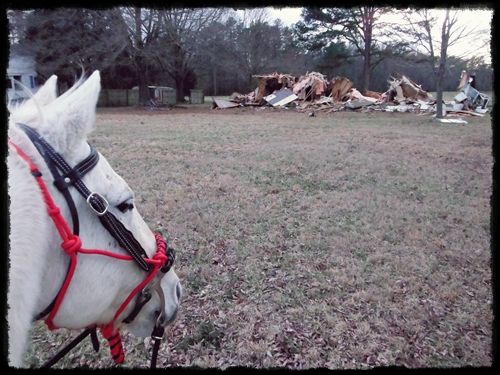 They say necessity is the mother of invention. For my part, I have found that we often overlook what is right in front of us. Not having a horse trailer has eliminated the possibility of my traveling to known bridle trails or parks, but I am discovering a wealth of trails local to me! Wings and I headed out today with the intention of checking out another old house (haha I'm slightly obsessed) and accidentally stumbled upon a trailhead just behind it.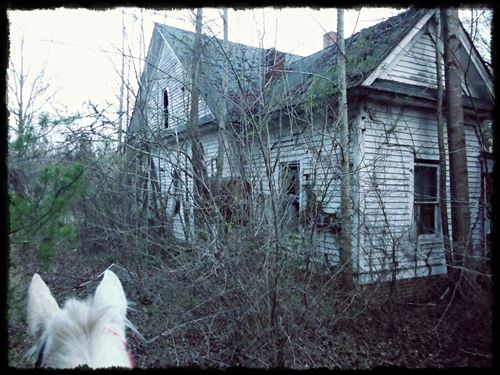 It has been kept up and went way back! The crazy part though is that it, literally, turned into a maze. Every 30 or 40 feet another trail would split off and then another, and another. After a while I got turned around and realized I wasn't quite sure of the way back. I decided to turn around the stick to what seemed to be the most well traveled trail, but it was starting to get dark and I'd left my cell phone at home (something I never do), so I was starting to get a little worried.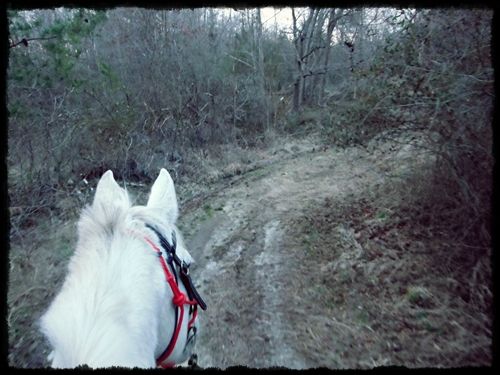 For once I was glad that Wings is always so focused on going home...he knew the way as well or better - as it turned out - than I. At the same time he was very good about "taking my suggestions" and wasn't overly pushy. At one point he hesitated and kept looking down one of the trails and I realized that he was right - and that it was the way home!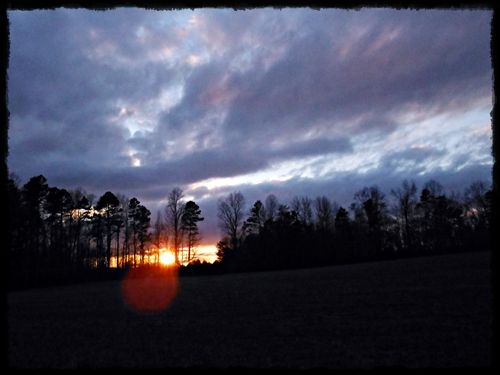 The sun was setting as we reached the main road and headed home.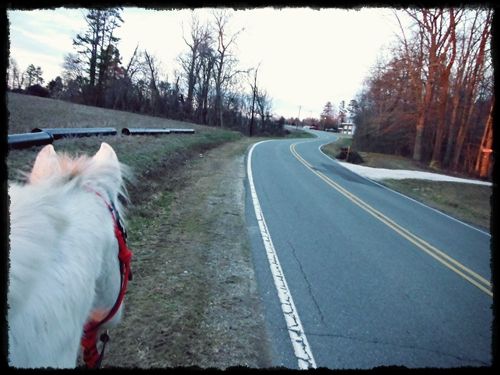 The rest of our ride was pretty unincidental. There was, however, an unusually high volume of traffic on the roads and I got both complimented and flipped off by different drivers within 5 minutes of each other, lol. Comes with the territory I guess!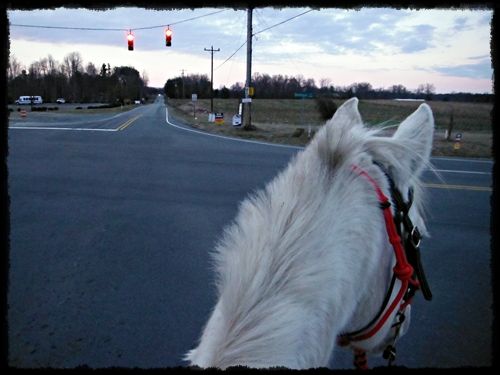 Wait for the green light!
I'm honestly not sure how far we went, because I don't have GPS and it's pretty hard to track trails via satellite, but I think it's safe to say it was somewhere between 5.5 and 6 miles:)
2013 MILES
Thunder: 56.8 miles
Wings: 34.1 miles
Backcountry horsemen had a scheduled ride, So I joined them for some company and to see a new place.
They rode out at Stockman, It was just wandering thru the sagebrush and junipers. No real trail. They had a really big turn out, Maybe 40-50 riders. I was so glad to see them break into two groups. The organizer said, Everybody that wants to ride faster go that way and I'll lead those who want to enjoy a slower pace this way.
I went with the fast group and there were only 7 of us. Mostly on foxtrotters and we gaited along at reasonable speed. Everytrail on my smart phone said we covered 10 miles.
Nothing really fantastic. Just a warm day in the sunshine
Got to work a lot on neck reining as we zigged and zagged through the sage brush
Beautiful pictures (as usual) Painted Horse. I am wondering what your definition of "warm day" is. I somewhat suspect that it may be a little different from my definition. Warm days are not snowy.
---
Celeste
Carpe Diem!
Got out with my cousin today in beautiful blue sky weather. Perfect temperature. Not hot - not cold. We went in the woods today and around some mud holes and were surprised to see how dry certain spots were. Got too wet and we turned around, went down the trail to Cattail Marsh and went out there. Bird watchers up there with some telephoto lens that I am sure they could have taken a picture on the moon with! Past the drilling that is going on for a pipeline going in. Lovely ride...did a little trotting but I kept losing my balance.
Can't wait til they figure out what is wrong with me so I can get better and ride!! We went back up the bayou and woo hoo there was our friend the alligator - first one we have seen this year. He was sunning himself and didn't bother to slither into the water. I guess he decided that after last year we were no threat to him.
2013-03-03 13.04.46.jpg
We went into the woods by the road to a bunch of mud and water for just a little ways and then nice dry trails. Over the huge matts they have down for drilling and didn't hit water again really til right by the stables. Biscuit stopped and gave a huge eyeballing to a tree piece on the ground. You would have swore it was an alligator!! Fun ride of 4.4 miles. Ready to go again!
Finally got some saddle time!!!
While momma nature started out being not very nice (it was 23 and snowing sideways in a nasty wind when we left the barn), she settled down and actually gave us a pretty decent day to ride when all was said and done (the snow had given way to mostly cloudy, temps in the upper 20s with moderate wind).
The horses were fresh to the point of some silliness (even Dream was fake spooking at nothing to protest not being allowed to go full speed through the muddy places). We did 21.75 miles (including about 3200 feet of elevation gain) and they were still raring to go when we finished!
2013 mileage
...
02/08/13 dream 12.44 miles 6.5 mph 90.77 total miles
02/10/13 dream 10.49 miles 5.6 mph 101.26 total miles
02/15/13 dream 10.86 miles 5.5 mph 112.12 total miles
02/16/13 dream 15.06 miles 5.6 mph 127.18 total miles
02/17/13 george 16.2 miles 6.1 mph 143.38 total miles
02/18/13 dream 6.39 miles 4.7 mph 149.77 total miles
02/21/13 dream 3.52 miles 5.2 mph 153.29 total miles
03/03/13 dream 21.76 miles 6.4 mph 175.05 total miles
---
There is no joy equal to that found on the back of a horse.
Glad you got out Dawn. I am so jealous of all your miles!!! Hoping the weather cooperates this month!
A warm day around here this time of year is mid 50's with Blue skies and no wind. Who cares about the snow. I wasn't sitting on it.

Horses haven't started to shed yet. But it won't be long now.
I kinda hate this weather. Grounds muddy, horses are sweating, cinches and breast collars need a serious cleaning when we get done as well as washing the mud off the truck and trailer.
Quote:
I am wondering what your definition of "warm day" is. I somewhat suspect that it may be a little different from my definition. Warm days are not snowy.
It's different out here in the West, especially at higher elevations. You can easily have snow on the ground and air temps in the 60s & 70s during the day (which will drop below freezing shortly after sunset.) And you can have 70 degrees at noon, and half a foot of snow by evening...
I'm glad to see everyone out enjoying their horses on trail rides, at least somebody is. Hopefully I will be joining you all again soon, it's annoying when nothing seems to work so you don't have time to ride.
---
My two horse Apache and Sammy are my world
along with our dogs Patch and Bear.
But I will always love you Jimmy R.I.P
I've got a 25 mile ride planned in a few weeks. I've had my niece riding Bloo out to get him ready. The vet's given him the all clear so all I have to worry about is me being ready for it.
I finally got finished going through all my old tack and taking it to consignment. It seems pointless to go through it every year but somehow I accumulate all sorts of odds and ends. At least now I've got room for my new tack, maybe not completely pointless.
---
Show me a horseman who hasn't fallen and I'll show you a man who has never truly ridden.