Another beautiful day so Hercules and I put on a few more miles today
I'm sorry to hear that everyone is either hurt, or their horses are hurt! I hope everyone starts feeling better soon!
As some people may know, I have been having trouble getting Rose out of a walk and into a trot. Well, the other day we went for a short ride and I was able to get her not only into a trot, but a canter as well!! Omg, I never would have guessed a Appendix QH would have such a smooth trot and canter. I must say... I am in love!!! :) We also went through some water puddles, up and down some steep hills. Rose decided she wanted to jump over a 6 inch deep and 6 inch wide ditch, which was funny, lol. We also went down into the woods and walked over some huge fallen logs. She went over them no problem. I was so proud :) My gelding got into a fight with her later that day and she has a sore spot on her back when he bit her, so we didn't ride the next day, but if she is feeling better, we're gonna get out tomorrow and ride around some. :)
Also, the puppies are 4 weeks old!!! They went up to get their first wormings and they stole the hearts of everyone up at the vet office! I have a video I wanted to share with ya. Ignore my dirty room, we have been working on spring cleaning the last few days, lol. Enjoy!
Hershey's puppies - YouTube
Went to the campus I work at today for a trail ride with the equestrian team.
Three members were running late so I got some pre-ride pictures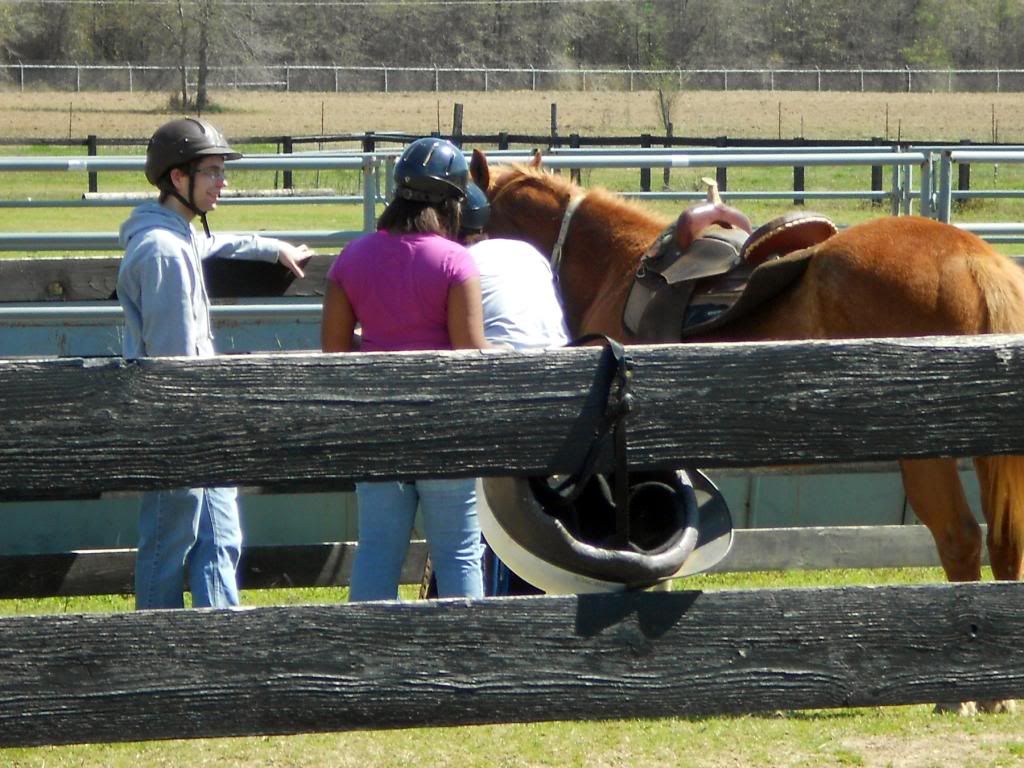 As people were mounting I got several pictures.
Jakari on an arabian named China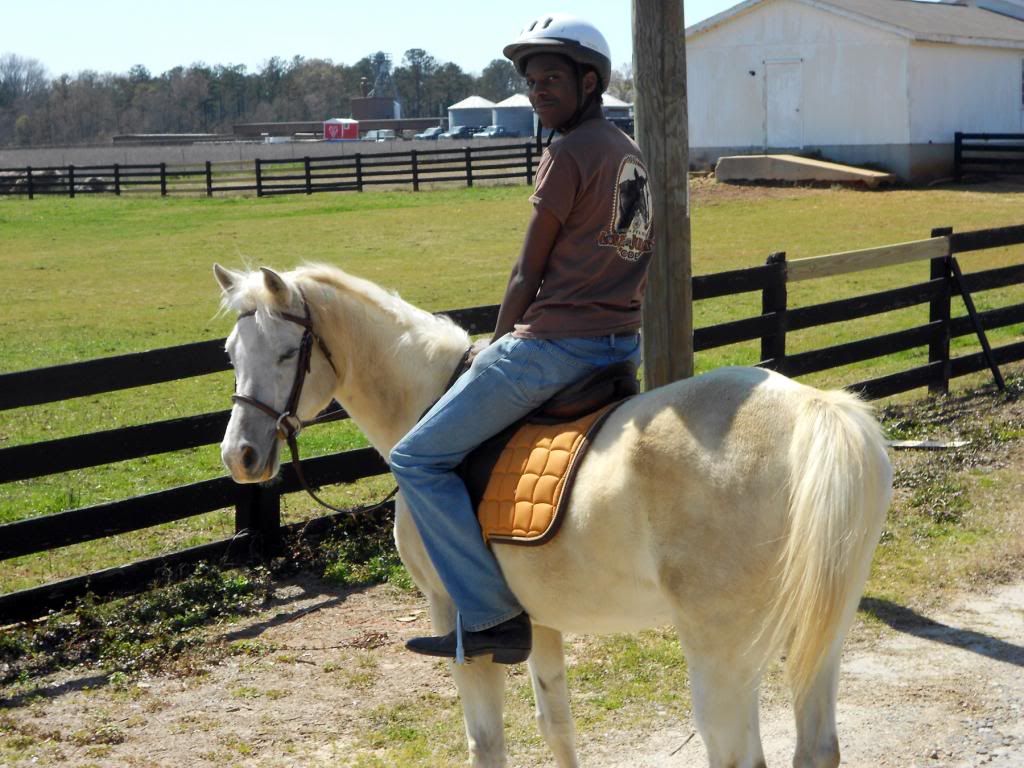 Tonya's boyfriend on Mrs. Bee. Sara the equestrian manager is in the background on the new draft Thor. It was Thor's first trail ride.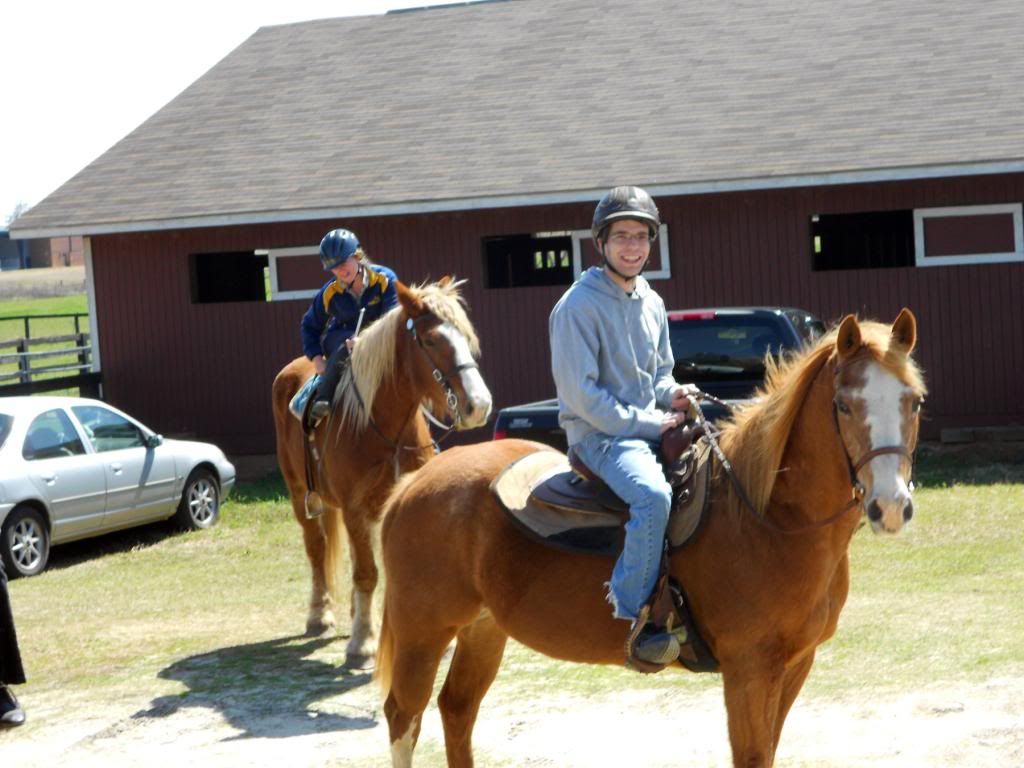 Tonya on Sammy (left) and Katie on Wendy (right)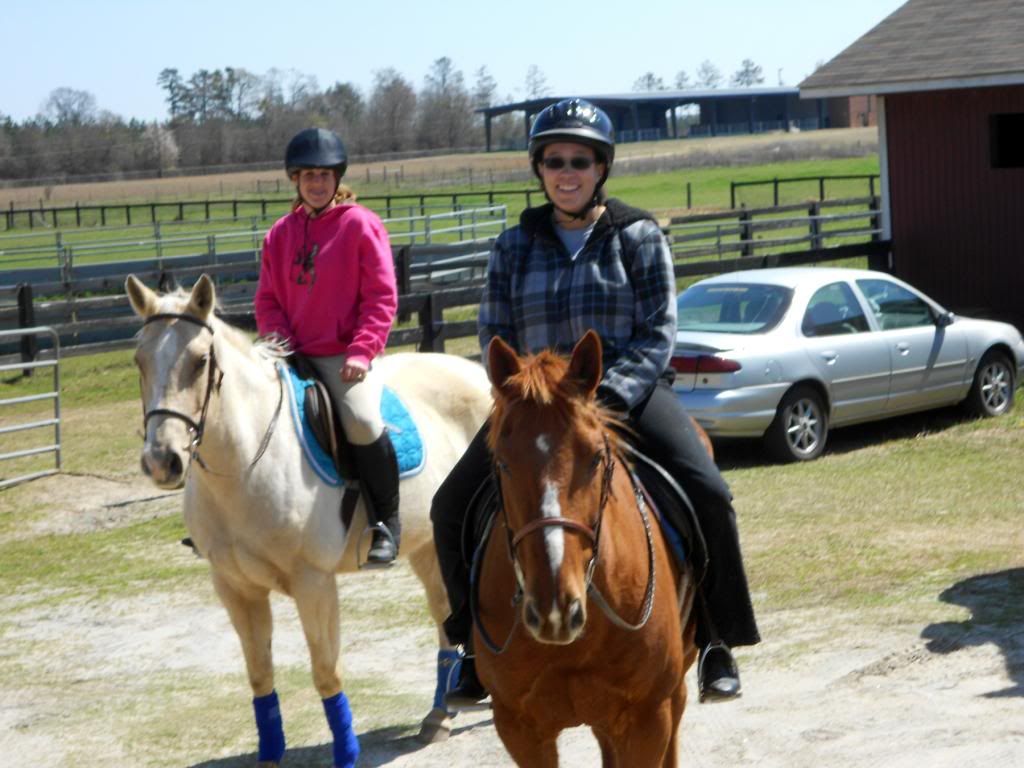 Sammy is the first horse that I started riding when I first got back into riding. He had just come out of training so I was there for a lot of his first like going from concrete to grass, crossing a road.
We rode down the road to a hay field and around the hay field.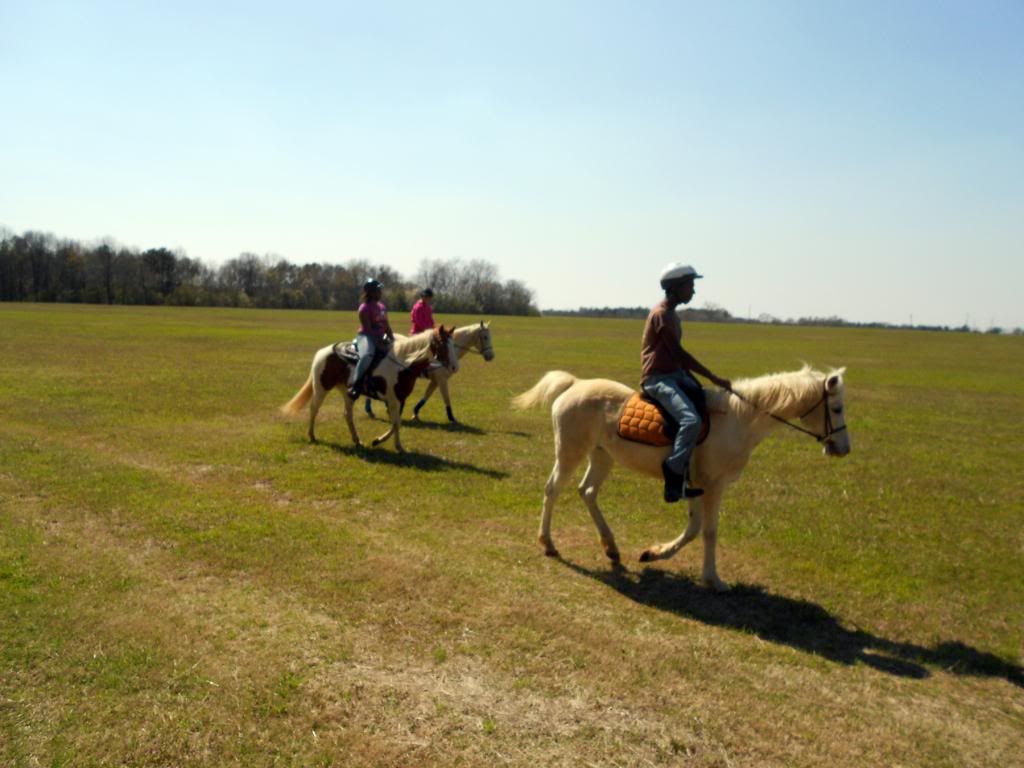 I forgot to get a picture of Ebony and her horse as were mounting because Oreo wanted to go. So Ebony is on the paint in the previous picture.
It was a fun afternoon. We did about 4.7 miles as a group. I did about another 0.5 miles when we got back I rode over to the arena to see if the cat needed food.
Total of 5.2 miles today and 32.1 for the year. Sat is the ACTHA ride.
Oreo did well today as a precursor to Sat.'s ride. 6 strange horses and a new place. Sat will be 60+ new horses and a new place.
RiverBell those are the cutest puppies!!!!

I want a cute little fuzzy puppy!
Omg the puppies are so adorable. Loved the high five to the face.
---
My two horse Apache and Sammy are my world
along with our dogs Patch and Bear.
But I will always love you Jimmy R.I.P
I want one of those adorable puppies!!
---
Celeste
Carpe Diem!
Today I took The Princess out for a 1.1 mile solo ride. We crossed a scary bridge and went by a haunted creek. She acted just like a horse! No spooking, bolting, bucking, or rearing. She just rode along nicely. I am so happy! If she is going to be willing to go out alone without going psycho like she used to, I may just start to get up a few miles. My total is now 16 miles.
---
Celeste
Carpe Diem!
Oh, it's a cute puppy picture contest? Here's my entry. They're Vizslas that belong to my neighbors, 5 weeks now.
I took The Princess out for another solo ride. I did the same 1.1 mile loop. She did really well. A couple of things blowing in the wind caught her attention, but she just tensed up rather than going crazy. It was a beautiful day!! 17.1
---
Celeste
Carpe Diem!
I did the ACTHA ride today. Headed out very early (Oreo in the trailer by 7:20). We did 7.1 miles and 6 obstacles. The good Oreo showed up at first. Then bad Oreo showed up about a mile into the ride. That isn't normal but nobody has accused my horse of being normal. It turns out it was LOVE at first sight, but more on that later.

The first obstacle was walking down a hill. I forgot to stop at the bottom as I was running my big mouth. 2 was canter in a circle. We trotted/cantered an oblong figure that in someones mind would be an oval maybe. 3 was turn on the forequaters. Yeah Oreo was in full love mode by then so that didn't go well. The idea was to put the front feet in a circle and do 180 degree turn only moving the back feet. I gave up. The rest of that obstacle was circling oreo in either really big or small circles. 4 was called Spanish pole. A 12 foot pvc pipe was leaning against a barn. You had to ride between the barn and the pole, pick it up. Somehow turn around, they didn't care how and put it back where you got it from. We got so close, Oreo tried to back away from the pole, that didn't get rid of it. Just as they called time, I got the pole back up but in the wrong spot. This was the obstacle we found out the object of Oreo's LOVE and the rest of the ride was more calm. Next obstacle was walking across a tarp. That should have been easier but they had wrapped the poles weighing the tarp with the tarp. The horse didn't like it moving. Oreo was a star at that one. He walked right across. Then had a meltdown waiting for his LOVE to come to him. Last obstacle was "Don't feed the Bear". You have to pull a backpack attached to a rope and pulley's to raise the backpack up 3 feet (backing the horse up) then walk back forward to lay it back down. Oreo spooked at the very end.

So Oreo's new love. It was a very cute black and white horse named Domino. Oreo has always been attracted to other black and white horses. This one was mostly black with white spots to Oreo's mostly white with black spots. Sweet little horse. Only problem is that Domino is a gelding. Oreo has decided to switch teams and today was the day he came out of the closet. My friend Donna that owns Flicka said that Flicka had driven him away from all mares. Domino was the most understanding even if the feelings were not returned.

It was a very long day.

We did 7.1 miles today so by total for the year is 39.2 miles.