DW and I met up with Rhonda Lynn and her DH Hank, and another couple yesterday, for a ride along the Sylco Creek Trail in the Cherokee National Forest of Polk County TN.

There's a couple of things I learned about Rhonda Lynn yesterday.....first....she's a Texican. Second, she and I share a common passion (or maybe an obsession) in maps...and she's much more organized with them than I am. Her collection of maps is impressive to say the least.

So, we rode 14.6 miles, with a moving time of 3 hours 53 minutes, moving average of 3.8mph, total time of 6 hours 25 minutes and 2 hours and 30 minutes stopped...that puts me and DW at 91 miles so far this year.

God gave us a wonderful day to ride, near perfect blue bird weather with a high in the low seventies, good company, good horses, and great scenery. We had the whole place to ourselves and didn't see or hear another soul other than the six of us along the trails.

It don't get much better than that. Well, ok, maybe it could, I called Annita Anne to see if she wanted to join us..but couldn't convince her to play hooky from work.....she's far to dedicated....
---
For we wrestle not against flesh and blood, but against principalities, against powers, against the rulers of the darkness of this world, against spiritual wickedness in high places.
That is quite the pace in those hills. I like that area of Tennessee.
Wow Wee sounds like y'all had a great ride. I wish I was better at maps...I keep working at it! I went to Ebenezer with the horses Friday and hubby joined me Saturday. My cousins and I went on a little ride Friday afternoon of a little more than 3 miles. Saturday a group of us went a longer ride almost 8 miles in some parts that were pretty steep. Biscuit was acting like goober for the entire ride. I am still unbalanced and he was not being very cooperative! When I rode Monday I nearly had to kick him down a trail and Saturday he couldn't go fast enough. Go figure. Sunday we rode a little more than 4 miles and he was an angel today. I have 68.4 for the year.

I did go to the specialist Thursday. He said it is not MS but a nerve issue that could have been from an illness or just spontaneous. Good news is most likely won't get worse...bad news is it may not get any better than it is right now. A few times going up hills or through water Biscuit was basically galloping and I could sit that for the few strides it was but trotting throws me forward. I will have to work on my balance and got quiet a bit in yesterday even through Biscuit was being a horses backside!!
Hubby and I had a wonderful St. Paddy's day ride today. Hope everyone else had a beautiful day as well!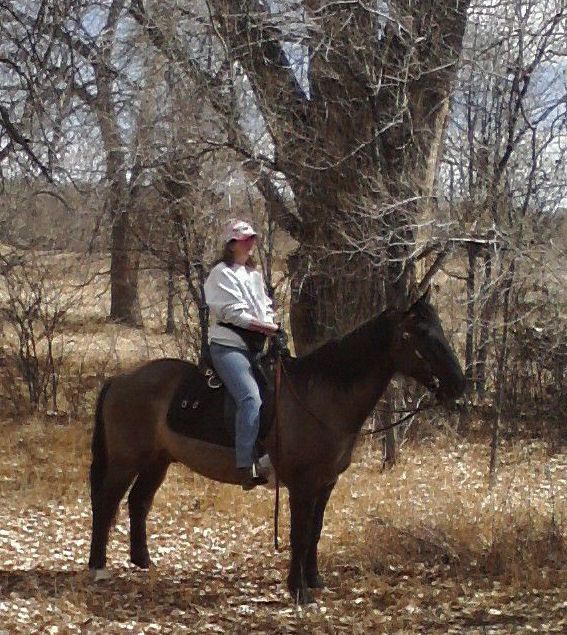 DH and I went up to Cornell to see George today. He looked great!!
He has been very tolerant of his protective mask and has charmed the staff with his goofball personality.
His eye looks fantastic. The incision is closed and holding well. The dr says he should have only a small spot obstructing his vision.
On a bizarre note, that suspicious "plant matter" they had been worrying about has presented itself front and center.. see that bright spot in his eyeball, up by his upper lid?
that is a
piece of stick
!! it was not there during the surgery and everyone was shocked when it appeared a few days ago. assumption is it was somewhere deep in all the inflammation and has since migrated out. luckily it isn't bothering the eye at all.
Assuming no other complications, George should be coming home early this week!!
---
There is no joy equal to that found on the back of a horse.
YaY for Cornell!! SO glad to hear good news!

Nancy
I am SOOOOOOOO glad that George is doing ok. I rode for another little 1.1 mile ride again today. I must admit that as I was riding, I worried about sticks in the path. I was thinking about George and his eye.

Somebody had dumped some trash at our gate. There was a broken metal chair, some other scraps of metal, lots of beer cans, and a large juice bottle. My DH was as mad as a hornet. We got it cleaned up and he seemed happier when we were done.
---
Celeste
Carpe Diem!
Dawn, so glad George is doing well. We passed over so much dead wood this weekend so I was glad no one stepped on any that flew up in the air!
We did 17 Saturday and another 15 today, But no where near as fast as Gunslingers ride. But my terrain is a little tougher. We rode down into the Little Grand Canyon section of the San Rafael River
This is between the river and the Windrock
My barefooted horses did well even with the rocks.
There were a few places where he turned and asked me if I really thought we were on the trail
Had to cross the river a lot. had to watch for rocky shoals to cross on, Most of the river bottom is sucking mud, that will suck a horse in.
You get dwarfed by the cliffs
OK Painted Horse...my ride was just plain puny compared to yours!!! Gorgeous pictures. I need to find my battery charger for my camera - they won't look anything like this though!