Can't beleive that someone took the mounting block.

I finally got my scores from the ride

Down Hill, Oreos Score 3, My score 5, I forgot to stop at the bottom. I thought Oreo would get higher but I guess molesting the judge for treats doesn't help

Canter circle, Oreos Score 3, my score 5, It was more an oval with trotting and cantering intermixed

Turn on Forehand, Oreos Score 4, my score 3, I gave up so I was expecting a zero

Spanish Pole, Oreos Score 0, my score 0, Timed out

Crossing Tarp, Oreos Score 10, my score 10, Who knew we did that well

Don't feed the bear, Oreos Score 10, my score 10, Even though he spooked at the end.
Totals, Oreo 30, me 33

I came in 17th in the division that I was in. I forgot how many riders there were in that division but it was the largest of the 78 riders. Probably 30 to 40.
Quote:
I went out to ride yesterday - got all dressed up to go (that is Biscuit was tacked up!) and the mounting blocks were not there
I can't get on without them now. Dang. So I made myself useful and did Biscuit's feet. They were in need of trimming. I am going after while for a short ride with my cousin as soon as these cakes come out of the oven!
Did you call the County Mounties?????? bwahahaah!
LOL No I didn't - that could have caused a riot.
Actually the barn manager used it (it does belong to the barn!!) to get Brutis (huge old mastiff she recently rescued) into and out of the truck. He went to get his man bits altered.
Brutis is just a darling that we have all fallen madly in love with. He was dang near dead when she spotted him near the barn. She has nursed him back to health and wow...someone at one time spent alot of time with this poor old fellow. He is such a darling. I needed to do Biscuit's hooves anyway so it was all good. I went and rode about 3.7 miles (guestimating - didn't have my Garmin!) with my cousin and a friend. The friend KD is going to start riding one of my cousin's horses that hasn't been rode in 2 years. He injured his eye like George did and coming out of the anesthetist he was kicking like crazy and damaged his hocks. He already had arthritis and it took this long for them to fuse. He is a tri colored half arabian half paint and OMG is just about the cutest dang horse in the world. It was his first time out today and he was an angel.
It was good to get out and ride a little bit and we are hopefully doing Sunday.
Aww..I love Brutis already!
I admire you for doing Biscuit's feet. I can do a little on the front, but not the back, so I have to use a farrier. But with 14 horses, I am not strong enough. But, I REALLY like this guy I got here. I have had horses since 1971, and this is the FIRST time a farrier has put me on his schedule and not wanted me to play phone tag for a week to get them out!!! Did a good job, too, and was patient with the babies.

I hope YOU get to ride today. My friend called, and wants to ride, but I need to go find out at the electric company what it takes to get power to the new barn. And the stall fronts may go in today, if the concrete has set!!

Nancy
2013 miles--16
I won't be riding today. I have wedding cakes to decorate and get delivered tomorrow. Going Sunday morning and hopefully Monday too.
I took Bloo out solo. We haven't been out in a while and although my knee isn't where it should be healing wise, I just couldn't let him sit. My niece got him some new tack for our 10 year horsiversary. Bloo wasn't impressed but I thought he looked adorable. I was going to take my usual trail off the back of the property but I found one that branched off and we went down that one. The blizzard last month had the trail pretty much blocked off at one point so I turned him back. We went just under 11 miles. I've recently discovered that I can track my speed as well so I'm going to keep track of that now too.
New tack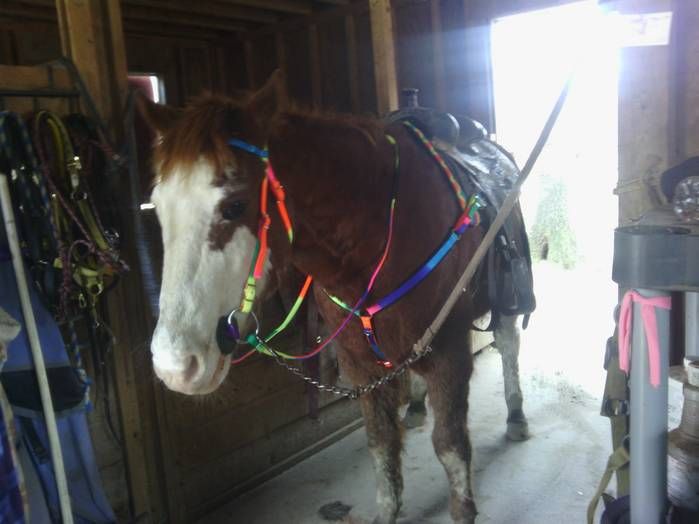 this is the new trail. On the side you can see the gross pond made from the run off of the rain from the dirt road.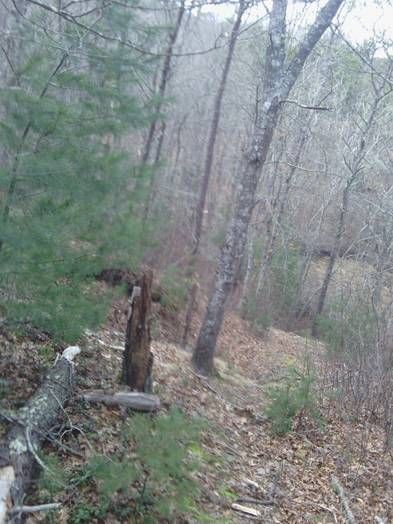 the old trail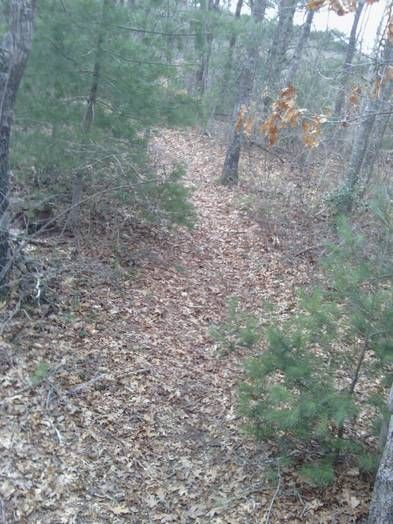 the old trail hooks up with the new tail and comes out at the back road to the barn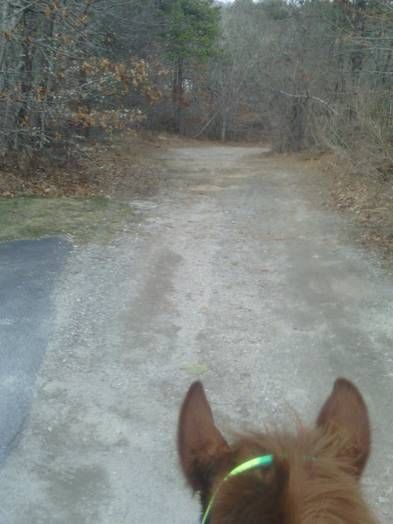 Bloo only likes to walk through puddles if he can drink from them so he was a nazi going through when I wouldn't let him take a drink first.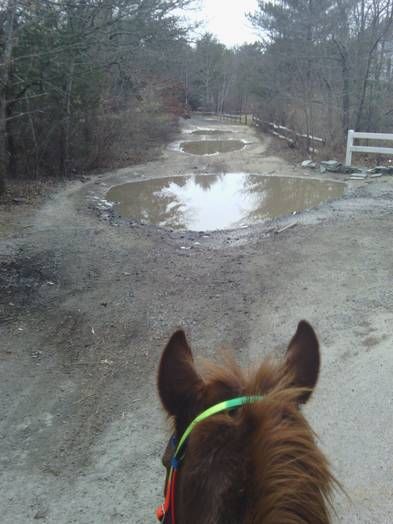 46.8 miles to date
---
Show me a horseman who hasn't fallen and I'll show you a man who has never truly ridden.


Well, dang, that new tack gives Rainbow Brite a run for her money!! Glad you go out and about!!
I really need to get some colorful tack!
---
Celeste
Carpe Diem!
Ask Bloobabe...she could probably hook you up!!!
I love it but Bloo clearly isn't as impressed. Tomorrow I'm going to go out in the yellow tack I got him. Hopefully he'll like that a little better.
---
Show me a horseman who hasn't fallen and I'll show you a man who has never truly ridden.