Hi everybody, I'm officially joining this thread after about a year of dreaming of taking my mare out on some local trails, and now finally able to get out there! I'm at that stage of life where my daughter is finally on her own, so now my disposable income can all go to my horses! Got a new used truck and little BP trailer. I'm no longer confined to arena riding!

I feel as if I know some of you fairly well, after reading most of this thread, so a little about me. Have been on some great rides, most recently a pack trip with an outfitter in NM where I would like to move in a couple of years. Also been down to the TX hill country a couple of times, and that was the most challenging riding I've done, sliding down inclines on rocks... None of this was on my own horses.

Have been accumulating gear for a year or so and have learned a lot, especially on the pack trip in NM. My mare was at first a cutting horse, but not fast enough, then put out to pasture as a brood mare, three nice babies later I pull her out of the pasture and started getting her back into shape three years ago. She is 18 this April. Took her out for her first trail ride two weeks ago with an experienced rider & horse. She did very well, after she worked off her first 30 minutes of nervousness. My friend said that if I hadn't told him he never would have known it was her first trail ride. Can you tell I'm proud of her?

Looking for riding buddies in my area, especially after reading some of the safety posts here. Joined TETRA (the "BCHA" of Texas) and ACTHA to meet some new folks. There is a local TETRA work day in a couple of weeks and I'm looking forward to getting out to help.

We are going out again this Friday, so I will post some pics then. Last time I put my camera down in the trailer and left it there by mistake. Anyway, this is a pic I took a couple of weeks ago when I was practicing hauling (that is a new experience for me). We went out to a local lake. My rig, mare, and the 2-year old colt (grullo) that I will soon be ponying once my mare gets used to trail riding.

Oh, and I've done approximately three miles so far this year on her first outing!
Dream and I had our first 50 miler of the season on Saturday.
Thread with more pictures and video is
here
.
Dream was awesome and carted me to a 4th place finish. We did the 50 in a little under 5 hours, with an average pace of 10.9 mph.
2013 mileage
...
03/03/13 dream 21.76 miles 6.4 mph 175.05 total miles
03/05/13 dream 10.67 miles 6.2 mph 185.72 total miles
03/09/13 dream 11.03 miles 5.6 mph 196.75 total miles
03/11/13 george 4.74 miles 3.6 mph 201.49 total miles
03/23/13 dream 51.41 miles 10.9 mph 252.9 total miles
---
There is no joy equal to that found on the back of a horse.
I went to the conservation area today. They're still closed until summer but it might take a while to get it up and running again. The trails were pretty much all blocked off by downed and uprooted trees. The hunting trails don't usually intersect with the horse trails but where they do the gates were closed or blocked. Bloo and I had to turn back from pretty much every trail.
The first is a trail blocked from the storm and the second is the creative blocking of a hunting/horse trail.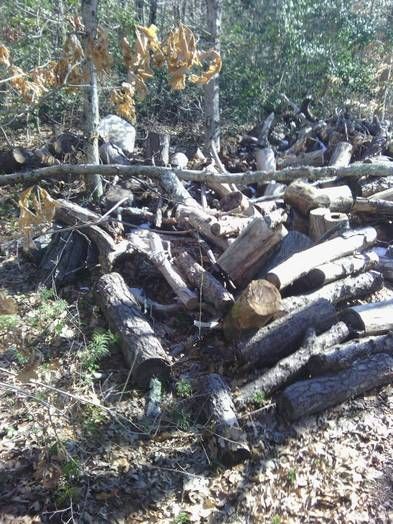 When we couldn't go through the woods we went down to the beach. The playground equipment startled him a last year but this year he had no problem.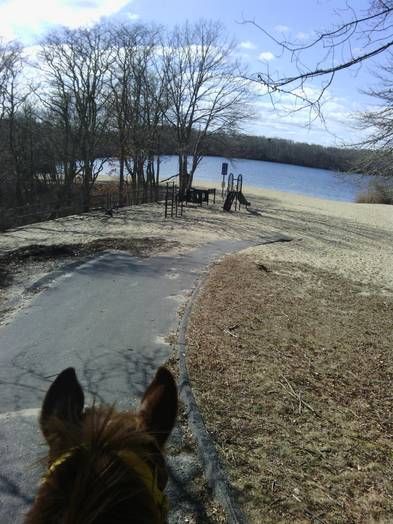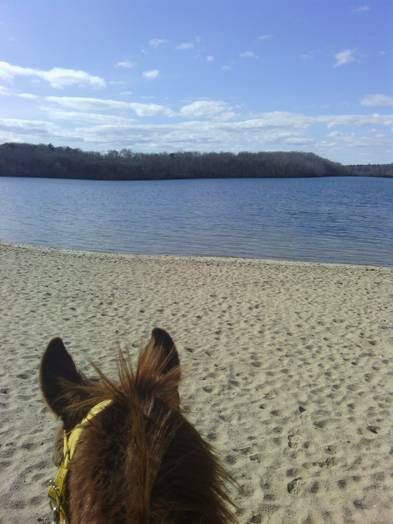 And of course a glamor shot of him in his pretty yellow tack.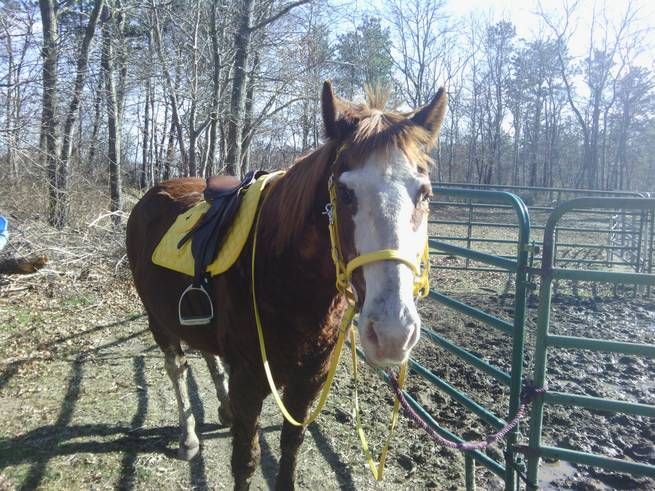 57.1 miles to date.
---
Show me a horseman who hasn't fallen and I'll show you a man who has never truly ridden.


Congrats to all those out riding! I am green with envy...

Drambuie is still out of commission, and Chivas has a cold. We have had rain, rain and more rain. Just did our little 2 miler today, and rode slow for Chivas's lungs. Averaged 3.6 mph.

Tomorrow back to work and the girls are off school and bored. Darnit.
17 miles today for 41.8 total. I did about 8 miles, headed back to the trailer, then did another 9 mile loop. Beautiful day!
Outnabout - welcome to our little thread. Sounds like your little mare is going to be a good trail horse. Wish you were closer to me - we could hit the trails but I am on the Gulf Coast!
Dawn, I am going to get over to that thread and read about Dreams ride. Sounds like y'all had a blast.
Bloo - those are pretty trails and so is the lake.
AnitaAnn - hope the horses are better soon.
Abbzug - I am jealous.
I didn't ride today - I actually went to a Day Of Sharing in Houston for cake decorators. LOL saw people I haven't seen in years because when I got the horses I pretty much quit going to cake functions. My trailer's electrical plug fell apart
so I have to get another one. Heck it is only 2 years old at the most. I am going to get a new one tomorrow so Honey Darling Precious can replace it. Thank God I married an electrician.
Started working with a new horse. She's pretty young and spooky so I ponied her behind Bloo. She did pretty good relying on Bloo a lot to get her through things but I didn't try to push them too far because my dogs made her nervous. They kept out of her way but she always had her eye on them. We didn't go out for too long but a good ride none the less.

59.5 miles
---
Show me a horseman who hasn't fallen and I'll show you a man who has never truly ridden.


I rode in the arena Monday. I didn't have my tack and used Barry's Billy Cook Saddle and his Les Vogt snaffle. OMG Biscuit doesn't know "stop" with a snaffle. I didn't raise up the stirrups and they were a little bit long for me. I was trying his saddle because mine is pitching me forward. It is an endurance saddle and my balance is not what it was before I got this nerve issue. I may have to get a new saddle and I hate that because I so loved my new saddle! It is only 8 months old! Biscuit and I rode for about 30 minutes or less working on his stop. He leg yielded very well though so that is a plus!
Just got back from the doctor!!! Woot!!! It is not MS or Transverse Mylitis. It is what he had thought a long time ago - spinal stenosis and that can be corrected with surgery. I literally flew home from Houston I was so excited. Now I have to move wedding cakes to another designer so I can have this ASAP. LOL I may be riding The Biscuit by myself before the middle of summer. I am so excited I could pop!!
Got out for the first short ride of the year Monday - maybe 4 miles on logging roads, and some cutting through the trees because my friend was sure she knew a shortcut trail. I was worried that Ellie would be really out of shape after about 4 months of no riding because of snow & ice, but she was all eager to trot the whole way around.