Quote:
Just got back from the doctor!!! Woot!!! It is not MS or Transverse Mylitis. It is what he had thought a long time ago - spinal stenosis and that can be corrected with surgery. I literally flew home from Houston I was so excited. Now I have to move wedding cakes to another designer so I can have this ASAP. LOL I may be riding The Biscuit by myself before the middle of summer. I am so excited I could pop!!
That is great!!!!
---
Celeste
Carpe Diem!
I admit to not riding much lately. I took Wings over to my neighbor's on the 16th and we trailered the horses to a nearby park to ride. We had fun and I was very impressed with how quiet Wings was...crossing bridges, and passing bicycles and yellow caution tape without batting an eye. I really have been blessed to have such awesome mounts...I was amazed at how many other horses were petrified of the aforementioned objects!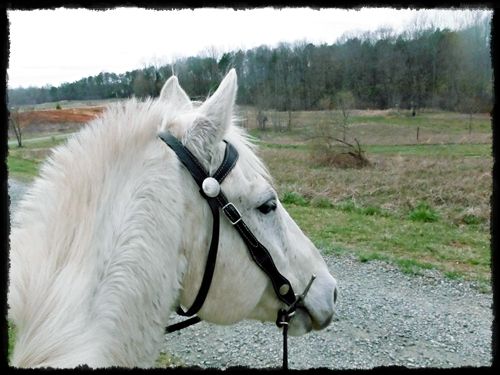 Meanwhile, Thunder has been getting into all sorts of trouble. He is just plain bored hanging out in the pasture. The last straw was when I realized that he had taken to bullying and chasing the other horses just for fun. I was afraid someone would get seriously hurt so I separated him and put him in the paddock by himself. He seems 100% recovered now so I took him out for a ride the other day. My mistake was putting him in the sidepull after not having ridden him in several weeks. He pulled HARD, and jigged the entire way! By the next morning my tailbone was so sore I could barely walk or sit down. As a result I didn't ride yesterday. I am not sure if I feel up to it today either but even if I don't I plan on doing some ground work with him. IF he stays sound we may give endurance riding another shot. Despite having been laid up for a couple weeks he seems to still be in fairly good shape. It would take a miracle, but Leatherwood isn't until May... Well, one can dream:)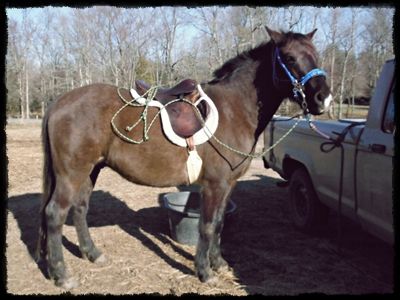 (Photo is from a couple weeks ago, when we were playing around with ground driving
)
2013 Total Miles
Thunder: 63.3 miles
Wings: 49.9 miles
I have been super busy and have not been on here much, so i had to come see what you all were up to.
I have been riding at the house, and did a 50 mile race on the 3/22. We got 10th place and had a blast! Have another race coming up on 4/5-6. I am going to ride 25 miles on the 5th and 50 on the 6th. I hope the weather is dry and warm! I am so tired of cold rainy days.
I rode that same little 1.1 mile circle that I have been doing. My horse did great for the entire ride. When I got back, she was quiet while I dismounted. I took off her bridle and hung it on the saddle horn. I think that the reins flopped down and wrapped around her leg. She went psycho for about two seconds. I thought that she was going to knock me down, but as soon as she touched me, she put on the breaks without really hitting me. I was really glad to be on my feet. There was no damage done. I might just toss that bridle on in the tack room next time rather than putting it over the horn. I guess it is a good reminder that she can still be insane. 19.3
---
Celeste
Carpe Diem!
I'm hoping to log a fair amount of miles this summer. My 21 yr old daughter and I took 2 of our horses out for a very short, 1/4 mile, ride last evening as it was the first time I've had them out of the property. They both did great as far as non spooking is concerned, but Trusty wondered back and forth across the dirt road as if he was drunk. Little Man kept a straight line and has been around that neighborhood before with my daughter before he came to live in my yard.

I hope with more time and trust that Trusty will get back to walking straight lines too. Oh and we are starting with short rides as they both need weight and muscle built up before going too long on trails.
---
I am Second
Born Once, Die Twice. Born Twice, Die Once.
I tried Drambuie yesterday, still not able to be ridden...
Rode Chivas on our little 2+ loop. He only coughed a few times at the begining, no drainage noted, but I still am keeping it easy with him. We averaged 4.1 mph.
I sat for a while on the crest of the hill, just enjoying sitting on my horse looking out over the area on such a beautiful day! Bliss.
miles to date, a pathetic 58.1
The DH and I got out for a 2.9 mile ride. The dogwoods and redbuds are just starting to bloom. The horses were perfect ladies today!

22.2 miles total
---
Celeste
Carpe Diem!
Had the day off but my few little trail riding contacts were not available so I hooked up with a local stables ride today. A bunch of little kids and a few moms and dads. It was at the local lake where I like to ride but on the opposite side of the lake. Anything is good for my mare right now, just getting out and experiencing different locations and horses. We were only out about one hour but we did have a good experience with one of those cyclers with the what I call the recliner type cycle, flag posted so they can be visible to motorists. There were about ten riders and we were at the back since my mare needs to learn how to hang back. All the horses ahead of us spooked and one of them even started kicking at the cyclist. Happy to say my mare didn't even blink an eye but I saw it coming coming and had already started talking to her. Hope to get back with my buddy next weekend and ride the better trails on the other side of the lake.
Picture here of teepees as we started out this morning. Proud of my girl for not reacting!
Looks like someone is getting ready for a big bonfire with those teepees.
---
I am Second
Born Once, Die Twice. Born Twice, Die Once.
Took Aguti and Bloo out again this time with a group. Something moving in the woods spooked her and she pulled me off Bloo. She seemed surprised that I wasn't in the saddle anymore and she was very curious about Bloo bowing for me to get up but she stood and we went the rest of the ride without incident. Everyone got a good laugh and I wasn't hurt. lucky for me she chose to pull me off in the sandy part of the trail rather the rocky part.

64.5 miles
---
Show me a horseman who hasn't fallen and I'll show you a man who has never truly ridden.