Rode yesterday at Mingo Trails
---
This is the place that my friends rode about a month ago when we froze our a$$es off while riding. It is a much nicer place when it is 73 and sunny. I went with my friend Donna. Donna lives 2 hours away so we don't often get to ride together on weekends. She stayed over just for that reason Thursday.
Mingo Trails is a privately owned facility that you can pay each time you ride or you can join the club and ride whenever you want. Ride now I am paying per ride.
I love this little pond.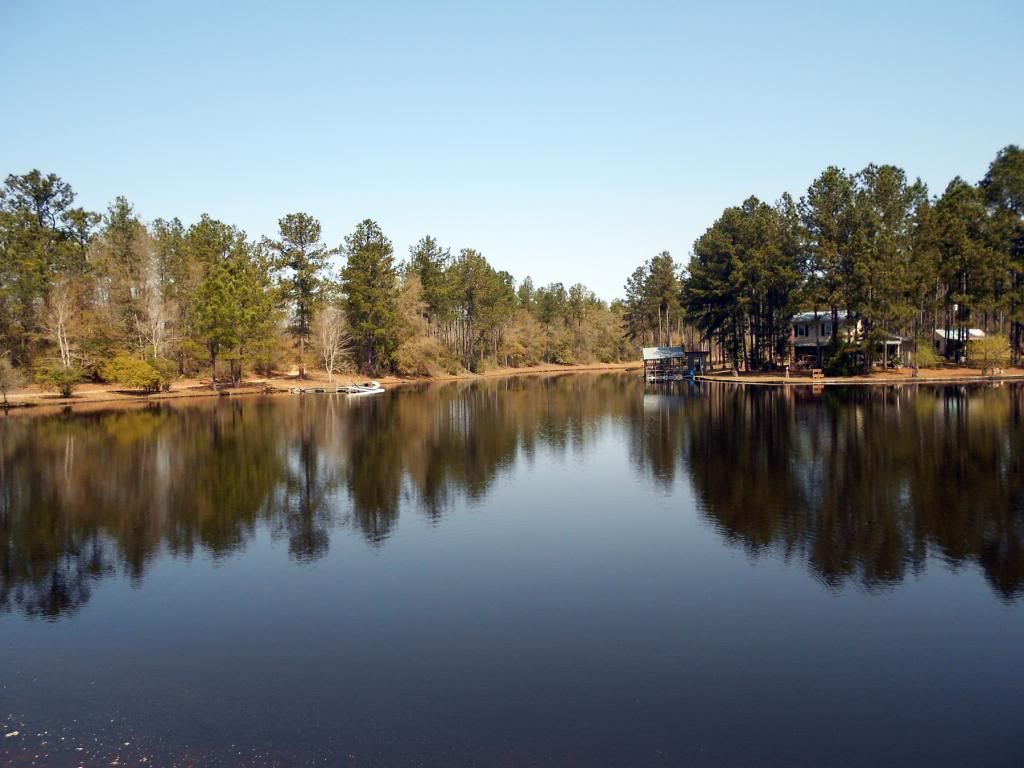 Looking forward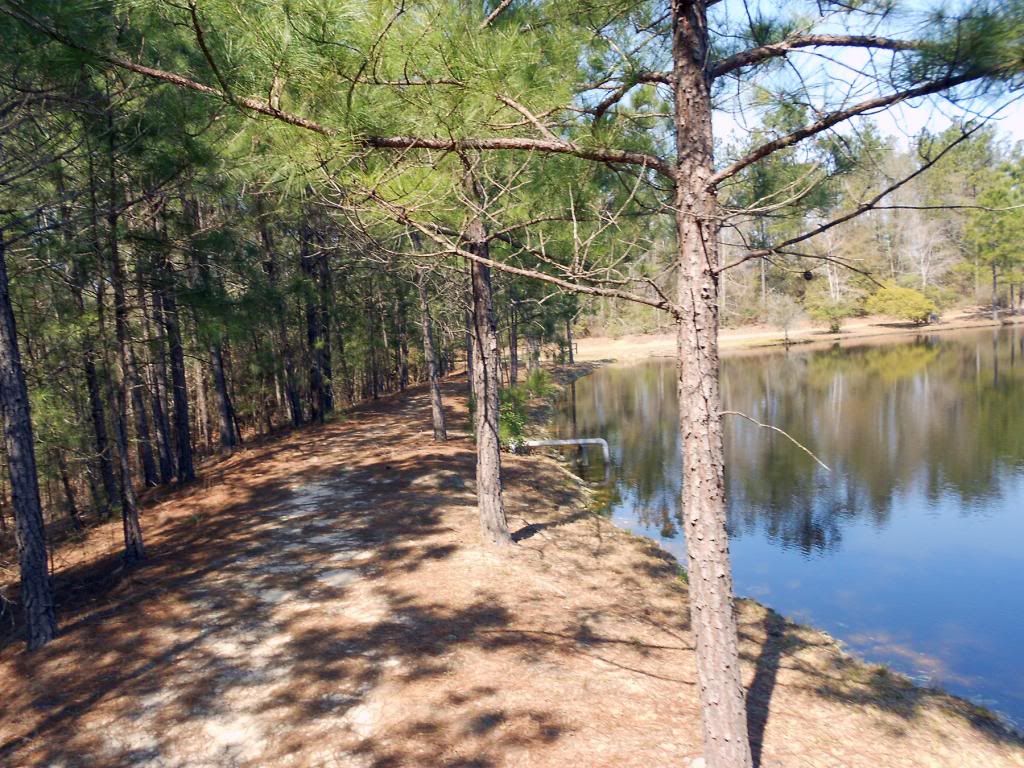 Looking back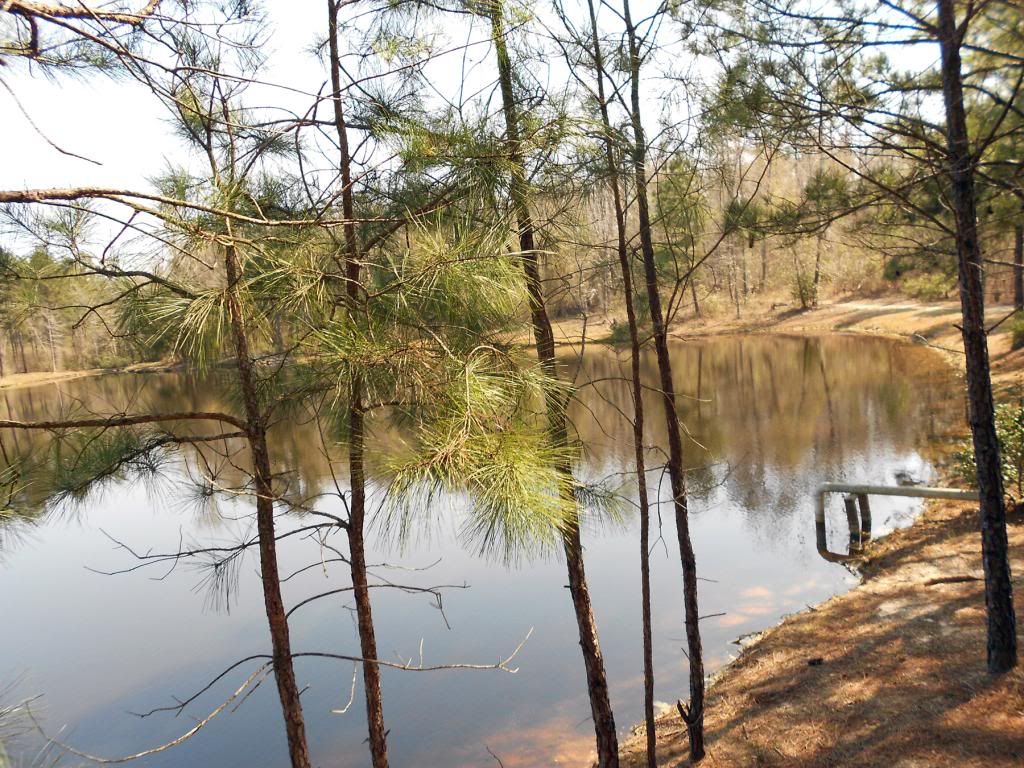 Donna and Flicka leading for a while. Oreo and I did much of the leading to Flicka's dismay but she did lead this part.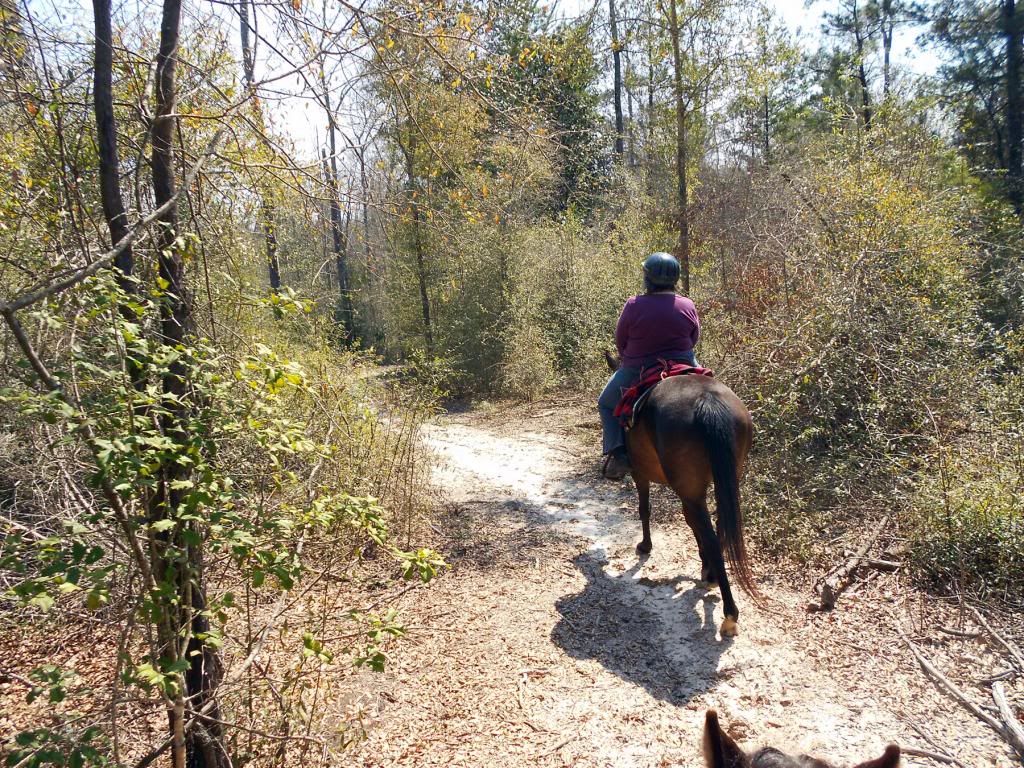 The whole trail system is nice and sandy like you see. At some areas it is a little deep for the horses not used to it, but no rocks to worry about.
We really had fun. Both horses were really welll behaved. Saw a deer and neither horse really reacted. Oreo spooked more at downed trees that had been cut up than anything else.
I swear my horse has the greatest sense of direction. He knew exactly when we turned back towards camp even though we had never been on this part of the trail. He picks up his pace and definitely takes over the lead from Flicka. There was one point he wanted to go the wrong direction that was away from camp but that is why we carry a map.
We did 4.7 miles yesterday so I am up to 43.9 for the year.
Bloo, I'm glad you fell in the sand and not on the rocks. Oreo, it looks like you had a great ride!

We rode a little 2.9 mile trail. Once again the weather was perfect!!! This has been a great weekend. When we were done riding, we moved the old retired horses to another pasture. They should get more grass now. They were happy for the change I think. There are 4 of them and their age totals 99. It takes a lot of groceries to keep that crew going. Now I am up to 25.1 miles.

Oh, one more thing. I had been concerned that my saddle seemed too narrow. Well the winter and lack of excess grass has taken my mare from obese to just extremely fat, and now the saddle fits great! I was thinking that I didn't buy it wrong...........
---
Celeste
Carpe Diem!
---
Last edited by Celeste; 03-30-2013 at

05:57 PM

.
Nice pictures!!!! Sorry you got pulled off your horse Bloo...that couldn't have been fun
I went out to ride today and my horse obviously thought I needed some serious exercise. OMG It took me more than an hour to catch him. He was running/jogging/trotting around me in circles. I went back and got treats. He cantered up for a treat but took off when I tried to put his halter on. By then he was sweating to beat the band. I had to go back up to the barn and get Edger with the feed Gator and he helped me finally catch the Flying Biscuit. I think he thought we were playing a game but dang I am too crippled right now to do that! I hosed him off and loaded him and hauled out.
I rode in my husband's Billy Cook Trail Saddle and didn't have a problem balancing at a trot or jog today. We rode 8.4 miles and saw quiet a few alligators. One had a silver face which was so odd looking. In the very back there is little pools we call "The Nursery" as that is where the baby alligators always are. There were a bunch of little bitty 6 to 8" gators.
I have made the decision to sell my endurance saddle. It puts me up too straight for me to balance. I hate that because I love this saddle!!
I have a total of 80 miles.
Quote:

I swear my horse has the greatest sense of direction. He knew exactly when we turned back towards camp even though we had never been on this part of the trail.
You think he could teach Bloo some direction? I need both hands and a foot to count how many times we've been lost because I let him pick the direction in hopes he'd find home.
---
Show me a horseman who hasn't fallen and I'll show you a man who has never truly ridden.


Biscuit is a pretty good navigator. Not perfect but he generally knows the way home!
up to 49.4 after todays loop. Nearly finished my first endurance ride! Only took three months =D
It has been a while since I have been on here. Again, I haven't really rode much in the past while. I went out and rode my arabian/QH cross Smokey for the first time in 3 MONTHS. He did great. We lunged for about 15 minutes, then we rode for about 15 minutes. just long enough to make sure he remembered how to do it, lol. I didn't get any pictures of me riding but..
I have more puppy pictures!
All three puppies are 7 weeks old coming Monday! They have each been claimed, and they all have their names!! They will be going home at 8 weeks once they have their first set of shots. They are using the puppy pads like pros, and have gotten to where they eat dry puppy food easily, though they still get soft puppy food a couple times a day to make sure they get enough to eat. Hershey (momma dog) is still nursing them once a day, but it's hardly enough to even count as she has almost dried up all her milk. Which is good. I like it for my momma dogs to wean their puppies when they are ready. They each have their own unique personalities and everyone is soo excited to get them when they turn 8 weeks. :) All these pictures are from 4 weeks to today.
First is my puppy Nugget. I named her nugget, like chicken nugget (lol) because her little black ears remind me of them. Or maybe it's because all my small dogs have been named after food? (Hershey, skittles, and now Nugget, lol) Nugget is a bit of a scaredy-cat. If she gets around something she is unsure of, she backs up as far as she can and just stars at it. She loves to play and wrestle with her sibilings, but it takes her a while to get used to playing with a person.
P3111545.jpg
P3220151.jpg
Next is the only boy puppy, Monkey. Monkey is going to my Aunt who has 3 grandkids, so he is going to be very very loved. At first Monkey liked to play by himself, and didn't have much to do with his siblings or his humans. But in the last week he has learned that it is much funner to play with someone instead of being by himself all the time. He has also learned that toes are VERY fun to chew on!
P3111543.jpg
P3220075.jpg
Last, but not least is Miss Kay! Miss Kay goes to my mom as a birthday present from me. She was named after Miss Kay on the Duck Dynasty show that is on TV now. Miss Kay is the most playful pup of them all! She has started out being a playful pup and forever she will stay that way! She is also the largest of the puppies, and is very very fat, eating all the food she can get a hold of. She loves to play with her siblings, her humans, her toys, the blanket, any socks that may be in the floor, and she loves to chew on my recliner. But in the last week she had learned it is just as much fun to sit in someone's lap. :)
P3111549.jpg
P3220035.jpg
Oh, and one more just for fun. :) Sorry the pictures are so big, I can't get them any smaller. Enjoy anyways, lol! :)
P3220061.jpg
Quote:
Biscuit is a pretty good navigator. Not perfect but he generally knows the way home!
Funny thing on last week's ride. My friend & I went to a place (which we haven't done since last spring - it's lower elevation where the snow melts off earlier) that is a loop, about half a mile of which is drivable Forest Service dirt road. We always used to park at a spot near the far end of the driveable part, and would turn right coming off the loop to get back to the trailer. Well, this time we parked closer to the highway, so we needed to turn left. Well, you guessed it: my friend's horse was absolutely certain we needed to turn right
I haven't been back in the saddle since finishing the race last weekend, as I managed to come down with bronchopneumonia, which has thoroughly kicked my ass over the past week. I normally would give Dream a week off, so least the timing hasn't messed up my training schedule. Assuming I can stay upright, will try to get her out some afternoon this week.
Sultan got his new saddle! Fitter was out on Saturday and Dean had him out that afternoon to start the breaking-in process. The fitter said the wool flocking will settle a bit and then she will come out again to make any final adjustments. Just watching Sultan move under saddle, its obvious how much more comfortable he is. DH said he was full of himself on trail and def ready for more.
As a fun surprise, Dream's 2012 Regional Best Conditioned award arrived in the mail today:
I was expecting a certificate, so was delighted with a lovely halter with brass nameplate. And its even the right color!!
George continues to be a model patient. He has his first recheck this week, so fingers are crossed that everything is going as well as we think it is!
---
There is no joy equal to that found on the back of a horse.