I have been bad in that I have ridden twice and haven't posted. Last Sunday I went out to a guy's house that lives with lots of places to ride. We go out there about once a year. My friend Donna has been wanting someone to ride her horse for her because she isn't riding very much. I called 2 students from my school. I told them I only had 1 extra horse but then I thought about calling Becca that also has 2 horses. She brought an extra horse also. It worked out well both students got to ride (boyfriend and girlfriend) and both extra horses got some exercises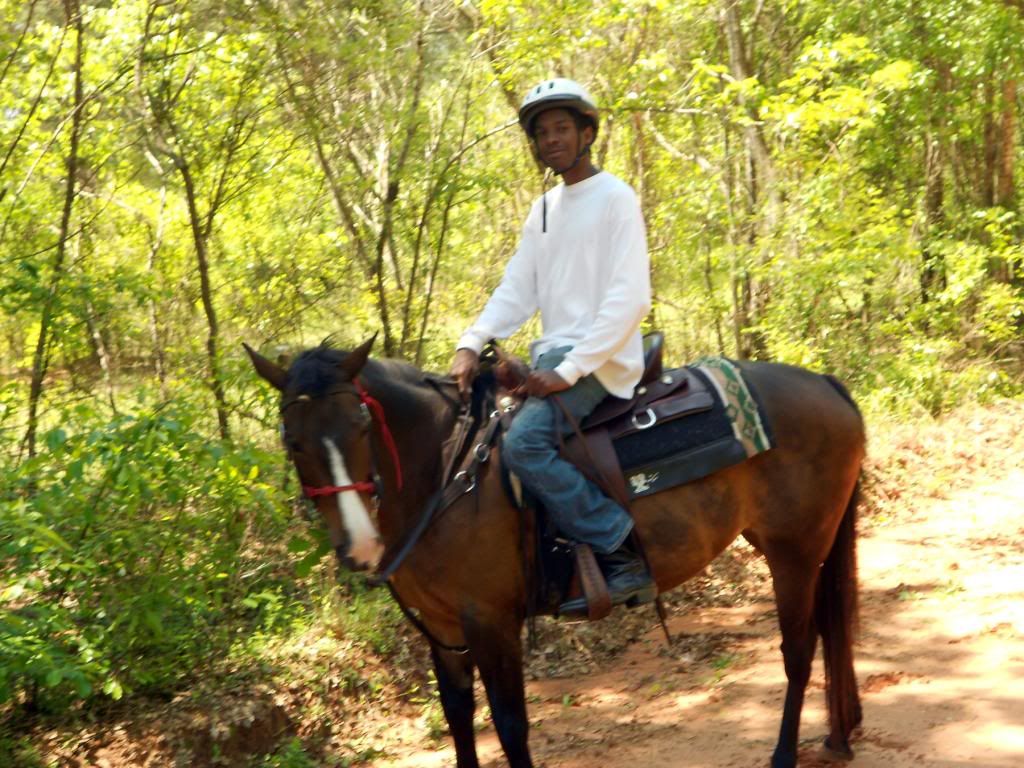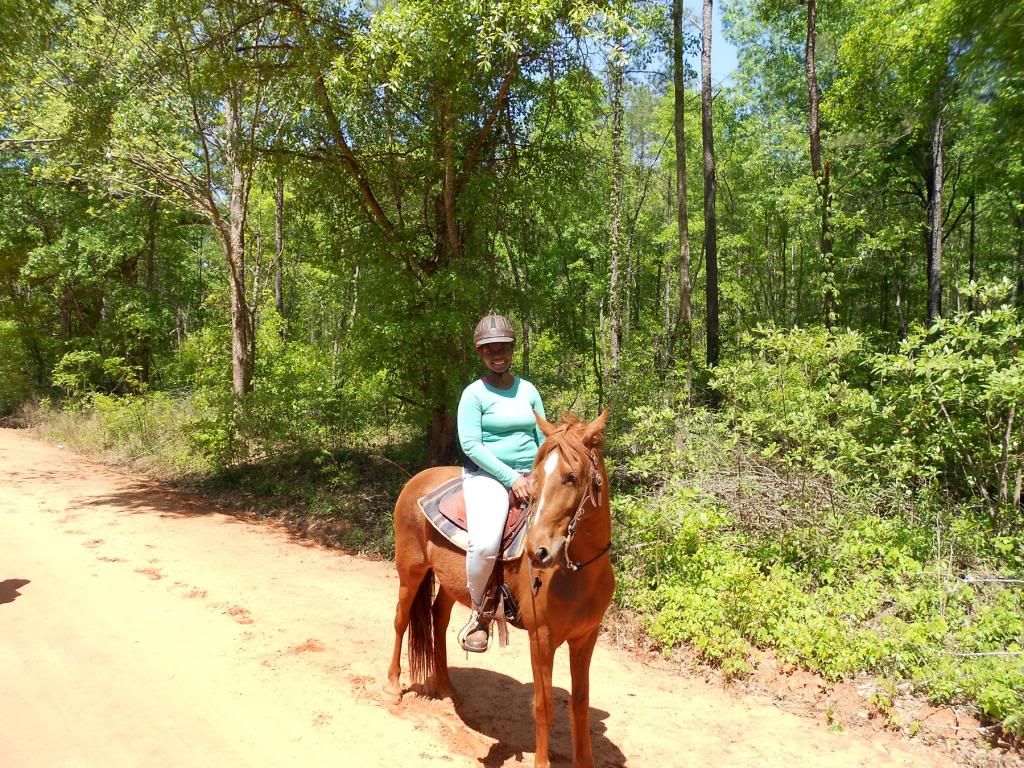 We rode about 6.6 miles that day. Most of the time it is a loop but a downed tree made it a ride in and ride out ride.
Yesterday Donna (who owns Flicka) and I rode from our house. We found a whole series of trails that I didn't know existed and I have lived here almost 5 years. We rode 3.3 miles yesterday.
Total for the year is 58.8 miles.
Rode a little 1.5 mile trail today. My one word on the ride is gnats. Millions. Trillions. Gnats. They went right through the fly spray. Once we started out, they didn't follow us. 28.1 total. I guess I'm getting old..........
---
Celeste
Carpe Diem!
ugh .... I hate gnats. Glad you got out though. Sigh...it is raining here now so I am sure Honey Darling Precious will not be hauling my boys to the house so I can kiss them up. I miss them Boo HOOOOOO
Yea, I'm sure you do miss them....I know I would....won't be long now.....raining here....had an inch and a half in the rain gauge yesterday, an inch over night and looks like it's going to rain most of the day. It's been a wet spring here in E. Tennessee, almost 8 inches above normal.

There's water in most every mountain draw, the creeks and rivers have been high for some time now and the forest roads are starting to really have some serious pot holes, we've had to really slow down trailering in, don't want to blow a tire or break an axle. It's also been cooler than normal, everything blooming at once and pollen has been extremely high this spring.

Spent the day yesterday handloading .44 specials.....I think I'll head to the range later today for some stress relief.....and punch a few big holes in some paper.
---
For we wrestle not against flesh and blood, but against principalities, against powers, against the rulers of the darkness of this world, against spiritual wickedness in high places.
We were supposed to get a huge storm yesterday and it by passed us - we did get rain but it was a nice gentle rain that is pleasant on the back porch!! We are 95 miles east of downtown Houston and they were hit hard.

I asked Honey Darling Precious if he'd bring my boys to see me today as it is a gorgeous day. He said the yard was too wet and they'd tear up the grass. Ok...like I give a rat's patootie. It is two horses and I wasn't going to lounge them out there!!! Dang....hope some of y'all get out and ride today. Post some pictures. I am sick of being inside!!!
Gunslinger, I think that you and my husband would be great friends if we lived closer.

Denise, I know it is hard, but this will pass.
---
Celeste
Carpe Diem!
I know it will - that was one of my grandma's favorite sayings! It is just hard when the weather is freaking perfect!
My mom's cousin Archie just visited with me. He is who helped me get my former horse, Red. His daughter and her hubby were with him. His daughter owns a stable in Grand Cayman and here is her website...y'all might like a peek at what Shanna is doing out there.
Home
4 miles the other day, 8 miles today (before it reached 100!!! for the first time this year).

Total now 115
We got a short ride ( 3-4 miles) on Thursday after we got to camp. Friday we rode 21 miles into Robbers Roost and the old Outlaw Camp.
We are looking over the ledge that we are trying to get the horses down.
Here are a couple folks come down the ledge. Most of us got off and lead the horses down. One mistake and it was a long way to the bottom.
The buckskin and its rider are getting started going down, The dogs were always cheering us on.
I'll try and get some more photos up loaded tomorrow. We also rode about the same miles on Saturday into Cowboy Cave to see the cave and he artifacts. But not nearly as challenging of a ride.
DH and I had an endurance race this weekend, my second of the season and his first. We did the No Frills 55 miler, located in Star Tannery, VA. Full thread is
here
.
Ride was a success, with us finishing 2nd and 3rd. We had 7100 feet of elevation change and averaged 7.1 mph. Dream was her normal angelic self and took great care of me.
George's checkup at Cornell last week was as good as it could be. The flushing catheter came out and he was released from jail!!
We can start riding him again this week. He is still on antibiotics three times daily as there is a piece of stick still in the eye, but it doesn't appear to be causing any issues and will hopefully resorb. Can't wait to see him back out on trail!
2013 mileage
...
03/23/13 dream 51.41 miles 10.9 mph 252.9 total miles
04/06/13 dream 24.61 miles 6.8 mph 277.51 total miles
04/12/13 jud 3 miles 280.51 total miles
04/14/13 maria 3 miles 283.51 total miles
04/17/13 dream 9.2 miles 7.4 mph 292.71 total miles
04/27/13 dream 53.8 miles 7.1 mph 346.51 total miles
---
There is no joy equal to that found on the back of a horse.