If it were my horse that got attacked....I'd be on the hunt for what ever did it.

I'd apply the three S's.....shoot, shovel, shut up.
---
For we wrestle not against flesh and blood, but against principalities, against powers, against the rulers of the darkness of this world, against spiritual wickedness in high places.
This is a great topic and I am glad to see it brought up. I think that we all could use some education on encountering large predators while out on the trails!
Awesome topic. Glad I sat and read all of it.. I'm in SE MN. We don't typically get much in the way of big predators, although it does happen. I have my permit to carry, but I do not own a gun.. Perhaps its time to change that.
For those considering pepper spray there are gel sprays that won't blow back on you or the horse.
For those who live in states that don't "allow" you to carry a pistol,
U-Haul: Your moving and storage resource
its not the ones you see to be scared of its the ones you dont... sorry to make it scacier but for the most part they are ambush predators.
The ones I come face to face with are the ones that make my sphincter pucker. Not knowing that they are there until after the fact isn't near the adrenaline rush.
A few times in my life have I actually come face to face with a cougar. But many times I have found trails in the snow or dirt behind me to let me know that a cat has been following me. They have always satisfied their curiosity and left me alone. But seeing their tracks in fresh snow or sand lets me know just how close they came.
I have really big hands. XXL in gloves
I've had one Grizzly bear charge me in Alaska. Other than that, the other predators that I have encountered have checked me out and moved on.
Trained
Join Date: Sep 2011
Location: Hour and a Half from Town!
Posts: 6,324
• Horses:
2
You release your "bad ass" on it! LOL!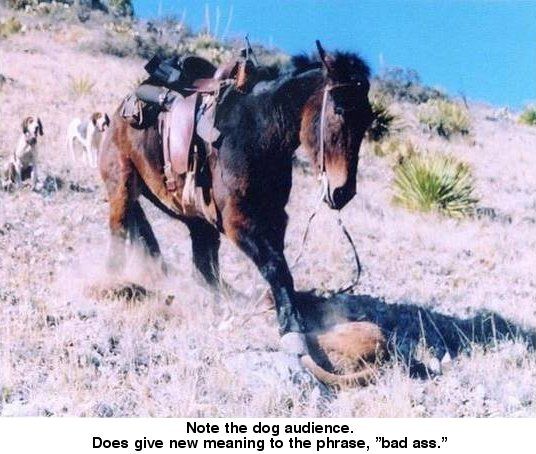 Took me a while to find this, mom sent it to me when we moved out to the boonies and tried to convince me we needed mules and donkeys! Not for me, but this was really cool!
---
You can get a lot further with a ladder than you can with crutches!!
What do you mean what do I mean?
That's why ranchers run burros with their cattle and sheep. Those little critters will do a number on cats and coyotes.
They'll run Llamas with the sheep out here because they'll kill coyotes, don't know if they'll take on a cat or not. Advantage to Llamas over mules or burros is you can at least shave them along with the sheep.